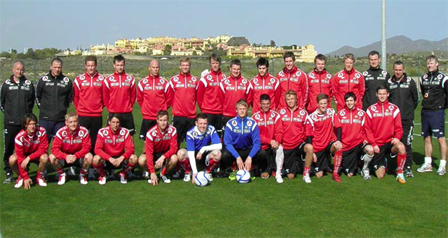 Pictured during warm weather football training at the Desert Springs Football Academy are players from Norway's first division Bryne Fotballklubb.
Bryne Football Club Team Manager Tommy Bergersen, five coaches and his squad of 23 players – which currently competes in the first division of the Norwegian Football League, returned to the Desert Springs Football Academy established at the Desert Springs Resort in Almeria, south east Spain for their fourth consecutive year, to complete their 4 day warm weather winter training programme between Tuesday 06th – Saturday 10th March.
During their stay at the Desert Springs Resort the Bryne players have benefited from training and coaching on the Football Academies world-class international-size grass pitch.
An exterior hard standing area provided space for the use of facilities such as a free weights gym, stretching mats and a medical area. The players also made use of a specifically designed grass area for goal-keeper training and five-a-side games.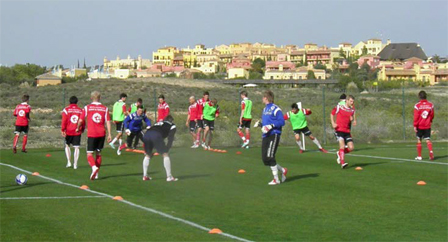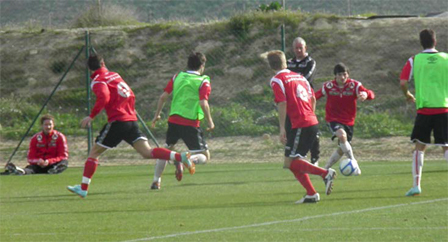 Bryne FK Players training at the Desert Springs Football Academy.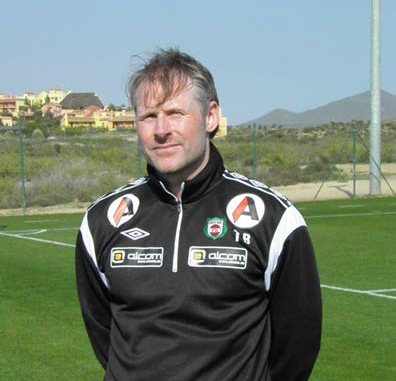 Tommy Bergersen, Bryne Fotballklubb Team Manager.
Speaking of the teams experience at Desert Springs, Bryne Football Club Team Manager Tommy Bergersen remarked:
"As always, the resort accommodation was excellent and very comfortable. The quality and variety of the food provided by the executive chef for our specific dietary requirements was excellent and the quality of the football pitch was as we have come to expect, second to none, with the added introduction of the new portable goal also being very useful.
The new layout of the gym facilities at the Sierra Sports Club is a great improvement as it has allowed our players even more space for floor exercises.
The Resort staff were all very friendly and helpful. Two of us had required medication whilst we have been here and a member of staff has been to the chemist, picked it up and delivered it to us. This is the kind of service that makes Desert Springs so special, and that's why we come back every year.
We definitely would like to return next year and I am also aware that the Resort has contacted a number of other teams in Norway who in turn have been in contact with me personally, asking my opinion on the Resort and its facilities. Suffice to say I believe that you will have enquiries from them for 2013 Training Camps"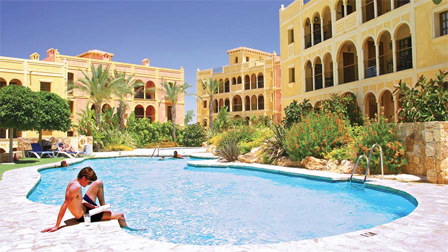 Apartments at Las Sierras used for accommodating Bryne Football Club.
The Bryne players and officials were accommodated in some of the privately-owned apartments normally reserved for holidays and short breaks at Desert Springs and the resort's executive chef was on hand to cater for the special dietary requirements of individual players dining in the resort's two restaurants – the award-winning El Torrente and the Croc Restaurant, part of the family-friendly Crocodile Club.
Simon Coaker, sales and marketing manager at Desert Springs, commented,
"That this is the fourth year in succession that Bryne have selected Desert Springs for their Winter Training Camp is most definitely testimony to the quality of the Football Academy and other sports facilities, restaurants and accommodation available at the Resort.
To receive the personal endorsement from Tommy Bergersen himself will only aide in increasing the awareness of our Football Academy to the football fraternity and we very much look forward to welcoming more Norwegian Club's to Desert Springs in the near future."
Additional information
Clubs opting for warm weather training packages can make full use of the 18-hole Indiana golf course and enjoy opportunities to swim, play tennis and use the gymnasium, trim trail, jogging tracks, paddle tennis and beach volley ball courts.
They also have access to the resort's Private Reserve which incorporates a spa, private sauna and jacuzzi suite, personal fitness workout room, games room with bar, and a home cinema.
Already well known as a resort specialising in family holidays, Desert Springs is gaining popularity as a centre for warm-weather training for golfers and footballers, as well as cricketers.
For enquiries call the Cheltenham-based Almanzora Group +44 (0) 1242 680116 or visit the website.
Click here for details on the Desert Springs Football Academy.
For further information contact: The Almanzora Group
Email: tag@almanzora.co.uk
Telephone: +44 (0) 1242 680 299