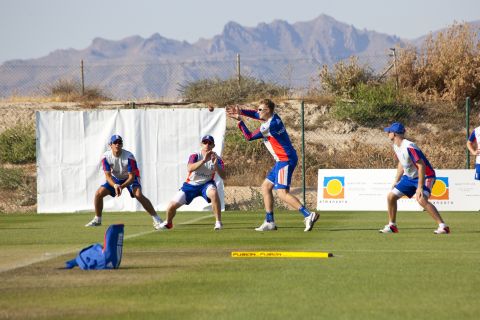 This winter at Desert Springs, 'shouts of FORE! have been combined with shouts of FOUR!
Glamorgan County Cricket Club (Glamorgan CCC) is now set to follow in the footsteps of Somerset CCC, Sussex CCC, Lancashire CCC, Middlesex CCC and Yorkshire CCC as they embark on their warm weather pre – season training camp at the Desert Springs Cricket Academy between Thursday 3rd – Saturday 12th March 2016.
To view the video of the Desert Springs Cricket Academy Click Here
A squad of fourteen (14) players and Six (6) coaching staff will benefit from the facilities of the Cricket Academy established at Desert Springs Resort.
During a nine-day (9) stay at Desert Springs Resort the Glamorgan CCC players and coaching staff will be spending their time completing a specific and carefully planned programme of numerous training sessions each day covering technical skills, bowling on the grass cricket wickets, strength and conditioning and both individual and group activity. As they will be outside and on grass, the squad will also be able to do fielding and throwing practice in advance of the start of the new season in realistic conditions, something not possible indoors back in the UK.
The Almanzora Group sales and marketing manager, Simon Coaker commented that the positive feedback and reputation that the Cricket Academy has developed thus far from previous visits from numerous County Cricket Clubs, coupled with the wide range of facilities available in the resort influenced the decision by Glamorgan CCC to select Desert Springs Resort for its training camp.
The feedback received from those visiting groups can be viewed Here
"Taken together with the golf and all the other many top quality relaxation and leisure opportunities at Desert Springs Resort for both Senior and Junior, Professional and Amateur teams, the resort has proven that it does amount to an outstanding venue," said Simon.
Accommodation for the players and officials is in some of the privately owned apartments at Desert Springs normally reserved for holidays and short breaks and the resort's executive chef will be on hand to cater for the special dietary requirements of individual players dining in the resort's award-winning El Torrente Restaurant.