The inaugural GOLF 4 ALL PRO-AM was held on the Indiana Course this week. An international field of 39 amateur players, from 10 countries, competed alongside 13 of the top women professionals from the Ladies European Tour.
The Spanish team of Enrique Mercant, David del Cerro and Angel del Cerro were crowned the Pro-Am champions after a magnificent final round. Angel and his son David are both members of Desert Springs and regular visitors to the resort. The team was captained by tour professionals Fame More and Alex Keighley, who were both very impressed by their team's performance.
The tournament began on Monday with a Texas Scramble Team event , which resulted in a 3 way tie for the lead, however, with only 7 points separating the 1st and 13th placed teams it was always going to be an exciting finish. Eventual runners-up, Martin Symmington, Laura Rushby and Gines Periago Rosa were leaders in the clubhouse for quite some time before being eclipsed by the winners.
There were some spectacular performances from the professionals, Becky Brewerton holed her second shot on the par 4 10th hole to get to 6 under par whilst players like Danni Masters, Joanne Oliver and Lora Fairclough produced birdie barrages to help their teams' causes.
Speaking on behalf of the players of the Ladies European Tour, Becky Brewerton said:
'This has been a wonderful event; all of us have thoroughly enjoyed our stay at Desert Springs. We love playing the Indiana Course and we have enjoyed the relaxed, fun atmosphere of the social events. On behalf of all of the players I would like to thank Desert Springs for a really enjoyable Pro-Am and I hope that we will all be invited back next year.'
Director of Golf, Simon Coaker said of the tournament:
'This Pro-Am is a flagship event in our Golf 4 Women program and will be one of many events with specific focus on women's golf. It has been a pleasure to host so many of the Tour's top players, I am sure that this will become a popular tournament for many years to come. I would like to thank everyone who supported and participated in the event.'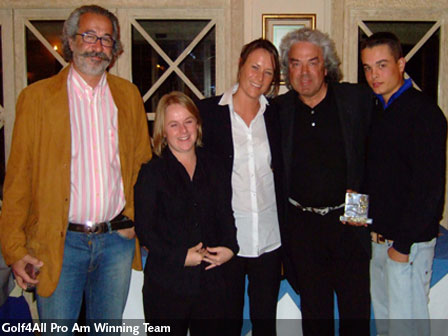 For further information contact: Christine Langford, Ladies Golf Co-ordinator
Tel: +34 637 861 591
E-mail: cl@almanzora.com