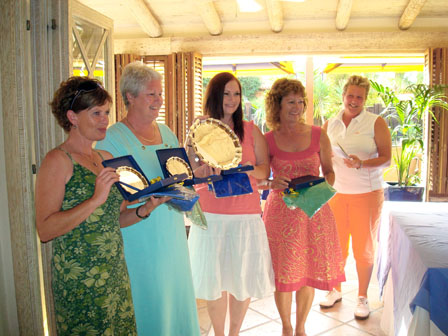 Hacienda Del Alamo Golf Club Winners of the 2008 Golf 4 Womens Team Trophy
A record 22 teams, 88 ladies, participated in the second annual 'Golf 4 Women' Team Trophy held over the Indiana Championship Course at Desert Springs on Thursday 26th June.
Hacienda del Alamo staged a magnificent defense of their title, winning by 2 points with a score of 50 points, 5 under par gross. The dream team of Imelda Brady, Mary Haskins together with mother and daughter, Susan and Vicki Smith were delighted to have won the trophy for the second time; ´the golf course was magnificent and we just love to play here' said Mary in her winning speech.
The home team of Desert Springs, Helen Lavis, Wikki de Graaf, Teresa Clemments and Shiobhan Smyth with 48 points secured second place after a count back with the team of Salmomé Del Rio, Maria Jesús Guzman Rodriguez, Águeda Gómez Fernández and Pilar Garcia Ribot from Marina Playa winning 3rd prize.
The day began with a golf clinic hosted by Christine Langford, Desert Springs´ Ladies Golf Ambassador entitled 'An Hour of Power' which provided for some entertaining and informative insights as to how the top women golfers generate extra distance with the driver.
Christine commented:
'The ladies were really in to it, this has been an event in the true spirit of Golf 4 Women at Desert Springs and I hope that our fiends from our neighboring clubs will continue to visit and enjoy the Desert Springs Experience'.
The next scheduled 'Golf 4 Women' event will be the Mixed Open Day on Friday 11th July. Please note that you can download the Official Tournament Entrance Form from within the 'Special Offers and Next Events' section of our official website here.

For further information contact: Christine Langford
E-mail: cl@almanzora.com
Telephone: +34 627 484 460