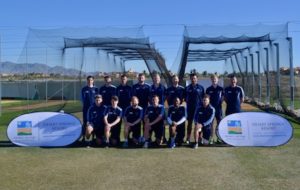 Hartley Country CC 2017 Pre-Season Winter Training Camp at Desert Springs Cricket Academy
Hartley Country Cricket Club players are now back in England having completed a successful four (4) days of warm weather pre-season cricket and fitness training between Thursday 30th March – Monday 03rd April at Desert Springs Resort, Europe's only international award-winning luxury family resort and championship desert golf course with its very own dedicated Cricket Academy, in the Almanzora region of Almeria, Andalucía in south-east Spain.
Sixteen (16) players between the age of 17 – 39 years completed bowling, batting and fielding practice as well as strength and conditioning training sessions as they stepped up their physical preparations for the upcoming 2017 season.
Organiser Richard Selvey-Clinton commented:  "Desert Springs really did exceed my expectations. The playing facilities at the Cricket Academy are excellent, with the wickets quick and bouncy. The weather for this time of the year meant that we have been able to get outside when most teams are still using indoor nets"
The training camp worked on a specific and carefully planned programme covering technical skills, strength and conditioning and both individual and group activity that included golf on the championship Indiana course!
Hartley Country CC players said of their pre-season training experience at the Desert Springs Cricket Academy:
"This is the closest and amateur player will get to playing on a first class wicket! Wonderful facilities, great accommodation and fantastic food." Shanon Fattore
"Excellent facilities and extremely hospitable. A fantastic week! James Cramp
"Everything has been first-class, from the food to the facilities. The staff have been very accommodating and have gone out of their way to make this trip special!" James Hockley
"Lords Cricket Ground and Wentworth Golf Club in one place….stunning!" James Thompson
"Sensational facilities, attentive service and a variety of quality food!" Jake Hutson
"Fantastic facilities, excellent customer service, great scenery, incredible hospitality!" Jake Benfield
"Incredible place, great facilities and a stunning golf course!" Daniel Redwood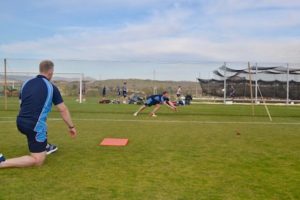 To view the video of the Desert Springs Cricket Academy Click Here
The players and coaches were accommodated in some of the privately owned apartments and townhouses normally reserved for holidays and short breaks at Desert Springs and the resort's executive chef was on hand to cater for the special dietary requirements of individual players dining in the award-winning El Torrente Restaurant.