Three Hartpury College Golf Academy PGA Instructors accompanied twenty-seven students aged between 15 – 18 years for 5-days of warm weather winter training at the Desert Springs Resort between 1st & 6th February.
The Hartpury College Golf Academy provides players with the opportunity to develop their knowledge and golfing skills by offering regular coaching and playing time. PGA Professionals at Hartpury College provide the coaching and practice sessions, which take place around academic sessions, so that students are developing both their academic and golfing abilities.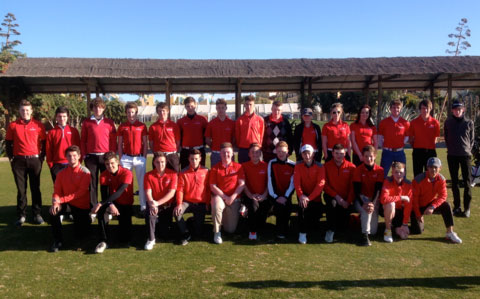 Sixteen-year-old student Rowan Warren remarked;
"A lifetime experience I will never forget!
Pristine practice facilities and the golf course was in superb condition, a real test. All of the staff were very helpful and courteous."
"This was my second visit to Desert Springs and it delivered another sensational week. First class practice facilities and a golf course in perfect condition, the food was awesome and all of the staff were extremely friendly and attentive."
"This was my first visit to Desert Springs. Superb practice facilities!"
Those are the verdicts of 17-year-old Sm Wood and 16-year-old Josh Roberts, two full time students from the Hartpury College Golf Academy.
The training camp utilized the excellent practice facilities at the Desert Springs Golf Academy where the PGA Instructors were able provide one-to-one tuition and take advantage of the use of the Desert Springs short game academy prior to the students embarking on their rounds on The Indiana course.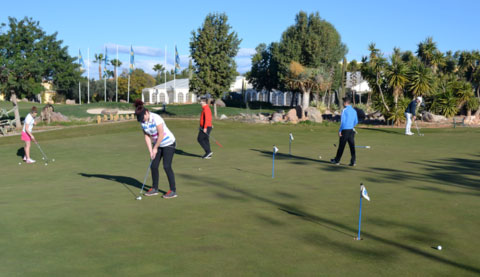 Hartpury Golf Academy students working on there putting technique at the Desert Springs Short Game Academy.
A Hartpury Golf Academy student plays their approach shot into Hole 1 "Cactus Point" on the Indiana course at Desert Springs.
The students and officials were accommodated in some of the privately owned apartments normally reserved for holidays and short breaks at Desert Springs and the resort's executive chef was on hand to cater for the special dietary requirements of individual players dining each evening in the 'El Torrente' Restaurant.
Seventeen-year-old Hartpury College Golf Academy Student Alex Chalk (Right) receiving his certificate for his 'Hole-In-One- On Hole number 2 – "Gulch" on The Indiana Course
Of particular note was the impressive Hole-In-One by Alex Chalk on the 2nd Hole of The Indiana Course.
Alex commented;
"I will always remember Desert Springs for two things, my Hole-In-One on the 2nd and the friendliness of all of the staff!"
Richard King: Golf Elite Programme Manager & PGA Instructor at the Hartpury College Golf Academy remarked:
"We always look forward to returning to Desert Springs Resort to complete our annual winter training camp.
At Desert Springs we always have a fantastic experience.
All of our needs are catered for and the staff throughout the resort are always really helpful.
I simply cannot speak highly enough of Desert Springs!"
For further information on The Hartpury College Golf Academy visit their official website.
For further information: Alfonso Castiñeira
Tel: +34 670 613 900