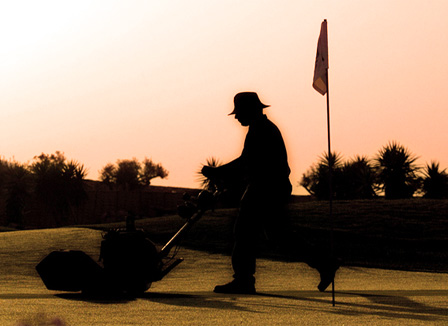 The golf course and its landscaping is laid out to discourage golfers hitting balls that end up within private property. Although no golf frontage property can be totally immune from the occasional really badly hit ball, the Club constantly reviews what it can do to improve and use the landscaping to make this even less likely. These improvements effectively enhance enjoyment of the course for most golfers by encouraging them to play the better shot and reducing penalties incurred for going out of bounds or losing balls.
Stimulated by comments from a resident, a study over the past several months of golf ball activity on the right hand side of Hole 16, taking account of the numbers of players and the seasonal strengths and directions of the wind, has confirmed that adjustment of the existing landscaping would be worthwhile to improve the players focus from the tee and to block bad shots. The Club wishes to let you know what these measures will be:
The Tee Area: Protective netting from the joint boundary of 7 and 8 The Powderhorn running diagonally behind the poplars to the cart track, with mature Euphorbia being planted along the right hand side of the ladies tee. This will prevent any tee shot, hit to the right, from continuing its flight towards the out of bounds and properties. Moreover it will help turn the golfer's address, and hence shot, further left.
Fairway: Removal of the rocks and tall cacti located to the front left of the tees in the desert hard pan just before the fairway. Level off the desert hard pan in that area and start the fairway approximately 40 metres closer to the tee complex. This will create a perspective of much greater openness to the left compared with increased density to the right, further channeling the golfers focus away from the right. The new and closer fairway grass will reduce the tendency to over hit and lose accuracy in order to "carry" what seemed to be a long stretch of desert to some golfers.
White Directional Sign: This has already been moved approximately 20 metres further left, the objective being to complement and confirm the other measures taken around the tee complex to encourage golfers to aim further left.
Boundary Planting: Further mature planting to replace failed trees on the earth mounding along the right hand side of the fairway, together with some younger poplars to mature over time. Dense planting of mature height will also be introduced on the lower slopes of the mounding alongside the cart track. These works will provide cover from errant shots hit towards the properties. The planting on the lower slopes will also discourage players from attempting to hit shots that may end up out of bounds.
The schedule of works, which commenced last week, is anticipated to be completed within 6 weeks. Disruption to play, as always, will be kept to an absolute minimum and we ask you to please be patient.
For further information contact: José Ignacio Olea
Email: jioz@almanzora.com
Telephone: +34 670 613 900