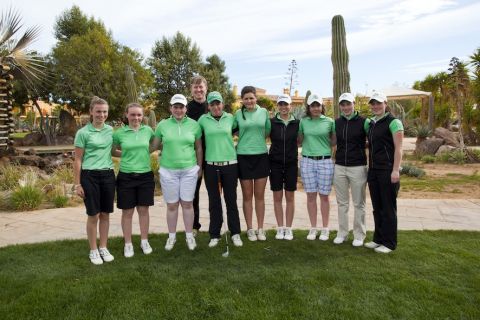 David Kearney, ILGU Coach (Back Row Centre) with members of the Under 18 & Under 21 Irish Ladies International Squad at Desert Springs during their annual visit to the Desert Springs Resort for their annual 7-day intensive winter training camp.
Four officials from the Irish Ladies Golf Union accompanied eleven girls aged between 15 – 20 years for their annual 7 days of warm weather winter training at the Desert Springs Resort between Saturday 15th – Saturday 22nd February.
"Excellent staff and very good food.
The Resort provides great facilities and a great golf course.
Thanks for everything!"
That is the verdict of 18-year-old Shannon Burke, one of the Irish Ladies Golf Union International Squad members, who have returned from their annual winter training camp.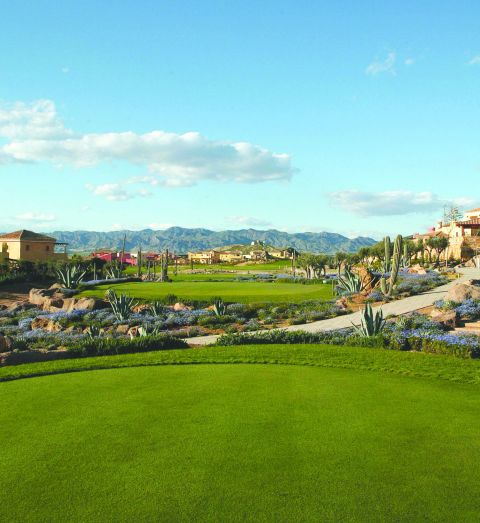 A view from the 1st Tee (Cactus Point) of the Indiana golf course at Desert Springs, Europe's only international award-winning luxury family resort and championship desert golf course in the Almanzora region of Almeria, Andalucía in south-east Spain.
The training camp utilised the excellent practice facilities at the Desert Springs Golf Academy where the ILGU Coaches were able provide one-to-one tuition and take advantage of the use of the Desert Springs short game academy.
An ILGU Squad member works on their putting technique at the Short Game Academy.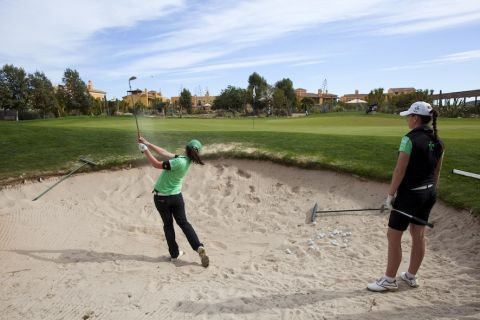 ILGU Squad members work on their bunker play technique at the Short Game Academy.
On his return visit to Desert Springs, David Kearney, ILGU Coach commented:
"The academy practice facilities were perfect for our training and practice needs and The Indiana course was in very good shape. As we have become accustomed, both the girls and all of the coaches were very well looked after by all of the staff.
Thanks once again for everything!"
An ILGU Squad member plays their approach shot on Hole 4 "Cinch" on the Indiana course at Desert Springs, Europe's only international award-winning luxury family resort and championship desert golf course in the Almanzora region of Almeria, Andalucía in south-east Spain.
Naimh Ward, 17-year-old ILGU Squad member remarked of her experience at Desert Springs:
"I really enjoyed playing the Indiana course and it was in fabulous condition. The resort has great practice facilities that enable us to work on our games.
The staff were excellent and the food was great."
Fellow ILGU Squad member, 19-year-old Chloe Ryan commented:
"The staff throughout the resort were very friendly and helpful all through the week, and I really enjoyed the food.
Thanks so much for all of your help and keep up the good work!"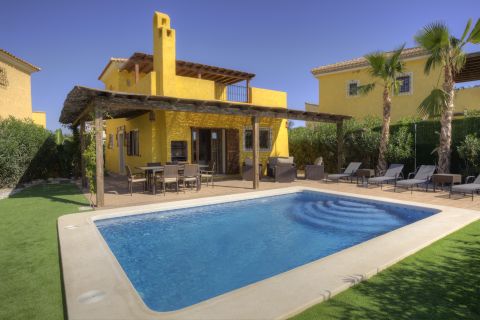 Accommodation for the ILGU Squad members and coaches was provided in the Pueblo Villas available at Desert Springs Resort.
For details of Golf & Sports Training Camps, Corporate Golf Events and Meetings at Desert Springs call 01242 680 116 or visit the website, www.almanzora.com
To find out more about the Irish Ladies Golf Union visit the website http://www.ilgu.ie/
Additional background Information
Warm weather winter training camps at Desert Springs
Desert Springs, Europe's only international award-winning luxury family resort and championship desert golf course, is proving to be one of the most popular destinations for warm weather winter training camps among the growing number of National Teams and Schools with their own golf academies and teams, currently estimated at around 90 in the UK. In addition to the Irish Ladies Golf Union squad members, visiting groups have included the National Squad of the Golf Union of Wales, golfing pupils from Hartpury College Golf School, Lee Westwood Golf Academy, Darren Clarke Golf School, Millfield School, Reading Blue Coat School at Sonning-on-Thames, King Edward's School in Bath and Loretto School at Musselburgh near Edinburgh.
All school golf trips to Desert Springs are bespoke. If desired, the programme can include time away from the golf course for some local sightseeing in what many regard as 'the real Spain.'
During their stay pupils have opportunities to swim, play tennis and use the gymnasium, trim trail, jogging tracks, paddle tennis and beach volley ball courts.
Desert Springs is easy to reach from the UK, thanks to three international airports. They are: Almeria Airport, around 40 minutes away by road; Murcia Airport, 80 minutes by car, and Alicante Airport which is a drive of less than two hours. Airlines currently flying to the region from the UK include easyJet, Monarch, Ryanair, Jet2, Jetair Fly and Thomas Cook.
Already well known as a resort specialising in family holidays, Desert Springs is gaining popularity as a centre for warm-weather training for cricketers and footballers, as well as golfers.
Accommodation is provided in the apartments, townhouses and villas available for holidays and short breaks at Desert Springs. Meals are served in the resort's Croc Restaurant, part of the family-friendly Crocodile Club that is geared up for a wide variety of leisure activities and the award winning El Torrente Restaurant at the Club House.
A spokesman for Desert Springs said that, depending on the size of the group and its requirements, the total cost of a four-day trip for warm weather training, including flights, would work out at between £350 and £400 per person.
The Desert Springs Resort & Golf Club
Facilities already completed and in use at Desert Springs include:
a par 72 -18-hole USGA Indiana golf course designed by former Great Britain and Ireland Golf Team Captain Peter McEvoy who was inspired by the desert courses of Arizona and California;
a golf academy whose PGA qualified teaching professionals cater for several international teams, for the women's elite squads of the Golf Union of Wales and for many of the English County Union's elite squads; PGA European Tour and LET players.
two hard tennis courts, two paddle courts, beach volley ball and two football pitches – one is a full-size grass pitch; the other is designed for five-a-side games;
Cricket Academy training facilities comprise; a six bay grass wicket and run up with nets, a two bay artificial wicket with nets, a full length artificial grass wicket, a Professional Bola Bowling Machine with 28 ball feeder, a slip catch cradle and a specific hard standing area, which provides outside space for facilities such as a free weights gym, stretching mats and a medical area.
a Spanish colonial style Golf Club House with a lounge, bar, restaurant, locker rooms, TV and reading rooms, and a Ralph Lauren Golf Boutique;
The Crocodile Club which provides family fun at the heart of the resort with pools, equipped sand play areas, a kid's battery powered John Deere Gator circuit and a games room as well as a Jacuzzi, sun lawns and a pool bar;
a health and fitness club and spa.
Awards
In 2005 Desert Springs won the Daily Mail Best Almeria Award and the Bentley International Property Awards for the Best Spain Development and Best Architecture. In 2006, it was awarded the Spanish National Madera Verde Prize for Environmentally Sensitive Development. In 2007, the El Torrente Restaurant received the New Millennium International Gastronomy Award for the Tourist, Hotel and Catering Industry. This award was created by the Trade Leaders Club with the aim of distinguishing companies from all countries, for the outstanding quality of their products or services.
The climate of the Almanzora coastal region
Desert Springs takes it name from the region's desert microclimate, which is unique in Europe. It has the warmest winter weather on the continent with an annual average of more than nine hours of daily sunshine and maximum daily temperatures of between 16°C (60°F) and 30°C (86°F) throughout the year. Annual rainfall is less than 200 mm. The Almanzora's coastal waters are among the cleanest and warmest in Europe, attracting both fish and diving enthusiasts.
Reader enquiries:
NOTE: High Resolution Images available upon request.
Simon Coaker
The Almanzora Group Ltd
The Manor, Boddington, Cheltenham,
Gloucestershire GL51 0TJ
Tel: +44 (0) 1242 680116
e: tag@almanzora.co.uk