Following on from the successful completion of their first of two scheduled training camps earlier this month, between Tuesday 13th – Saturday 17th February, three (3) officials from the Irish Ladies Golf Union (ILGU) accompanied eight (8) players representing International squads to complete their second 4-day warm weather winter training camp at Desert Springs Resort.
"Desert Springs is a fantastic place for both golf and leisure. Great facilities and lovely staff, we were so well looked after, many thanks!"
That was the verdict of 24-year-old Paula Grant, one of the ILGU International Squad members.
The training camp utilised the excellent practice facilities at the Desert Springs Golf Academy, where the ILGU Coaches were able provide one-to-one tuition and take advantage of the use of the Desert Springs short game academy, prior to the players taking their games to The Championship Indiana Course.
Donal Scott, ILGU Head Coach commented:
"Thank you to Kirk and all the staff for accommodating our team this week, the resort facilties and service were again top class!"
Danielle McVeigh, ILGU Captain commented:
"5-Star service from all of the staff, extremely well organised and we were really taken care of, many thanks!"
Robbie Cannon, ILGU Strength & Conditioning Coach remarked:
"Superb service all week and we look forward to returning next year, we will just have to stay longer if we can!"
Comments from some of the ILGU International Squad Members respect to their experience of the training camp were;
"The place is just great, the greens are in fabulous condition with an excellent speed." Giorgia Carr
"A stunning golf course with excellent facilities and friendly staff." Valerie Clancy
"Great facilities with all of the staff being so friendly and helpful, thank you." Sara Bryne
"I had a really great week, thank you." Annabel Wilson
The players and officials were accommodated in some of the privately-owned villas and apartments normally reserved for holidays and short breaks at Desert Springs and the resort's executive chef was on hand to cater for the special dietary requirements of individual players dining each evening in El Torrente Restaurant.
For further information:
Kirk Lovell
+34 647 414 899
kl@almanzora.com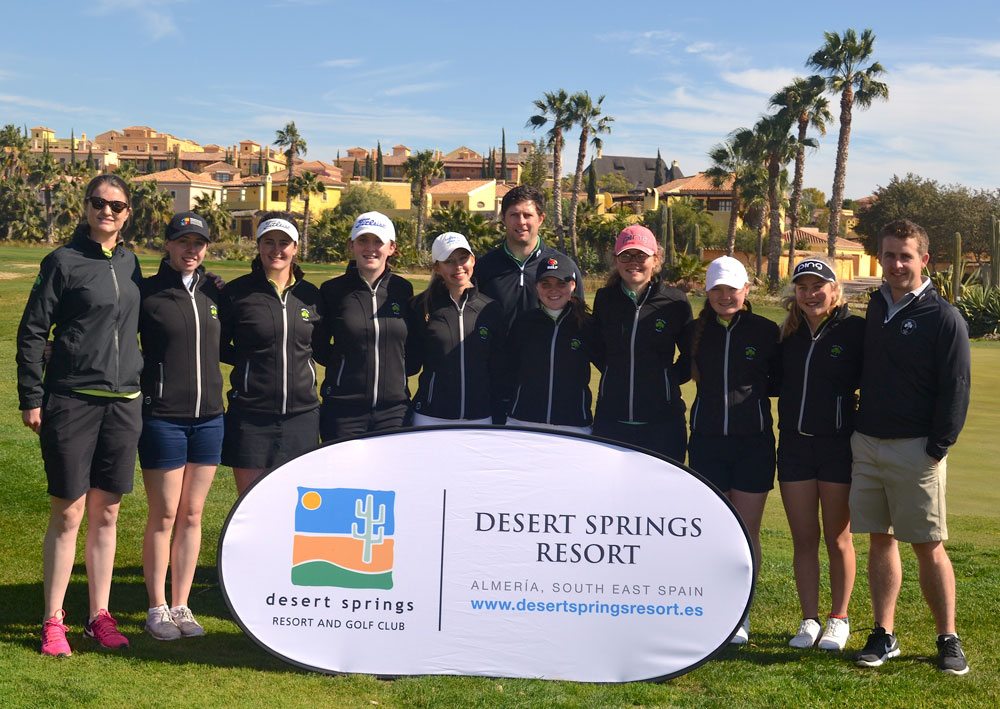 Donald Scott ILGU Head Coach, Robbie Cannon ILGU Strength & Conditioning Coach & Danielle McVeigh ILGU Captain with ILGU International Squad Members; Annabel Wilson, Mairead Martin, Meadhbh Doyle, Paula Grant, Giorgio Carr, Lauren Walsh, Valerie Clancy & Sara Byrne
A member of the ILGU International Squad practicing at the Desert Springs Golf Academy
A member of the ILGU International Squad putting on Hole-18 'Last Chance'