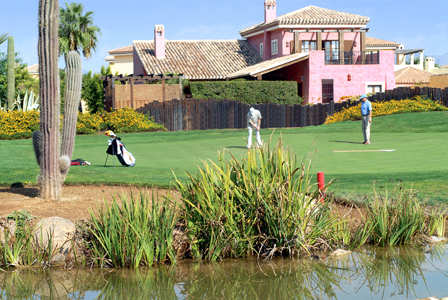 A view of Desert Springs in Spain, a new destination for James Villa Holidays in 2010.
Kent-based James Villa Holidays is the latest to add Desert Springs, Europe's only international award-winning luxury family resort and championship desert golf course in the Almeria region of south-east Spain, to its portfolio of leisure resorts for holidays in 2010.
The company, which offers holidays in 44 leisure resorts for clients flying from 26 UK airports and four in Ireland, says it was attracted to Desert Springs by the calibre of the ten villas with private pools and cottages with shared pools in which its clients will stay.
"They will enable us to arrange self-catering holidays for a mix of clients, ranging from couples to families and groups of up to seven people," says Andy Smith, marketing director of James Villa Holidays.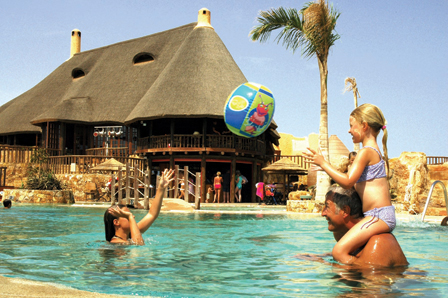 The family-friendly Crocodile Club (pictured) at Desert Springs in Spain is just one of a wide range of facilities and amenities which persuaded James Villa Holidays to add the resort to its destinations for 2010.
He added: "We were keen to add Desert Springs to our destinations when we saw its fantastic facilities and amenities, such as the resort's award-winning El Torrente restaurant and the Croc Restaurant, part of the family-friendly Crocodile Club, as well as the 18-hole championship golf course, day spa, sports club, tennis and paddle courts."
Clients who take a James Villa holiday at Desert Springs before the end of March this year will qualify for a free pass for the resort's Sierra Sports Club. This will enable them to use the paddle and tennis courts and the gymnasium without charge. They will also qualify for discounted rounds of golf with free use of a golf buggy.
Clients who book a holiday at Desert Springs before the end of this month (February, 2010) can enjoy a James Villa Holidays Sunshine Spectacular comprising free car hire, free travel insurance and a free welcome pack.
For more information on James Villa Holidays visit www.jamesvillas.co.uk
The climate at Desert Springs
Desert Springs takes it name from the region's desert microclimate which is unique in Europe. It has the warmest winter weather on the continent with an annual average of more than nine hours of daily sunshine and maximum daily temperatures of between 16°C (60°F) and 30°C (86°F) throughout the year. Annual rainfall is less than 200 mm. The Almanzora's coastal waters are among the cleanest and warmest in Europe, attracting both fish and diving enthusiasts.
Getting there from the UK
Desert Springs is easy to reach, thanks to three international airports. The current journey time from Almeria International Airport to Desert Springs is around 50 minutes by road. Other international airports are at Murcia – 70 minutes by toll motorway – and Alicante which is less than two hours by road.
For further information contact: The Almanzora Group
Email: tag@almanzora.co.uk
Telephone: +44 (0) 1242 680 299