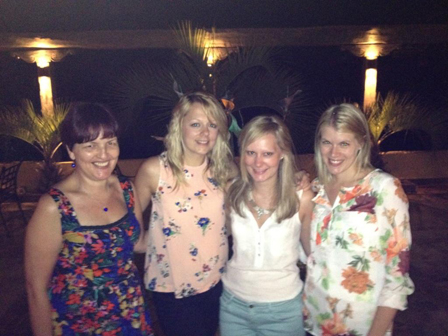 The team form James Villa Holidays at Desert Springs, Jo Richardson with Jane Humphrey, Nikki Frampton-Fell & Sue Nye.
In 2010 Kent-based James Villa Holidays added Desert Springs, Europe's only international award-winning luxury family resort and championship desert golf course in the Almeria region of south-east Spain, to its portfolio of leisure resorts for holidays.
The company, which offers holidays in 75 leisure resorts throughout 17 countries for clients flying from 27 UK airports, was initially attracted to Desert Springs by the calibre of the private villas with pools and cottages with shared pools in which its clients would stay.
In their first season of rental promotions James Villa Holidays provided an impressive 88 weeks of rentals at Desert Springs. Due to this success and the demand they were receiving from their clients, James Villa Holidays requested additional detached Villas and Cottages along with apartments and townhouses to add to their rental portfolio at Desert Springs for the following year to satisfy their customers needs.
The consequence of this increase in their rental portfolio saw an impressive 140% increase in weeks booked through James Villa Holidays in 2011, providing 210 weeks of property rentals.
Between 28th – 30th May, Desert Springs was host to Jo Richardson, Product Executive of the Contracts Department of James Villa Holidays Ltd and three members of their team; Jane Humphrey, Nikki Frampton-Fell & Sue Nye.
The team were at the resort to complete their annual Health & Safety Audit of the rental properties and to discuss how to create future growth for rentals within their Desert Springs portfolio.
Jo Richardson commented:
"Personally, this is my fourth visit to the resort and we have previously sent six members of our Sales team to Desert Springs for an educational visit. James Villa Holidays currently promotes 18 Leisure Resorts in Spain and we are pleased to report that Desert Springs still remains the most popular destination for our clients. In accordance with previous years, as we are imminently due to enter the 'Lates Market', we anticipate that we shall see a further increase in rentals at Desert Springs for this summer season."
Brigid Irwin of the Property Management department of Playas del Almanzora SL remarked:
"Since 2010 we have developed an extremely close working relationship with James Villa Holidays, the benefits of which are clearly visible to our owners who have elected to join our Holiday Letting Programme. I am extremely confident from their feedback received that their visit to the resort will only have a positive consequence for future rentals."
For Further information please contact: Brigid Irwin
Tel: (+34) 607 617 430