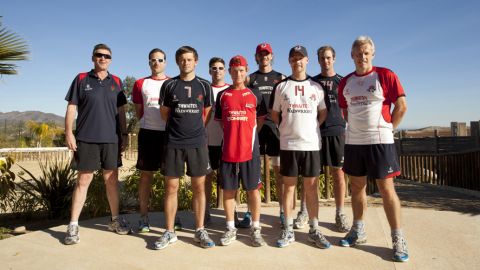 Training Group One – From Left to Right: David Roberts (Lancashire County Cricket Clubs official medical services partner), Phil Scott, Gareth Cross, Paul Horton, Alex Davies, Oliver Newby, Karl Brown, Tom Smith & Peter Moores (Head Coach Lancashire County Cricket Club).
Lancashire's players are now back in England having completed a successful fortnight of warm weather fitness and cricket training between 27th January & 10th February at Desert Springs Resort.
Two groups of six players completed three sessions a day for five days as they stepped up their physical preparations for the upcoming 2013 season.
Phil Scott, Lancashire's Strength and Conditioning Coach said:
"Having dry weather and grass meant the players could really throw themselves into the fielding drills and increase the volume and intensity of their throwing and catching which is really important as they get closer to the season. The lads worked incredibly hard throughout the week, and since we've been back the gains they have made are already becoming obvious."
The training camps, which were a joint initiative between David Roberts Physiotherapy who has been Lancashire's official medical services partner for the past 12 years and Desert Springs were also a great opportunity for new players to integrate into the team and spend time learning about the value of nutrition, diet, adequate rest and recovery techniques.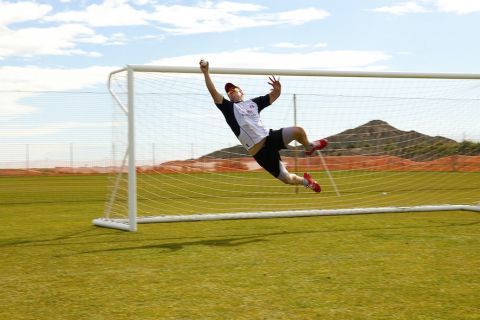 Lancashire County Cricket Club Catch Practice!
Sam Byrne – Physiotherapist, Lancashire County Cricket Club remarked:
"Desert Springs really is a fantastic place to bring your team or athletes to train. The variety of facilities from the immaculate grass training field and well-equipped gym, to the gruelling 'Sand-Pit' and 'Hill Sprint' all make for a great place to push your players to their limits while still having fun.
The accommodation is modern, spacious and comfortable, the staff simply cannot do enough to help you, and the Chef really does go out of his way to prepare extremely healthy and tasty options. All this, combined with the endless sunshine on your back makes it the perfect place to create a pure training environment for any team or athlete."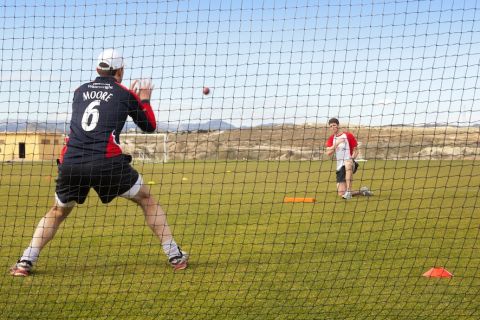 Stephen Moore working hard during the Ramp Reflex Catch training session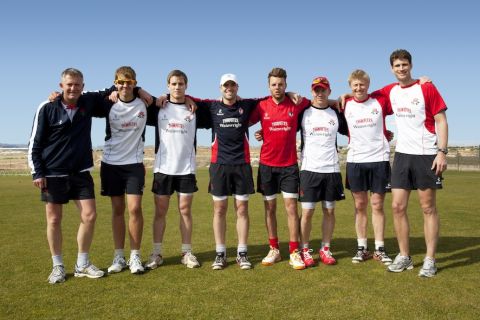 Training Group Two – From Left to Right: Gary Yates (Assistant Coach Lancashire County Cricket Club), Tom Baily, Luis Reece, Stephen Moore, Aaron Lilley, Steven Croft, Glenn Chapel (Captain Lancashire County Cricket Club), Sam Byrne (Physiotherapist Lancashire County Cricket Club)
Lancashire boys' strength conditioning training session at the Sierra Sports & Fitness Club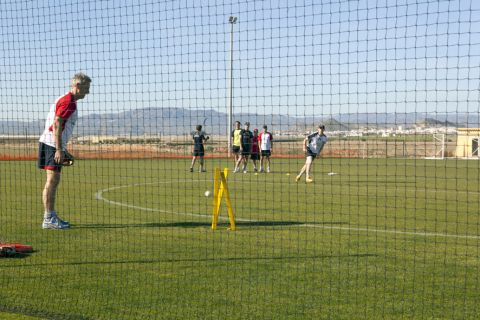 'Throwing at the Stumps' training session
Peter Moores Head Coach Lancashire County Cricket Club commented:
"After spending a week at Desert Springs with several of the Lancashire CCC professional squad I can thoroughly recommend it as a venue.
The excellent outdoor grass facilities provided us with the perfect conditions for fielding and agility work.
This alongside the gymnasium, sandpits and trim trail gave ample scope for varied and constructive training.
This all takes place in the idyllic setting of a golf course, which provides a perfect environment for hard work, in depth discussions and pure enjoyment.
By the end of the week not only had we gained knowledge and experience, but also as a team we had become fitter and stronger, not just physically but mentally.
The staff were outstanding in all aspects and the food was exceptional and completely tailored to our requirements. All in all a fantastic week for all involved."
For further information contact: The Almanzora Group Ltd
Tel: +44 (0) 1242 680 299
Email. tag@almanzora.com
www.almanzora.com