With the domestic cricket season drawing ever closer, Leicestershire County Cricket Club (Leicestershire CCC) are now back in the UK having completed their five (5) day pre-season warm weather training camp at the Desert Springs Cricket Ground & Academy.
Between Saturday 17th – Thursday 22nd February Six (6) Leicestershire CCC management and coaching staff accompanied Sixteen (16) players who completed; grass net practice, both bowling and batting at the Cricket Academy, strength and conditioning work, running, speed and agility work at the Academy Ground and Gym at the Sierras Sports Club, and as part of their fitness programme the squad also completed a mountain bike trail route. The squad also benefited from the newly developed Cricket Ground at Desert Springs where they completed various practice sessions that included; throw downs, slip catch training and match simulations utilising the ground wicket.
Paul Nixon Leicestershire CCC Head Coach commented:
"An outstanding facility coupled with warm hospitable staff, all with a can-do attitude made our trip into a great experience for everyone. Impeccable service levels. Thank you. See you next year!"
Matt Mason, Leicestershire CCC Head Bowling Coach remarked:
"What a great environment to bring a team to. Great facilities which means players are happy and can focus on performance. Thank you to all the staff for making us feel so welcome."
John Sadler Leicestershire CCC Assistant Coach remarked:
"A fantastic facility. Exceptional staff and wonderful food. A superb environment to upskill as an individual and as a unit."
Leicestershire CCC players said of their pre-season training experience at the Desert Springs Cricket Ground & Academy:
"Excellent facilities and very helpful and friendly staff." Michael Carberry (Captain)
"Brilliant training camp at an ever-improving beautiful complex. Can't wait to come back." Paul Horton
"Brilliant facilities, very impressed with everything. Can't wait to come back. A+" Lewis Hill
"Been great to get outdoors! Excellent facilities and very friendly and helpful staff." Dieter Klein
"Brilliant all-round facilities with welcoming staff. Food is also of a very high quality. Hope to return one day soon." Gavin Griffiths
"Very enjoyable and productive time at Desert Springs. Outstanding facilities and staff!" Tom Taylor
"Quality week. Cricket was excellent. High quality facilities." Ben Raine
"Superb visit to Desert Springs. Great pitches. Food and service was excellent. Top class facilities." Callum Parkinson
"Really enjoyed my time at Desert Springs. Service, food, and facilities were second to none." Tom Wells
"Loved my time at Desert Springs. Outstanding service in all areas. Would highly recommend to anyone." Rob Sayer
 "Massive thank you to everyone involved in the running of Desert Springs. Everything from the service, to accommodation, to the food, has been exceptional and made sure that we had a really productive training camp" Richard Jones
"Thank you to everybody who has made this pre-season trip amazing. I have loved every minute of it!" Ateeq Javid
"Thank you for the great time spent at Desert Springs. My second time here and even better than the first. Brilliant facilities and excellent food." Neil Dexter
"Huge thanks to all at Desert Springs for making our stay so comfortable. Can't wait to be back!" Aadil Ali
To view the video of the Desert Springs Cricket Academy Click Here
The players and coaches were accommodated in some of the privately-owned apartments normally reserved for holidays and short breaks at Desert Springs and the resort's executive chef was on hand to cater for the special dietary requirements of individual players dining in El Torrente restaurant.
For further information:
Kirk Lovell
+34 647 414 899
kl@almanzora.com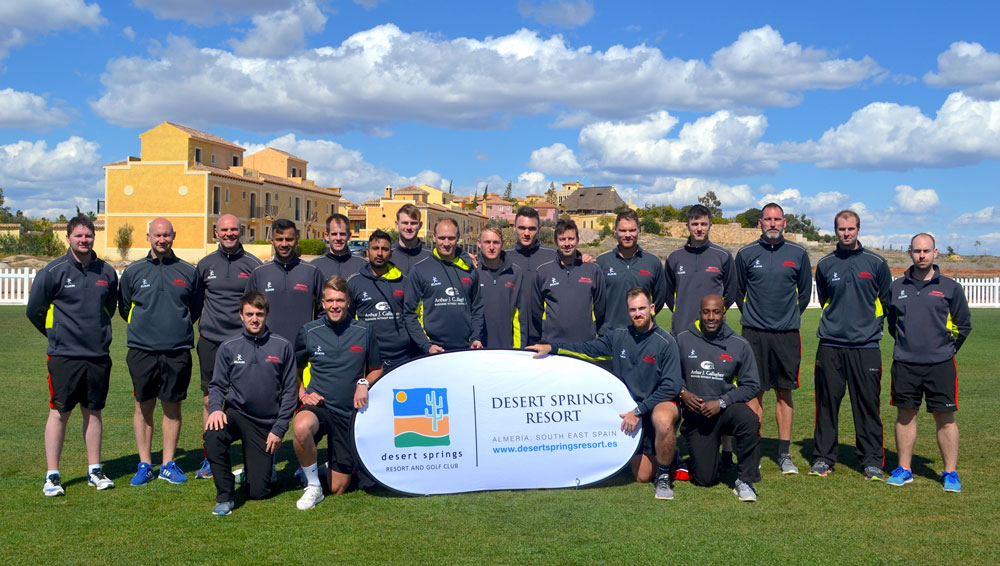 Leicestershire County Cricket Club at Desert Springs Cricket Ground & Academy for their 2018 Pre-Season training camp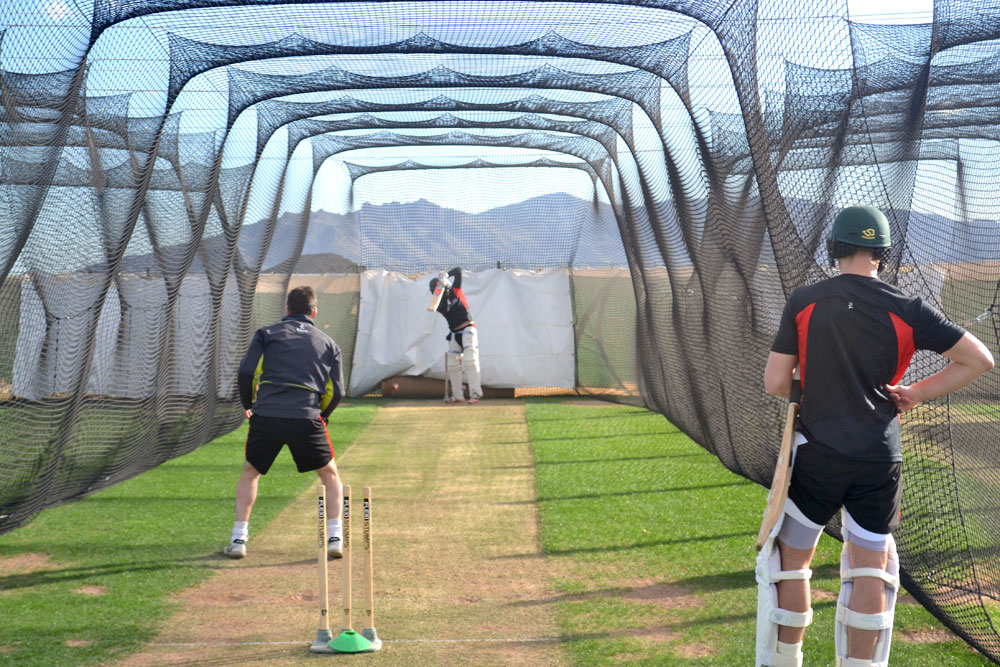 Leicestershire CCC 'Nets Practice Session' at the Desert Springs Cricket Academy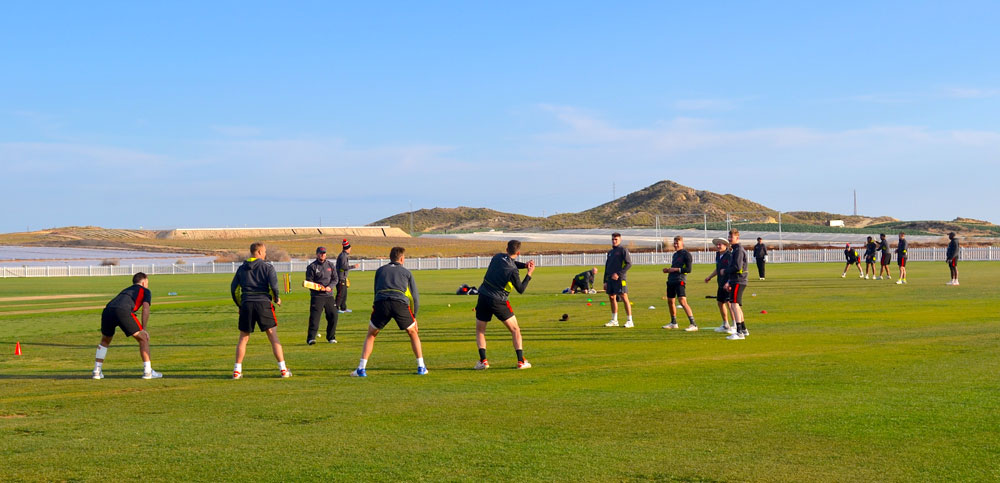 Leicestershire CCC fielding drills taking place at the Desert Springs Cricket Ground