It is with pleasure that we announce Martin Park as a new member of the coaching staff at the Desert Springs Golf Academy.
Martin, who some of you will already have met personally at the resort, is coach to Desert Springs residents and LET Tour professionals Trish Johnson and Becky Brewerton, and is currently at the resort working with them on their pre-season training.
Martin is scheduled to be at the resort through to March 21st, and during that time he is available to help you with any aspect of your golf game.
Martin remarked:
"Those individuals, who are regarded as the elite in their respective fields, have shaped my knowledge, skills and ability to provide the best service for aspiring golfers and touring professionals alike. With clients ranging from complete beginners to those who ply their trade at the highest levels, the common denominator is to instill positive change, using a holistic approach with my students to help them enjoy the game more and attain their individual goals.
If you're serious about improving your game you should be serious about who you consult to enable you improve and reach your goals. My responsibility is to analyze and advise my students in a way that will see progress in the shortest period of time. I'm excited to be joining you at Desert Springs for a few weeks and I hope I will meet many of you personally."
To arrange your lesson with Martin, in the normal manner simply book at the Golf Reception in the Clubhouse.
The Learning Concept: In the technical aspect of instruction, Martin teaches from scientific principals using everyday geometry, physics and biomechanics using a proven systematical template, which enables each player to begin to master The 3 fundamentals of hitting great golf shots.
The Technology: Measuring and managing progress is essential in today's world of high-technology. For full swing coaching, Martin uses TrackMan Performance Studio 3D Radar technology, which is regarded as the finest system on the market and used extensively on all Tours. TrackMan works in conjunction with the Casio EXF1 high-speed camera which can film up to 1200-frames per second, capturing every significant body movement and includes the 3D club data.
For putting, Martin uses the SAM Putt Lab, which records all parameters of the putting stroke. There's no point guessing when you have the facts, ensuring the approach to improvement is precise with continued measurement, assessment, prescription and supervision.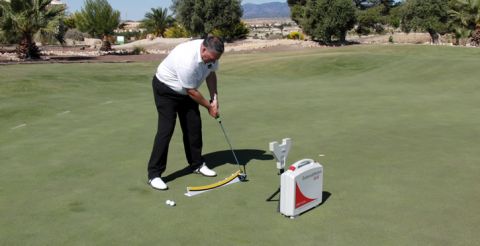 Martin is also an AimPoint Certified instructor, the industry leader in reading any putt, on any course, anywhere in the world at any time with a simple to read chart. AimPoint is used by the world's top amateurs and professionals alike and AimPoint technology is often seen on television broadcasts to predict the line of any putt on the PGA Tour.
For further information contact: Golf Reception
Tel: +34 637 861 591
Email: golfreservations@almanzora.com
www.almanzora.com