Lisa Keightley, (far left) MCC Team Manager, Jonathan Finch, Head Performance Coach (2nd Left) and Christian Vassallo, Strength and Conditioning Coach (far right), with MCC Women's Young Cricketers players: Sophie Luff, Alex MacDonald, Hollie Armitage, Jessica Watson, Georgina Holmes, Georgina Hennssy, Stephanie Butler and Carla Rudd.
Marylebone Cricket Club (MCC) Young Women's Cricketers' players are now back in England having completed a successful 5 days of warm weather fitness and cricket training between 8th – 12th April at Desert Springs Resort, Europe's only international award-winning luxury family resort and championship desert golf course with its very own dedicated Cricket Academy, in the Almanzora region of Almeria, Andalucía in south-east Spain.
Lisa Keightley, MCC Women's Young Cricketers Team Manager and her team of three staff accompanied eight players who completed bowling, batting and fielding practice as well as strength and conditioning training sessions as they stepped up their physical preparations for the upcoming 2014 season.
Lisa Keightley, MCC Team Manager said:
"We have experienced and benefitted from great hospitality, first class quality food and excellent cricket practice facilities here at Desert Springs Resort. The weather in the UK has not been conducive to allowing our players to work on fielding exercises and practice, and that is one area that we have been specifically able to concentrate on here in Spain. We certainly believe that we shall reap the benefits of all that hard work in the coming weeks in our matches to be played! In my opinion the Desert Springs Cricket Academy has the potential to become an extremely sought after world class location for elite cricket training camps."
'Close Fielding Practice Session' at the Desert Springs Cricket Academy
The famous MCC Young Cricketers programme demonstrates the Club's determination to foster new talent and maintain its reputation as the world's most active cricket-playing club.
After benefiting from expert coaching, intensive playing programmes and world-class facilities, many MCC Young Cricketers – both men and women – proceed to enjoy successful careers in county or international cricket.
Notable 'graduates' of the MCC Young Cricketers programme include England's Sir Ian Botham, who notably is a property owner and frequent visitor at Desert Springs Resort, Phil Tufnell, and Australia's Mark Waugh. One in three MCC Young Cricketers go on to sign professional terms with a first-class county.
MCC player, 18 year-old Jessica Watson remarked of the Cricket Academy:
"Desert Springs Resort is excellent for a pre-season training camp. The food and attention to detail from the resort staff was excellent, and the Gym had everything we needed for concentrating on our strength and conditioning programme; the wickets played very well and most importantly the additional training facilities at the academy gave us a chance to undertake extensive training sessions on fielding work ahead of the season."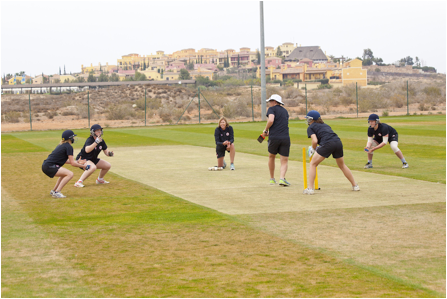 The training camp worked on a specific and carefully planned programme covering technical skills, strength and conditioning, fielding skills and both individual and group activity.
MCC player, 18 year-old Stephanie Butler remarked of her experience:
Desert Springs provided a great opportunity for our squad to work on specific areas of our game that we could not do back in the UK. We have certainly been put through our paces during this training camp and we are all looking forward to returning soon!"
Our resort accommodation based on 4 sharing two bedroom / two bathroom apartments was by far much better than staying in a conventional hotel with just a bedroom and shower! When not training, the apartments provided us with a haven to return to giving us girls the opportunity to spend some time relaxing together in the apartment lounge, which only strengthens players bonds."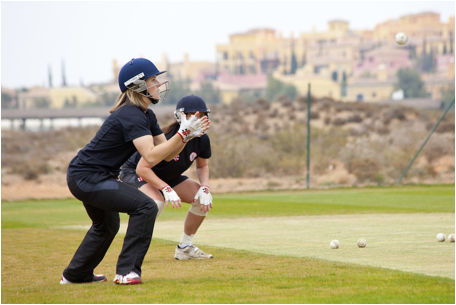 Keep your eye on the ball!
Jonathan Finch, MCC Head Performance Coach said: –
"This was the inaugural visit to Desert Springs of the MCC. We had received extremely positive feedback from the players of Lancashire CCC, Sussex CCC and Matt Maynard, all of whom had visited Desert Springs for training camps recently and recommended we do the same. We certainly have not been disappointed in what we have found and experienced here at Desert Springs. The location, training facilities, quality of accommodation and food, attention of the staff and attention to detail to ensure that we benefit from our time here as much as possible has been excellent. The girls have most definitely benefitted from their training camp and we have already requested a quote to return again later this year for numerous training camps with various of our girls' squads!"