A final round score of 1 under par (71 strokes), for a combined four round total of 17 under par, saw Englishman Matthew Baldwin (31 yrs.) claim the outright win of the 2nd Stage of the European Tour Qualifying School held on The Indiana Course at Desert Springs Resort, Europe's only international award-winning luxury family resort and championship desert golf course in the Almeria region of Andalucía, south-east Spain, which took place from Friday 3rd – Monday 6th November 2017.
A total of 76 players participated in the 2nd Stage of the European Tour Qualifying School held at Desert Springs Resort, fighting for the top 22 spots that provided direct access to the Final Stage of the Tour School, to be hosted at Lumine Golf from the 11th – 16th November.
The course conditions at Desert Springs Resort were ideal, with smooth and true greens rolling at 11'5" all week, and allowed for, combined with the sunny weather and an average of 25ºC, some superb scoring.
Round 1 saw Frenchman Amaury Rosaye score 62 to take the early lead, followed by Matthew Baldwin and Lukas Nemecz, both scoring rounds of 64. Unfortunately, Rosaye could not repeat his performance on his second round and carded a 71, for a total of 11 under par. Lukas Nemecz followed up his first round 64 with a score of 63, for a 17 under total and the outright lead. However, the spotlight shifted to the Spanish Amateur Adri Arnaus, winner of the 2017 Alps Tour Order of Merit, which granted him a card for the Challenge Tour in 2018. Arnaus shot a 61 (11 under par) to grab second place, one shot behind Nemecz going into moving day.
The third round saw the course play considerably tougher with the two leading players Nemecz and Arnaus moving down the leaderboard with 77 and 79 respectively. Baldwin, who had shot a 5 under par (67) on his second round, did not miss the opportunity to grab the outright lead shooting a 69 (-3) in his third round, for a total of 16 under par and a 3 shot lead ahead of Michael Jonzon.
The fourth and final round was the opportunity for those outside the top 22 to jump in and secure their spot at the final, like Australian Jack Munro and Scotsman Robert MacIntyre, who both posted scores of 66 guaranteeing them their start next week.
Matthew Baldwin made his first ever Hole in One on Hole 14 (Tiburón) on his way to a one under par 71 for a total of 17 under par to secure his victory over Austrian Lukas Nemecz, with a combined score of 16 under par.
The drama, however, took place on the bubble around the 18th place, where 6 players tied with 8 under par, and only five players would go through. The selected play off holes were the 1st, 2nd, 17th and 18th. However, the 17th hole decided which player would be left out.
After all putts were holed, the 22 qualifiers are: Matthew Baldwin, Lukas Nemecz, Linus Vaisanen, James Erkenbeck, Scott Gregory, Max Orrin, Cormac Sharvin, Rafa Echenique, Adri Arnaus, Christian Braeunig, Michael Jonzon, Chris Lloyd, Robert Macintyre, Amaury Rosaye, Sebastian Soderberg, Scott Henry, Hugo León, Jack Munro, Sam Horsfield, Åke Nilsson, Scott Vincent and Henric Sturehed.
For further information contact:
Kirl Lovell
+34 647 414 899
kl@almanzora.com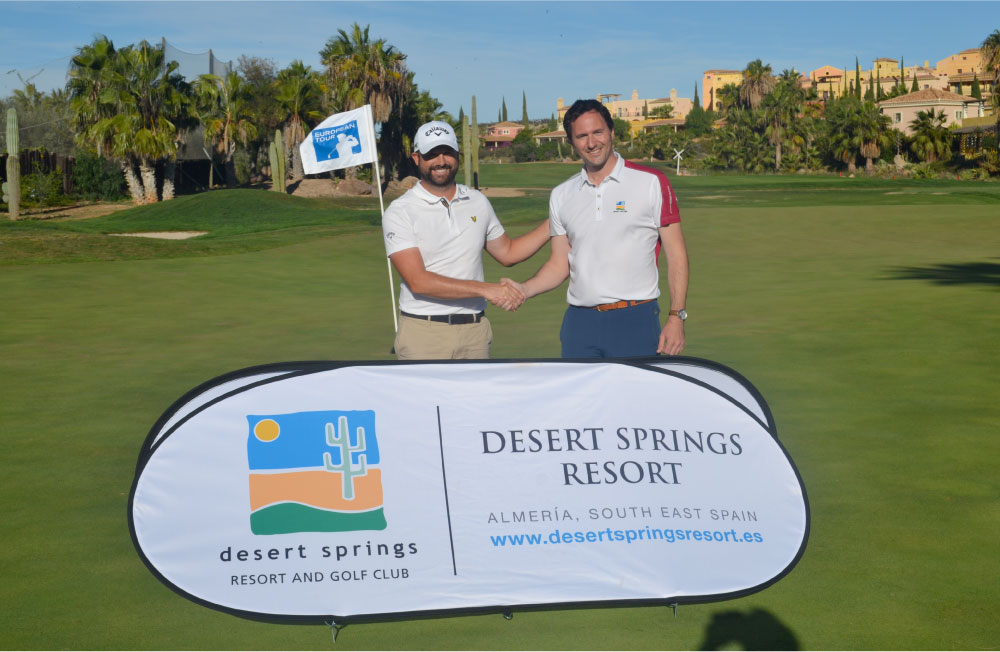 Matthew Baldwin (left) with Desert Springs Golf Operations Manager, Alfonso Castiñeira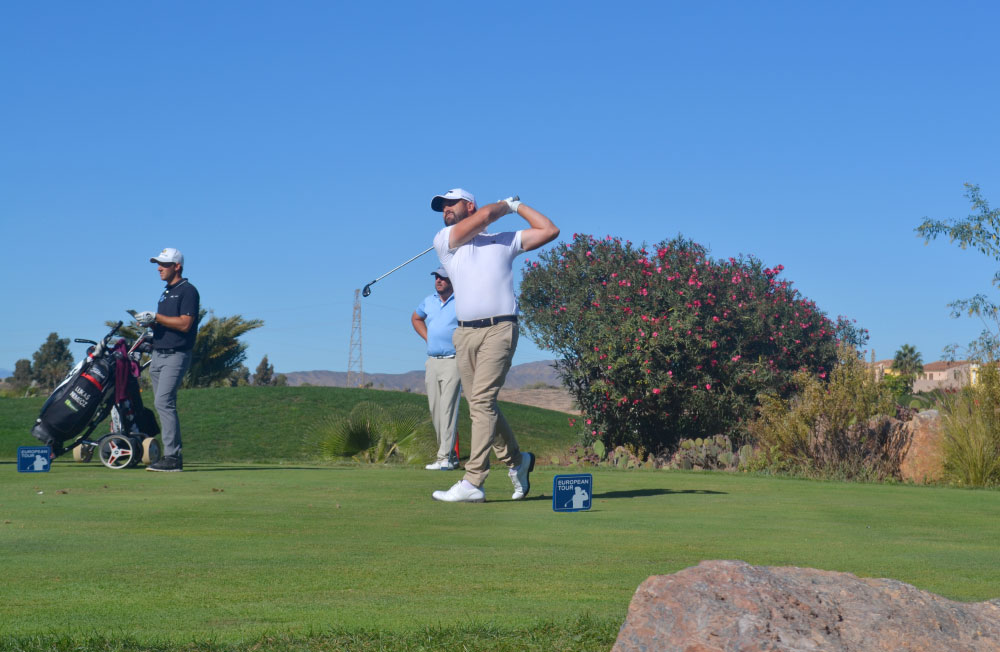 Matthew Baldwin on the 5th Tee of the Championship Indiana course