A final round score of 1 under par (71 strokes), for a combined four round total of 17 under par, saw Englishman Matthew Baldwin (31 yrs.) claim the outright win of the 2nd Stage of the European Tour Qualifying School held on The Indiana Course at Desert Springs Resort, Europe's only international award-winning luxury family resort and championship desert golf course in the Almeria region of Andalucía, south-east Spain, which took place from Friday 3rd – Monday 6th November 2017.
A total of 76 players participated in the 2nd Stage of the European Tour Qualifying School held at Desert Springs Resort, fighting for the top 22 spots that provided direct access to the Final Stage of the Tour School, to be hosted at Lumine Golf from the 11th – 16th November.
The course conditions at Desert Springs Resort were ideal, with smooth and true greens rolling at 11'5" all week, and allowed for, combined with the sunny weather and an average of 25ºC, some superb scoring.
Round 1 saw Frenchman Amaury Rosaye score 62 to take the early lead, followed by Matthew Baldwin and Lukas Nemecz, both scoring rounds of 64. Unfortunately, Rosaye could not repeat his performance on his second round and carded a 71, for a total of 11 under par. Lukas Nemecz followed up his first round 64 with a score of 63, for a 17 under total and the outright lead. However, the spotlight shifted to the Spanish Amateur Adri Arnaus, winner of the 2017 Alps Tour Order of Merit, which granted him a card for the Challenge Tour in 2018. Arnaus shot a 61 (11 under par) to grab second place, one shot behind Nemecz going into moving day.
The third round saw the course play considerably tougher with the two leading players Nemecz and Arnaus moving down the leaderboard with 77 and 79 respectively. Baldwin, who had shot a 5 under par (67) on his second round, did not miss the opportunity to grab the outright lead shooting a 69 (-3) in his third round, for a total of 16 under par and a 3 shot lead ahead of Michael Jonzon.
The fourth and final round was the opportunity for those outside the top 22 to jump in and secure their spot at the final, like Australian Jack Munro and Scotsman Robert MacIntyre, who both posted scores of 66 guaranteeing them their start next week.
Matthew Baldwin made his first ever Hole in One on Hole 14 (Tiburón) on his way to a one under par 71 for a total of 17 under par to secure his victory over Austrian Lukas Nemecz, with a combined score of 16 under par.
The drama, however, took place on the bubble around the 18th place, where 6 players tied with 8 under par, and only five players would go through. The selected play off holes were the 1st, 2nd, 17th and 18th. However, the 17th hole decided which player would be left out.
After all putts were holed, the 22 qualifiers are: Matthew Baldwin, Lukas Nemecz, Linus Vaisanen, James Erkenbeck, Scott Gregory, Max Orrin, Cormac Sharvin, Rafa Echenique, Adri Arnaus, Christian Braeunig, Michael Jonzon, Chris Lloyd, Robert Macintyre, Amaury Rosaye, Sebastian Soderberg, Scott Henry, Hugo León, Jack Munro, Sam Horsfield, Åke Nilsson, Scott Vincent and Henric Sturehed.
Since 1976, The European Tour Qualifying School has been held at the end of each season to establish which players, not otherwise exempt, will gain their playing privileges on the Tour for the following season through a qualifying competition.
It's a tough school for one of golf's most coveted prizes, namely Membership of The European Tour and a place among the golfing elite. Along the way, dreams are made and hopes dashed in equal measure. The Qualifying School is held in three stages – dependent on the individual's status – at a series of venues in the UK and Continental Europe. In the region of 1,000 competitors enter the Qualifying School each year, all aiming for a European Tour card, awarded to the top 25 and ties following the Final Stage. A player progressing through all three stages will have to play 252 holes under the most intense pressure.
The leading 25 players (plus those tied for 25th place) will earn Category 15 Membership of The European Tour for the following season.
NOTE TO EDITORS
About Desert Springs Resort
Opened in 2001, Desert Springs Resort quickly established an international reputation for outstanding quality, attracting discerning golfers, international elite amateur teams and professionals, as well as major international events, including two Spanish Amateur Opens and most latterly the 2015 PGA Europro Tour Championships.
Resort accommodation is provided in the apartments, townhouses and villas available for holidays and short breaks at Desert Springs Resort. Meals are served in the resort's Croc Restaurant, part of the family-friendly Crocodile Club that is geared up for a wide variety of leisure activities and the award-winning El Torrente Restaurant at the Club House.
Visiting golfers benefit from resort gated security and full management and services that ensure all aspects of a golfer's stay are taken care of. These include airport transfers, food hamper deliveries, babysitting and both resort and off-resort restaurant reservations.
Desert Springs Resort is easy to reach from all parts of the UK and Europe, thanks to three international airports: Almeria Airport, 40 minutes transfer; Murcia Airport, 80 minutes transfer, and Alicante Airport 1hr 50 minutes transfer.
Already well known as a resort specialising in golf and family holidays, Desert Springs Resort is gaining popularity as a centre for warm-weather training for cricketers and footballers.
For more information on Desert Springs Resort: www.almanzora .com Tel: – +34 950 091 518
Facilities already completed and in use at Desert Springs include:
•  a par 72 -18-hole USGA Indiana golf course designed by former Great Britain and Ireland Golf Team Captain Peter McEvoy who was inspired by the desert courses of Arizona and California;
•  a golf academy whose PGA qualified teaching professionals cater for several international teams, for the women's elite squads of the Golf Union of Wales and for many of the English County Union's elite squads; PGA European Tour and LET players.
•  two hard tennis courts, two paddle courts, beach volley ball and two football pitches – one is a full-size grass pitch; the other is designed for five-a-side games;
•  a Cricket Academy with facilities that comprise; twenty-four (24) grass wickets and run up with nets, one artificial wicket with nets, a full length artificial grass wicket, a Professional Bola Bowling Machine with 28 ball feeder, a slip catch cradle and a specific hard standing area, which provides outside space for facilities such as a free weights gym, stretching mats and a medical area
•  a Spanish colonial style Golf Club House with a lounge, bar, restaurant, locker rooms, TV and reading rooms, and a Ralph Lauren Golf Boutique;
•  The Crocodile Club which provides family fun at the heart of the resort with pools, equipped sand play areas, a kid's battery powered John Deere Gator circuit and a games room as well as a jacuzzi, sun lawns and a pool bar;
•  a health and fitness club and spa.
Awards
Desert Springs Resort was awarded Best Golf Resort for Groups in Europe by the 2016 European Group Travel Awards (EGTA). The Indiana Course at Desert Springs Resort has also been recognised as the 6th Best Golf Course in Spain, based on the reviews of players who rated the course on the Leading Courses website. Out of the 345 courses present on this ranking the Indiana Course at Desert Springs occupies 6th place with a score of 8,8/10, and awards Desert Springs Golf Club with the "Outstanding" badge. This distinction is only given to the best 10 courses in the country.
Desert Springs Resort has been awarded the Daily Mail Best Almeria Award and the Bentley International Property Awards for the Best Spain Development and Best Architecture, as well as the Spanish National Madera Verde Prize for Environmentally Sensitive Development & SICTED award for the distinction of "Commitment to Tourism Quality". El Torrente Restaurant has received the New Millennium International Gastronomy Award for the Tourist, Hotel and Catering Industry. This award was created by the Trade Leaders Club with the aim of distinguishing companies from all countries, for the outstanding quality of their products or services.
The climate of the Almanzora coastal region
Desert Springs Resort takes it name from the region's desert microclimate, which is unique in Europe. It has the warmest winter weather on the continent with an annual average of more than nine hours of daily sunshine and maximum daily temperatures of between 16°C (60°F) and 30°C (86°F) throughout the year.  Annual rainfall is less than 200 mm.  The Almanzora's coastal waters are among the cleanest and warmest in Europe, attracting both fish and diving enthusiasts.
Reader enquiries:
Simon Coaker
The Almanzora Group Ltd
Sales & Marketing Manager
The Manor, Boddington, Cheltenham,
Gloucestershire GL51 0TJ
Tel: +44 (0) 1242 680116
Email: scc@almanzora.co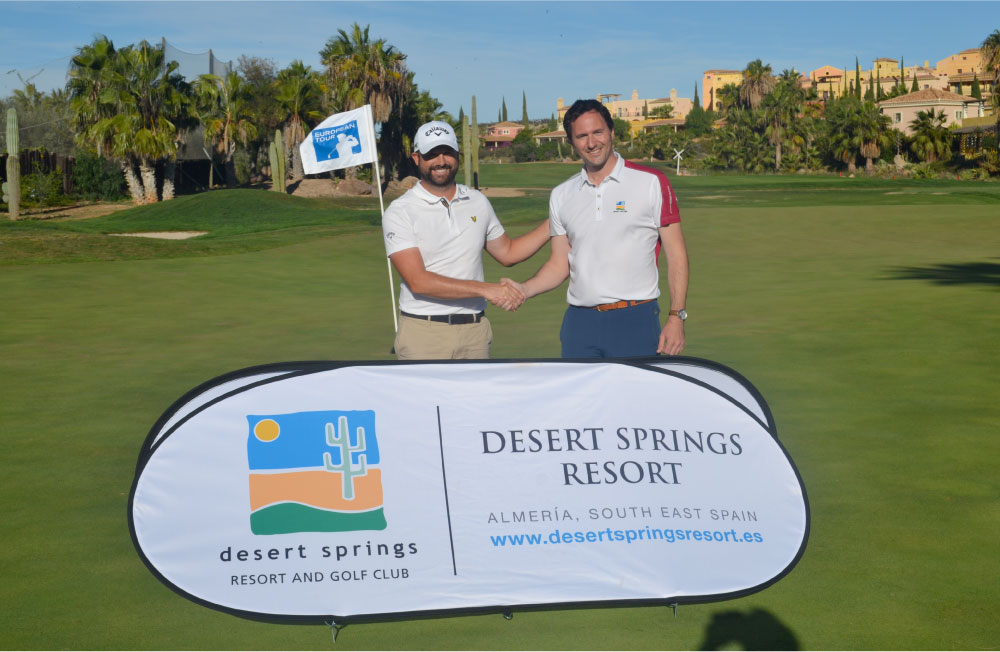 Matthew Baldwin (left) with Desert Springs Golf Operations Manager, Alfonso Castiñeira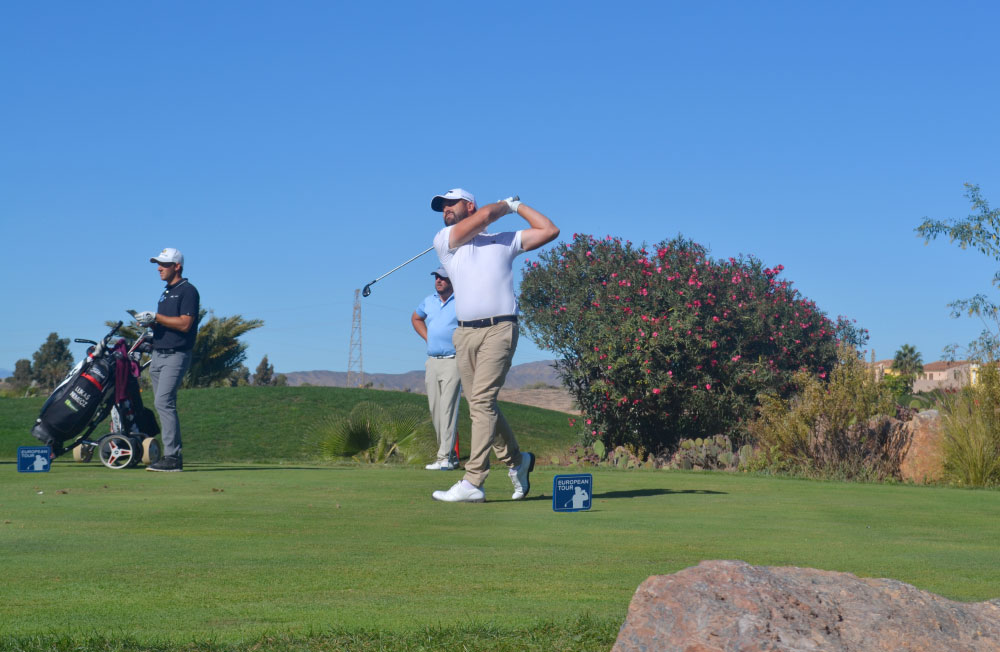 Matthew Baldwin on the 5th Tee of the Championship Indiana course
Spacious fairway frontage villas that allow for an unforgettable stay at Desert Springs Resort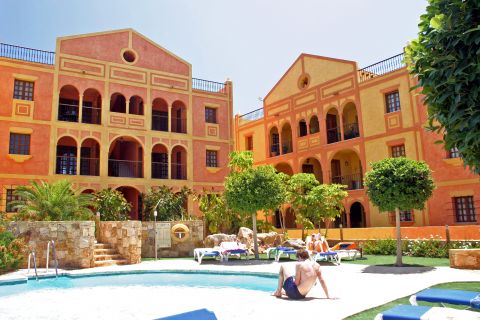 Desert Springs Resort rental apartments that overlook the championship Indiana course