Fifth in From Back Row Left to Right, Middlesex County Cricket Club Managing Director of Cricket, Angus Fraser- Ninth in From Back Row Left to Right: Richard Scott, Head Coach, Middlesex County Cricket Club with his training staff and 16 squad members.
The Middlesex squad are now back in England having completed a successful four-days of warm weather fitness and cricket training between 26th February & 1st March at Desert Springs Resort.
Sixteen of the squad players completed a number of sessions per day for four days as they stepped up their physical preparations for the upcoming 2013 season.
Richard Scott, Head Coach for Middlesex County Cricket Club said:
"We chose Desert Springs to give a large proportion of our squad (16) the chance to physically train in a different environment and also to work outside for the first time this year on fielding skills."
Middlesex County Cricket Club Catch Practice!
Richard continued: "The players were accommodated within the luxury Colonial Apartments at the resort, sharing twin rooms, which were clean and up to date with each apartment housing a total of four.
We had exclusive use of the gym and the full size international football pitch on a daily basis and utilised the 'trim trail' cross country tracks laid out around the golf course and mountain bikes, which were made available, for the whole squad, to provide variation.
Tee times were booked on the excellent Indiana golf course for the afternoon as part of our package.
Desert Springs provided menus, which were agreed in advance and the standard of the food was excellent.
Nourishment packs, which included water, snack bars, fruit etc. were also provided.
The service within Desert Springs is first class and everyone in all departments ensured our stay went to plan and was enjoyable."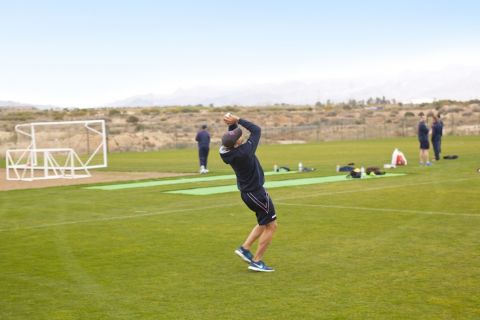 'Howzat!'
For further information contact: The Almanzora Group Ltd
Tel: +44 (0) 1242 680 299
Email: tag@almanzora.co.uk
www.almanzora.com