LUNDBERG CLAIMS PGA EUROPRO TOUR CHAMPIONSHIP IN PLAY-OFF WIN AT DESERT SPRINGS RESORT
Former European Tour member Mikael Lundberg beat Essex's James Allen in a sudden death play-off to claim the 2019 PGA EuroPro Tour Championships at Desert Springs Golf Club.
Lundberg had to survive three holes of sudden-death before he could clinch the season-ending tournament – and the Order of Merit title – thanks to his second EuroPro win of the season.
It has been a long road back for the 46-year-old playing in his first season on the feeder Tour, since losing his playing privileges at the top level back in 2016.
Lundberg, who won three times on the European Tour between 1999 and 2014 said: "This is just amazing. It's something you dream of.
"It's not something you can really predict. You are hoping for it and it's at the back of your mind. But the guys are too good.
"Once you get to this level you realise they're pretty good."
"But someone has to win it and when I pulled it off and when I play my game at my best I can still compete against them."
Allan, from Chelmsford Golf Club, showed resilience throughout after going into the day leading.
Allan, who won the Abu Dhabi Open on the MENA Tour in October, knew he had to birdie holes 17 and 18 to force a playoff.
Allan and Lundberg went toe-to-toe twice down the 18th but could not be separated with the pair making bogeys and then pars.
At the third time of asking Lundberg found the greenside bunker but played a fantastic shot to finish up within a couple of feet of the hole.
Allan missed his par putt opening the door for Lundberg to seal the win and a cheque for £22,540, leaving Allan with the consolation of the £11,270 cheque for second place.
It was a great week for Lundberg who recorded 18 birdies during the course of the tournament and he felt the wind that was prevalent in rounds two and three suited his game.
"I have a slightly lower ball flight," added Lundberg, who won the Russian Open in 2005 and 2008, and now has a card for the European Challenge Tour in 2020.
"I've always been very good in wind," revealed Lundberg, who has won €2.8million in prize money in his European Tour career over 20 years, playing in 337 events.
The Swede signed for rounds of 64, 73 and 69 to force a play-off after leading on the opening day thanks to a sparkling eight-under par 64.
On a day where the lead swung, Allan seized an early advantage through nine holes before being pegged back midway through the afternoon after getting in trouble on the 11th.
Meanwhile, Lundberg was level through the front nine before picking up vital birdies on holes 15 and 16 to drag out a two-shot lead over Allan who was playing one group back.
Elsewhere, Falkirk GC's Ryan Campbell had a stellar final day to tie for third after signing for a five-under par 67 after posting rounds of 75 and 66.
Hillside's Former England U16 international Oliver Clarke finished alongside him as the 2016 Darwin Salver winner posted 72, 65 and 71 for his best finish of the season.
The four other Challenge Tour cards will go to Staffordshire's Richard Mansell, Goodwood's Marco Penge, former European Amateur Champion Alfie Plant and Todd Clements, winner of the English Amateur Championship in 2017.
All four will be joining Lundberg in Spain at the European Tour Qualifying Stage two – should they win a full card on the Challenge Tour at the final stage at Lumine, it will open the door for the players who finished just outside the top five on the EuroPro Order of Merit.
For further information contact:
Francisco Conesa
+34 647 414 899
ff@almanzora.com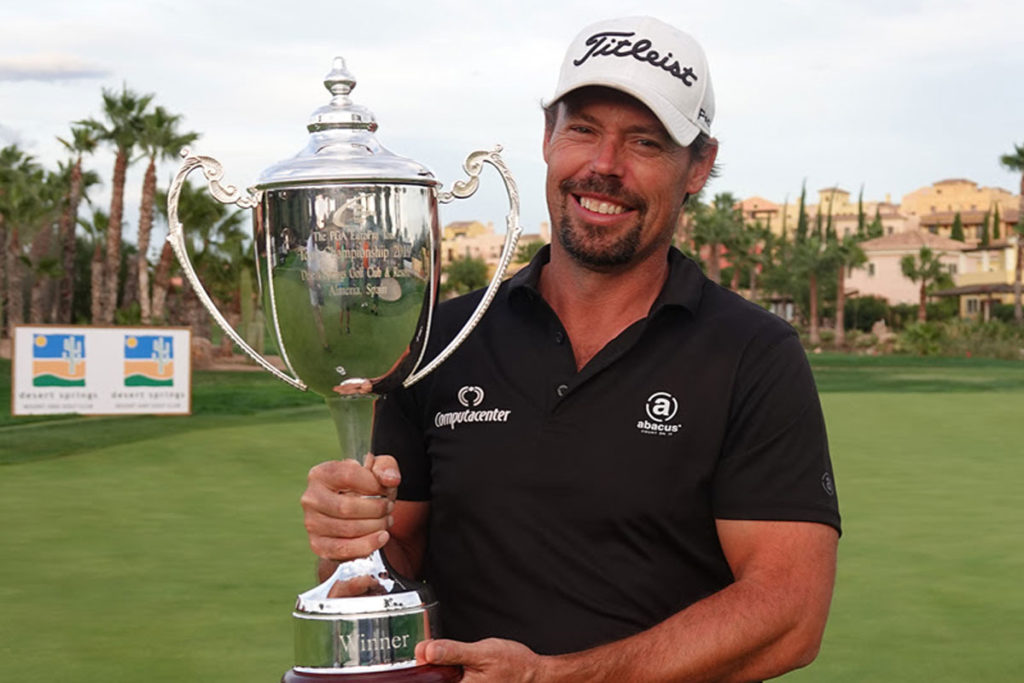 Mikael Lundberg, 2019 PGA Europro Tour Champion
PGA EuroPro Tour Order of Merit graduates (left to right): Mikael Lundberg, Alfie Plant, Marco Penge and Richard Mansell, who all earn cards for the European Challenge Tour