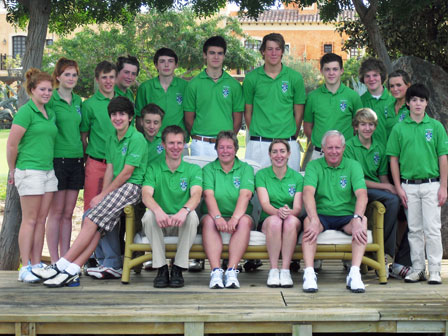 Millfield Golf Academy Squad Winter Training Camp at Desert Springs
Desert Springs is delighted to announce that Millfield, the independent school in Street, Somerset, has renewed its contract with the Desert Springs Resort and Golf Club for it to be the official Spanish Home for its golf academy for a further 3 years.
Widely recognised as a school with one of the most extensive range of sporting facilities in Britain – including two 18-hole golf courses and a driving range – Millfield established its golf academy in 1998. Today it is used by 35 pupils, a number which rises during the summer term. Alumni who started playing golf at Millfield and became recognised names on the international golf circuit include Brian Barnes, Martin Gregson, Ruth Barry, Pip Barry, Garth McGimpsey, Michael King, Mark Mouland, Alex Marshall, Ben Evans and Luke Collins.
Pupils are taught by the two PGA golf professionals employed by Millfield. They are its director of golf, Karen Nicholls, and Stuart Wells.
Says Karen: "The unique golf programme we offer at Millfield covers all aspects of the game including technical training, fitness, golf psychology, competitive golf, on course observation and analysis. Our excellent on-site facilities give the pupils the scope to practice all aspects of their game every day of the school year."
The overall quality of the Desert Springs Resort and specifically those standards provided on both the Indiana Course and Golf Academy, have been a key factor in the success of the Training Camps held by Millfield School.
Karen says: "We are always made to feel very welcome and nothing is too much trouble. When taking a school trip you need a venue you know will be easy to make it successful. Desert Springs offers superb practice facilities, especially the academy short game area and a golf course in excellent condition providing a challenge to all. The resort accommodation is close to all of the facilities and you know the students are safe with all of their needs covered."
José Ignacio Olea, Desert Springs Golf Operations Manager, commented:
'We are extremely proud of the ongoing relationship with Millfield School and are pleased to see that they have found at Desert Springs everything they need for their Golf Training Camps. We very much look forward to further developing our relationship with the players, families and staff at Millfield, and to hosting more training camps from the school in the near future."
Desert Springs has become renowned for successfully hosting warm winter weather golf training for national and county union golf teams, as well as club and school teams, from the UK and Europe.
To find out more please click here.
For further information contact: José Ignacio Olea
Email: jioz@almanzora.com
Telephone: (+34) 670 613 900