MILLFIELD'S GOLFING PUPILS PRAISE WARM WEATHER TRAINING
AT DESERT SPRINGS IN SPAIN
Pictured at Desert Springs in Spain are Millfield's golfing pupils with coaches (left to right) Stuart Wells, Karen Nicholls and Phil Cookson.
"The golf course at Desert Springs in Spain is tricky but very good for your golf!" That is the verdict of 16-year-old Daisy-May Kenny, one of 14 pupils from Millfield, the independent school in Street, Somerset, who have returned from their first visit to the resort to develop their individual golfing skills.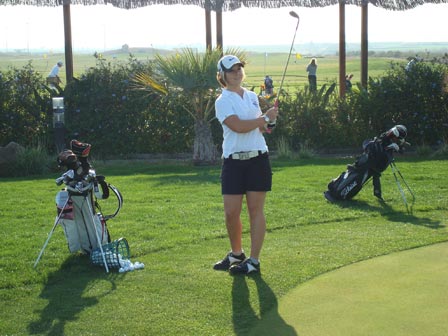 Pictured in action at Desert Springs in Spain is 16-year-old Daisy-May Kenny, a pupil of Millfield which has named the resort as the official Spanish home for its golf academy.
The school, which last year named the Desert Springs Resort and Golf Club in the Almeria region of south-east Spain as the official Spanish home for its golf academy, sent three staff with ten boys and four girls aged between 13 and 18 for four days of warm weather winter training in the resort while experiencing a golf course which offers a challenge to players at all levels.

During their stay at Desert Springs, the Millfield pupils played on its 18-hole Indiana golf course designed by former Great Britain and Ireland Golf Captain Peter McEvoy. They also benefited from one-to-one tuition in the resort's golf academy which, according to sixth-former Nic Elliott (17), has "a great driving range and a very nice putting green – but the chipping and bunker facility was the best."

The visit ended with a competition to win the Millfield Desert Springs Championship. Nic Elliott took the title followed closely by Ben Taylor (17) and Lewis Casserley (15).

The junior boys' winner was Lewis Casserley and the girls' winner was Sophie Keech (13) who returned a level par for the nine holes played.

Millfield's director of golf, Karen Nicholls, said: "All the pupils enjoyed the experience of Desert Springs – not just playing the challenging Indiana golf course, but having the chance to work on all areas of their games on the excellent practice facilities. All are looking forward to the next trip to the Millfield Spanish home of golf!"

Desert Springs Golf Academy director Christine Langford, a former Ladies European Tour player and leading golf coach, added: "We were delighted to welcome the Millfield Golf Academy to Desert Springs. I am very excited about the prospect of further developing our relationship with the players, families and staff at Millfield, and to hosting many other such training camps from the school."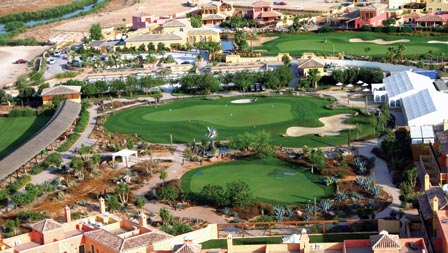 The golf academy practice grounds at Desert Springs which are being used by Millfield's pupils for winter training in warm weather to develop their individual golfing skills.
Additional information about golf at Millfield and warm weather winter training camps at Desert Springs:
Golf at Millfield
Widely recognised as a school with one of the most extensive range of sporting facilities in Britain – including the use of two 18-hole golf courses and a driving range – Millfield established its golf academy in 1998. Today it is used by 35 pupils, a number which rises during the summer term. They include three England internationals – two boys and a girl.

Pupils are taught by the two PGA golf professionals employed by Millfield. They are its director of golf, Karen Nicholls, and Stuart Wells.

Says Karen: "The unique golf programme we offer at Millfield covers all aspects of the game including technical training, fitness, golf psychology, competitive golf, on course observation and analysis. Our excellent on-site facilities give the pupils the scope to practice all aspects of their game every day of the school year."

Karen, who with the master in charge of golf, Phil Cookson, initiated the arrangement for a Spanish home for the golf academy, says that they chose Desert Springs because it offers the opportunity for all pupils to benefit from warm weather coaching using quality short game, long game facilities and a challenging golf course to improve their games.

Commenting on the importance and value of golf in schools, and the benefits it brings to the education of pupils, Millfield's headmaster Craig Considine said: "Golf is a signature sport at Millfield. It provides challenges for our most able and a 'life skill' for those who wish to play recreationally. The self discipline and self regulation required for success on the golf course provides a model of behaviour that underpins success in all facets of life."
For pupils in Millfield's golf academy, golf lessons are fitted into their timetables and they have the opportunity to play local golf courses twice a week. They compete against some of the country's top golf clubs including Woburn, Walton Heath, East Devon, Woodbury, Long Ashton and Saunton.

Millfield has chalked up an enviable record of successes during recent inter-school tournaments, including winning the ISGA Home International, HMC Foursomes,
World Schools Team and ISGA Schools Matchplay 2007/2008 competitions. The school also won the World Schools Individual Girls Tournament and was runner-up in the Individual Boys' competition.

Alumni who started playing golf at Millfield and now are big names on the international golf circuit include Brian Barnes, Martin Gregson, Ruth Barry, Pip Barry, Garth McGimpsey, Michael King, Mark Mouland, Alex Marshall, Ben Evans and Luke Collins.
Warm weather winter training camps at Desert Springs
Desert Springs, Europe's only international award-winning luxury family resort and championship desert golf course, is proving to be one of the most popular destinations for warm weather winter training camps among the growing number of schools with their own golf academies and teams, currently estimated at around 90 in the UK. In addition to Millfield pupils, visiting groups have included golfing pupils from Reading Blue Coat School at Sonning-on-Thames, King Edward's School in Bath and Loretto School at Musselburgh near Edinburgh.

All school golf trips to Desert Springs are bespoke. If desired, the programme can include time away from the golf course for some local sightseeing in what many regard as 'the real Spain.'

During their stay pupils have opportunities to swim, play tennis and use the gymnasium, trim trail, jogging tracks, paddle tennis and beach volley ball courts.

Desert Springs is easy to reach from the UK, thanks to three international airports. They are: Almeria Airport, around 40 minutes away by road; Murcia Airport, 80 minutes by car, and Alicante Airport which is a drive of less than two hours. Airlines currently flying to the region from the UK include easyJet, Monarch, Ryanair, Jet2, Jetair Fly and Thomas Cook.

Already well-known as a resort specialising in family holidays, Desert Springs is gaining popularity as a centre for warm-weather training for cricketers and footballers, as well as golfers.

Accommodation is provided be in the apartments and villas available for holidays and short breaks at Desert Springs. Meals are served in the resort's Croc Restaurant, part of the family-friendly Crocodile Club which is geared up for a wide variety of leisure activities.

A spokesman for Desert Springs said that, depending on the size of the group and its requirements, the total cost of a four-day trip for warm weather training, including flights, would work out at between £350 and £400 per person.

For details of training camps, sporting breaks – including three-day tuition packages with a professional, some including health and beauty treatments in the Day Spa – and family holidays contact: The Almanzora Group
E-mail: tag@almanzora.co.uk
Telephone: +44 (0) 1242 680 299