Fifteen (15) members of the Myerscough Cricket Academy aged 16 -19 years, accompanied by two (2) coaching staff, are now back in England having completed a successful 5-day training camp between Sunday 11th – Friday 16th March at Desert Springs Resort, Europe's only international award-winning luxury family resort and championship desert golf course with its very own dedicated Cricket Ground & Academy.
Liam Castellas, Myerscough College Head of Cricket remarked of Desert Springs Resort and the training camp;
"This was a fantastic experience for our players. Brilliant facilities combined with exceptionally helpful staff allowed us to focus purely on our cricket. I will certainly be looking to return in 2019 after seeing the benefits of the visit to my squad."
The focus of the training camp was to provide an opportunity for the players to both work seriously on their batting, bowling & fielding skills as well as their fitness levels, through a specific strength and conditioning programme, to ensure that the players are in the best possible shape leading up to the commencement of the new season.
Grass net practice, both bowling and batting along with strength and conditioning work, running, speed and agility work took take place at the Cricket Academy and Gym at the Sierras Sports Club.
The squad also benefited from putting into practice all of their hard work by competing in two matches at the Desert Springs Cricket Ground against; The Pinitar Pirates U/19 and Cataluyna U/19, both of which they won!
Andrew Fletcher, Myerscough College Assistant Coach said;
"Desert Springs truly exceeded our expectations. We chose Desert Springs to provide our students an opportunity to bat and bowl on grass wickets to support their preparation for the upcoming season and the facilities provided were outstanding. Thank you to all of the staff, resort and ground staff, for all of their hard work in putting the finishing touches to a brilliant pre-season camp."
A few of the players views of their experience at Desert Springs Resort during the training camp were;
Andrew Drake (Aged 18yrs.); "Great facilities and accommodation. Very helpful staff who looked after us so well. A great experience and trip, thank you!"
Nathan Bend (Aged 17yrs.); "Top quality in all areas, including the staff. It's been so good we don't want to leave!"
Callum Birtwell-Jones (Aged 18 yrs.); "Fantastic experience and facilities. We were made to feel so welcome by the staff and residents. I would love to come back and don't want to leave!"
Zac Christie (Aged 18 yrs.); "Amazing facilities and even better experience. Wish I never had to leave!"
Ross Dickinson (Aged 17yrs.); "The great facilities and hospitality have really made this trip, thanks!"
Reece Willets (Aged 17yrs.); "The resort has both excellent cricket facilities and accommodation."
Nicholas Pepper (Aged 19yrs.); "Excellent accommodation, great cricket facilities and brilliant service!"
Chris Wilson (Aged 18yrs.); "Top facilities, great hospitality, and the food and service is brilliant!"
To view the video of the Desert Springs Cricket Ground & Academy Click Here
The players and coaches were accommodated in some of the privately-owned Apartments normally reserved for holidays and short breaks at Desert Springs and the resort's executive chef was on hand to cater for the special dietary requirements of individual players at the award-winning 'El Torrente' Restaurant.
For further information:
Kirk Lovell
+34 647 414 899
kl@almanzora.com
Liam Castellas (Head of Cricket) & Andrew Fletcher (Assistant Cricket Coach) along with Myerscough College Squad Members at Desert Springs Resort.
Myerscough College 'Nets Practice Session' at the Desert Springs Cricket Academy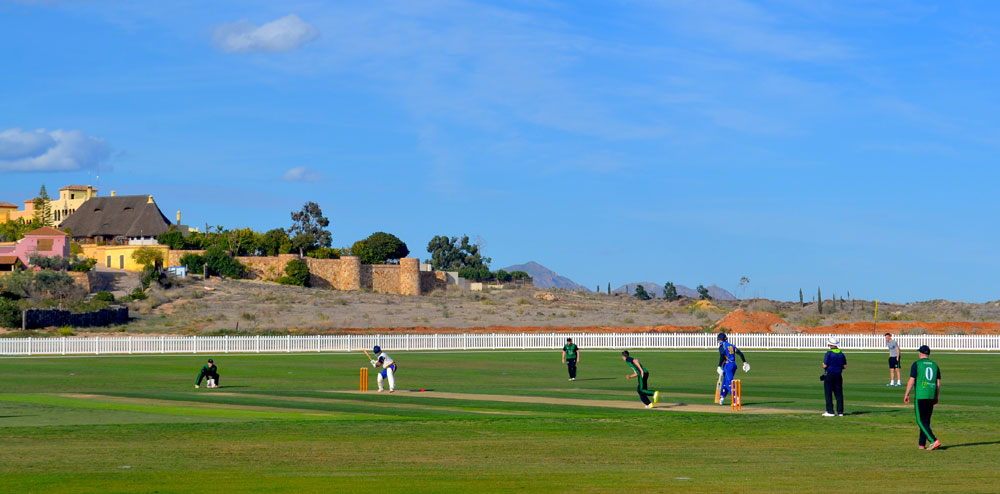 Myerscough College competing in their match against Pinitar Pirates U/19 at the Desert Springs Cricket Ground