A second distance control area, together with a new Huxley synthetic practice area has been added to the already excellent facilities at the Desert Springs Academy of Golf.
The new area, located in front of the GASP Academy Studio, is the same as the existing Huxley practice area at the far end of the range and has distance markers and targets at 10 yard intervals from 40 to 120 yards.
The Huxley areas will relieve the pressure on the driving range during Elite player training and limit the inevitable wear and tear that wedge play from good players puts upon the grass practice area. It will also serve as another overflow for members at times when the range is congested. The Huxley area will also be used by Desert Springs Academy teaching professionals for golf school and tuition groups.
Although the Huxley Practice area is a synthetic surface, it should not be compared with a mat, the 'turf' gives players an excellent feedback as to the strike of the shot and provides a safe environment for players with wrist and elbow injuries to play from.
Academy Director Christine Langford commented: – 'I have used the new area for many of my golf schools and it is an ideal surface for players to hit from especially if they are not used to intense practice, the reduction of the stress on the joints means that players reduce the chance of injury and can increase the length of their practice sessions.'
The Huxley practice areas have also proved popular with the Elite Squads during the winter months. Mary McKenna, Captain of the GB&I Vagliano Team said: – 'the distance control area at Desert Springs has been invaluable to us in our preparations, all of the players have benefited from their hours of practice on this aspect of the game'.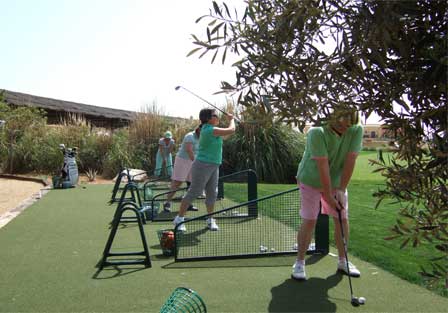 Desert Springs Golf School on Huxley Area
For further information contact: Christine Langford
Telephone: +34 627 484 460
Email: cl@almanzora.com