Twenty (20) members of New Farnley Cricket Club, accompanied by four (4) members of coaching staff, are now back in the UK having completed a successful 4-day training camp between Thursday 4th – Monday 8th April at Desert Springs Resort, Europe's only international award-winning luxury family resort and championship desert golf course with its very own dedicated Cricket Ground and Academy, in the Almanzora region of Almeria, Andalucía in south-east Spain.
Mark Lawson, New Farnley Cricket Club Player / Coach commented;
"Having travelled the world playing cricket I have seen a lot of cricket facilities.
Both the nets and the match ground surfaces are right up there with the best.
I can't wait to come back!"
Grass net practice, both bowling and batting took place at the Cricket Academy. Strength and conditioning work, running, speed and agility work were completed at the Cricket Ground.
During their stay New Farnley CC competed in a series of three matches at the Desert Springs Cricket Ground against the National Team from Italy who were also at the resort for their own training camp during the same period, and despite a fine effort, the victor of each match was Italy.
New Farnley Cricket players said of their pre-season training experience at Desert Springs Resort:
 "First class facilities. The perfect venue for a pre-season trip. The opportunities presented for a club cricketer are truly unique and I would absolutely recommend Desert Springs to any Club interested in doing a pre-season. A great experience!" Alex Lilley
 "A very unique opportunity for a club cricketer to train at such a fantastic facility. The match ground is superb, and the practice facilities are just what is required to improve your game. To play against an International team, Italy, was also an amazing experience." Chris Blackburn
 "As a short haul facility to play and train at match intensity before the season starts, Desert Springs is unparalleled. Excellent cricket, first class facilities, top people and great social. Enough said really!"
Alex Baldwin
"It has been a pleasure to be at Desert Springs for pre-season. A fantastic opportunity to get to play on a great cricket pitch with good wickets. The training facilities are outstanding!"
Billy Whitford
To view the video of the Desert Springs Cricket Ground & Academy Click Here
The players and coaches were accommodated in some of the privately-owned apartments reserved for holidays and short breaks at Desert Springs and the resort's executive chef was on hand to cater for the special dietary requirements of individual players dining in El Torrente and the Crocodile Club Restaurant.
For further information contact:
Nick Gaywood
+44 (0)7793 558 132
ng@desertspringscricket.com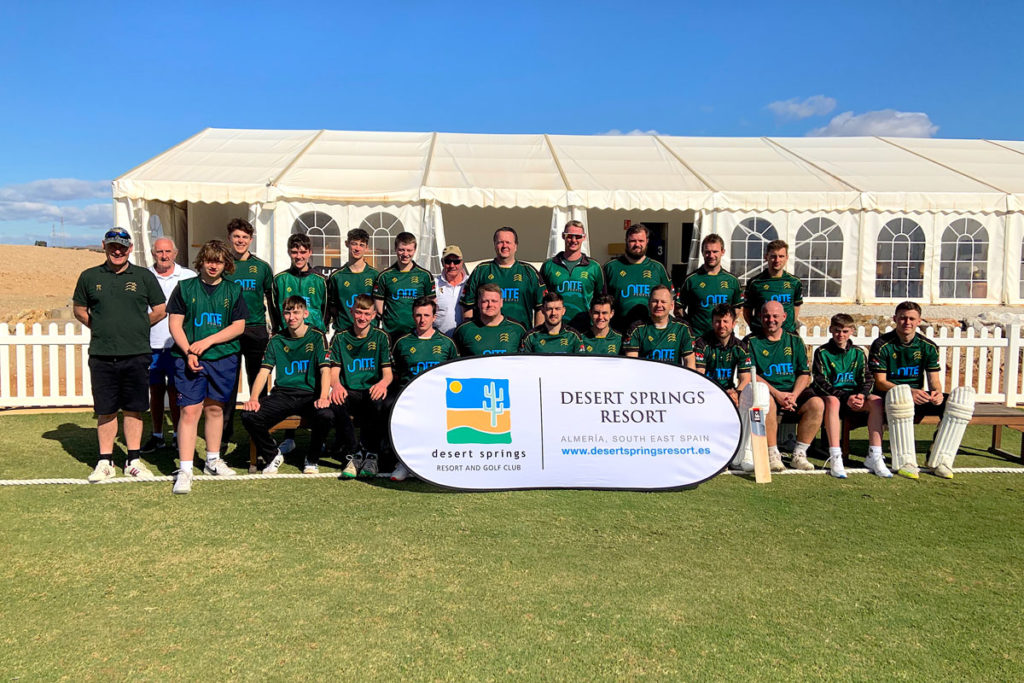 New Farnley Cricket Club Pre-Season Winter Training Camp at Desert Springs Cricket Ground & Academy
New Farnley CC compete in a T20 Match against Italy National Cricket Team at the Desert Springs Cricket Ground
New Farnley CC training session taking place at the grass wickets at the Desert Springs Cricket Ground & Academy