Thirteen (13) members of the New Farnley Cricket Club, accompanied by one (1) member of coaching staff, are now back in England having completed a successful 3-day training camp between Tuesday 27th – Friday 30th March at Desert Springs Resort, Europe's only international award-winning luxury family resort and championship desert golf course with its very own dedicated Cricket Ground & Academy in the Almanzora region of Almeria, Andalucía, south-east Spain.
Paul Hutchison, New Farnley Cricket Club Head Coach remarked of Desert Springs Resort and the training camp;
"Having been to Desert Springs a number of times, I keep coming back for a number of reasons.
The facilities really are sensational, matched by the levels of customer service, and when you are almost guaranteed great weather, then you've hit the jackpot!
The cricket nets are perfect for our requirements at this time of year. Many thanks to all the staff."
The focus of the training camp was to provide an opportunity for the players to both work seriously on their batting and bowling skills as well as their fitness levels, through a specific strength and conditioning programme, to ensure that the players are in the best possible shape leading up to the commencement of the new season.
Grass net practice, both bowling and batting along with strength and conditioning work, running, speed and agility work took take place at the Cricket Academy.
A few of the players views of their experience at Desert Springs Resort during the training camp were;
William Swift; "A fantastic few days. Excellent cricket facilities and so good to be outdoors again in the sunshine!"
Andy Langley; "A brilliant trip. A beautiful resort and cricket facilities. Thank you."
Alex Baldwin; "Practicing outdoors again after a long winter, heaven! We were so well looked after, thanks so much."
Mark Mason; "Excellent visit. The food in El Torrente was the best that I have ever had!"
To view the video of the Desert Springs Cricket Ground & Academy Click Here
The players and coaches were accommodated in some of the privately-owned Apartments normally reserved for holidays and short breaks at Desert Springs and the resort's executive chef was on hand to cater for the special dietary requirements of individual players at the award-winning 'El Torrente' Restaurant.
For further information:
Kirk Lovell
+34 647 414 899
kl@almanzora.com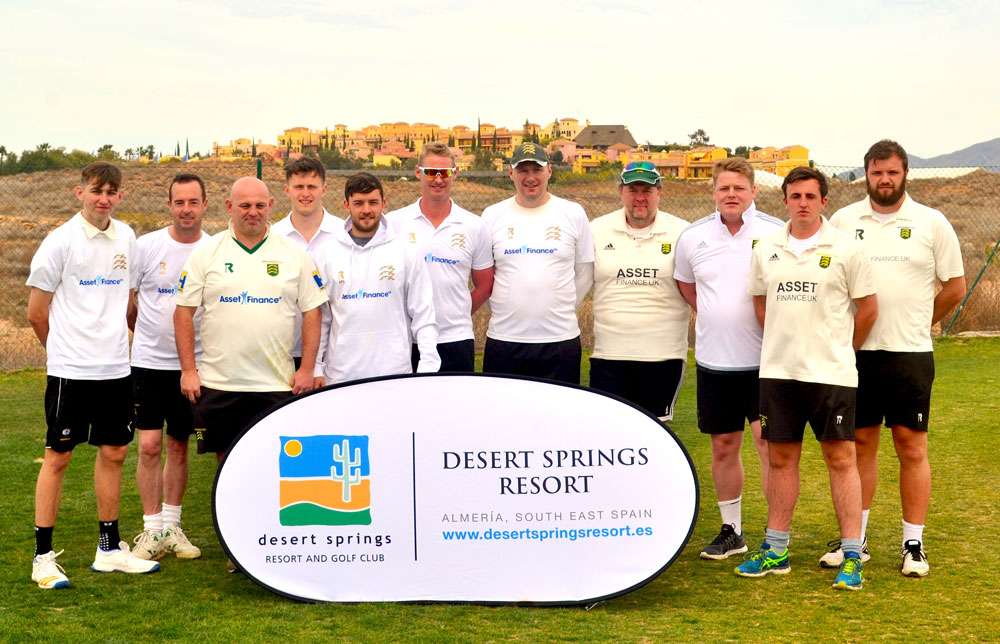 New Farnley Cricket Club Squad Members at Desert Springs Resort
New Farnley Cricket Club 'Nets Practice Session' at the Desert Springs Cricket Academy