The Almanzora Group would like to say a special thank you to those 128 owners who to date have elected to join the 'Property Owners Referral Scheme'. Over the years, many of those within the scheme have demonstrated their ongoing trust, support and confidence by referring and introducing friends; colleagues or relatives who have become new purchasers with us, helping the Desert Springs Resort, Villaricos Village and Playa Marqués developments grow with your kind of people.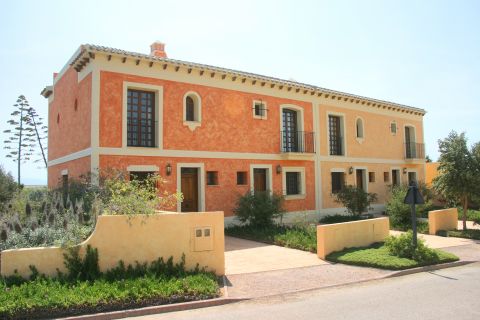 This scheme is "privileged and exclusive", as it is only for Owners of Almanzora Bay properties at Desert Springs, Villaricos and Playa Marqués.
In the event that a Present Property Owner is the first to introduce a Potential Future Property Owner, who goes on to purchase a property, a reward is paid to the Present Property Owner, who may decide to receive the whole reward or share it with the Future Property Owner by means of a reduction in the price of the new property.
The reward is 4% of the purchase price paid for the property, (excluding VAT & Extras)
You choose how the commission is paid; wholly to you and/or partly off the price of the new property.
Given the success of the Owners Privilege Scheme and the savings it has made to date, we have continued to focus even more on referral by our existing home owners, who contribute so much to our success.
Only a week ago Award winning property developer The Almanzora Group Ltd. launched an exceptional offer available until 31st March on a select number of new properties at it's developments of Desert Springs Resort, Villaricos Village and Playa Marqués Beach.
We are pleased to announce that already one of those new properties at Desert Springs Resort has been sold to a present owners referral!
For more details on the properties available click here
For Your Use: – To improve the opportunity for loyal owners, in the Privilege Scheme, to benefit from the commission, Playas del Almanzora SL in Spain, also provides a complimentary 3 night Inspection Visit, which Owners can offer to any genuine potential purchaser, providing they are first registered with, and qualified by, The Almanzora Group. The visit includes accommodation, a tour of the area and the homes for sale, a round of golf and dinner one evening; flights are not included, but are refundable on contract.
If you have not registered yet then don't worry, it's easy to join, simply click here and complete the quick and simple on-line reservation of your participation in the scheme and if you have a friend, family member or colleague who may be interested in purchasing then introduce them to us as soon as possible and as always, we will look after them with propriety and discretion.