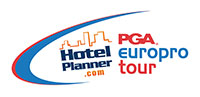 We announced in an earlier Newsflash that Desert Springs Resort & Golf Club had been selected to host this years season-ending Tour Championship of the PGA EuroPro Tour between Wednesday 19th – Friday 21st October 2016.
Only the top 60 golfers on the tour's 'Race To Desert Springs' Order of Merit qualify to play the Tour Championship, which is scheduled to provide a €120,000 prize fund.
We are pleased to announce that the Club has received an exceptionally positive response to the invitation sent to its Members and Property Owners on behalf of the PGA for volunteers to register to assist during the event that will feature some of the best professional golfers in Europe.
On behalf of both the PGA and the Club, we wish to thank all of those that have registered.
If you are interested in volunteering and haven't registered yet, its not too late, simply pass by the Golf Reception in the Clubhouse or alternatively please contact either Desert Springs Golf Operations Manager, Alfonso Castiñeira or Desert Springs Golf Services Manager, Kirk Lovell and register with them directly.
We would like to take this opportunity to advise you that a request by the Professional Golfers Association (PGA) and the Europro Tour for the 17th hole to revert back to be played as a par 4 and for there to be variable pin positions designated by the PGA for the duration of the tournament (including the official Pro-Am) on the 18th green, has been granted.
Consequently, for such a prestigious tournament, The Indiana golf course will be played at its full Championship length.
Once the competition has been completed, for general play the course will revert back to its temporary length and par with the customary pin positions for the 18th green being reinstated.
In recognition that The Indiana course will be closed on Wednesday 19th, Thursday 20th and Friday 21st October for the PGA Europro Tour Championship, and that some of our Members may, understandably suffer from withdrawal symptoms, The Club has liaised directly with both Aguilon and Valle del Este Golf Club to secure a discounted green fee offer for Desert Springs Members to play their courses during this period.
Aguilon Golf Club are providing Desert Springs Members with an exclusive green fee rate of €20 per person per round available all day and Valle del Este €25 per person per round available after 12.00hrs. To reserve your golf please contact either: – Aguilon Golf Club Tel: 950 10 95 18 or Valle del Este Golf Club Tel: – 950 54 86 00 or alternatively pass by the Golf Reception in the Clubhouse where the receptionists will be happy to organise your tee time reservation on your behalf.
The Tour Championship will be filmed for a two-hour highlights package to air on Sky Sports in the UK in November, and on networks around the world including Fox International across Asia, Fox Sports Australia, Fox Sports in Turkey, Greece, Malta, Cyprus and StarHub in Singapore. The Tour attracts a sizable global television audience, reaching 250 million homes worldwide, which ensures an impressive level of exposure that will allow for the resort to continue to grow in terms of its reputation for quality, a factor of benefit and prestige to the resort, its members, property owners and the local area.
Finally, we wish to encourage those of you that are interested in the opportunity of watching some of the best professional golfers in Europe compete over The Indiana course to do so and enjoy the event.