After a long and distinguished International and County career Phil Defreitas, Cricket Coach with 'Next Generation Cricket Development', completed a four (4) day training camp between Friday 14th – Tuesday 18th February, imparting his knowledge and experience to a lucky group of ambitious cricketing youngsters at Desert Springs Resort, Europe's only international award-winning luxury family resort and championship desert golf course with its very own dedicated Cricket Ground and Academy, in the Almanzora region of Almeria, Andalucía in south-east Spain.
Phil Defreitas, 'Next Generation Cricket Development' Coach remarked of Desert Springs Resort and the training camp;
"All the cricket facility I rate as a 10 with an exceptional standard of service. I come back in April with another group, but I am also booking for February 2021!"
A specific and carefully planned programme of numerous training sessions each day covering technical skills, fielding drills, bowling and batting, strength and conditioning and both individual and group activity took place at the Desert Springs Cricket Academy & Ground.
Next Generation Cricket Development' players said of their training camp experience at Desert Springs Resort:
"The facilities were great; the staff were very helpful and I really enjoyed the experience of being here!
The weather was also fantastic!" Aarush Bahel, 13 yrs.
"The facilities were really good, as well as the service. Desert Springs made a really good time for us and the cricket facilities they provided were amazing!" Arav Bahel, 11 yrs.
"Excellent facilities and great service and I would recommend it to anyone!
The food and accommodation were very good and I would like to come back soon!" Anthony Ling, 11 yrs.
Parents accompanying their children on the training camp commented;
"Great facilities for cricket. The apartments were very good, I loved the food and the service that the staff provided to us has been 5 stars." Anvita Bahel
"The cricket facilities and the accommodation were very good. We had good training services and our stay was very comfortable. The food was great and we would love to come back." Nikhil Bahel
To view the video of the Desert Springs Cricket Academy Click Here
The players, coach and parents were accommodated in some of the privately-owned Apartments at Desert Springs and the resort's executive chef was on hand to cater for the special dietary requirements of individual players dining in El Torrente restaurant.
For further information contact:
Nick Gaywood
+44 (0)7793 558 132
ng@desertspringscricket.com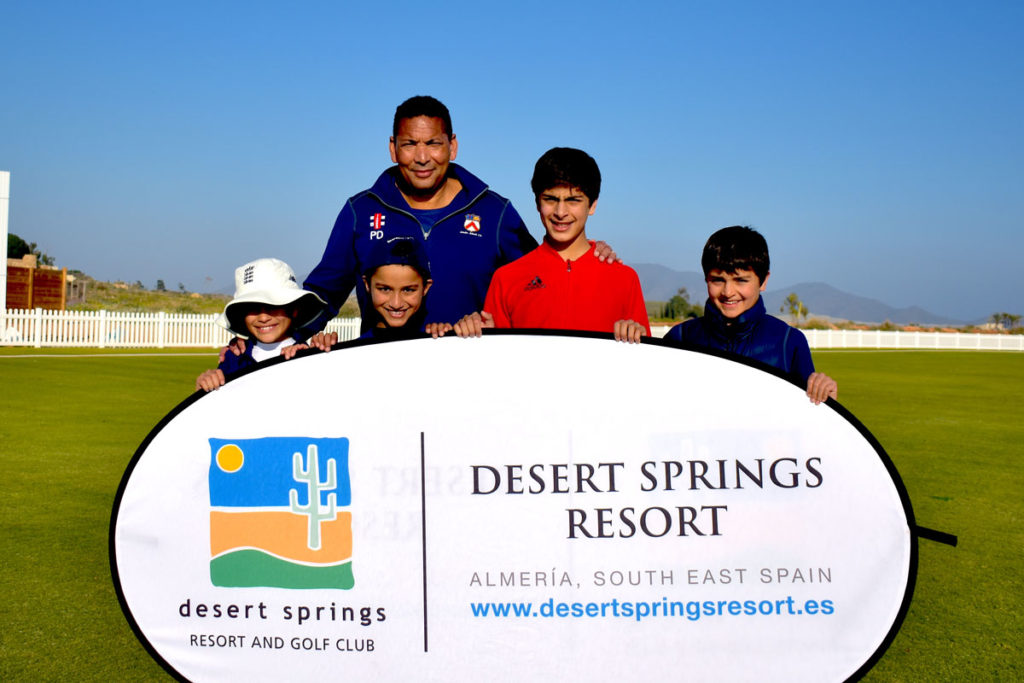 Phil Defreitas with four of his ambitious cricketing youngsters at Desert Springs Resort
Phil Defreitas providing some 'One-to-One' Training at Desert Spring Cricket Ground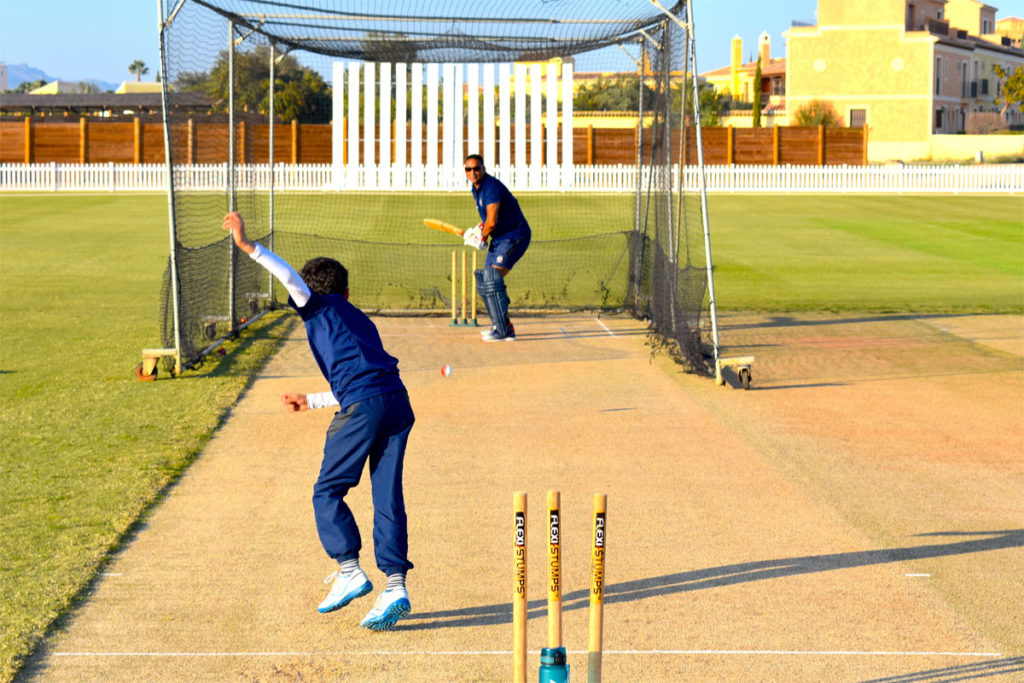 A young student bowling at Phil Defreitas at the Desert Spring Cricket Ground
Nets Training Session at the Desert Springs Cricket Academy