Eighty-six (86) full time students accompanied by sixteen (16) coaches and staff representing; Millfield, Bradfield, Loretto, CT Sports, Reeds, Lancing & Whitgift School, competed in the 'V Desert Springs & Millfield European Schools Team Championships' at Desert Springs Resort, Europe's only international award-winning luxury family resort and championship desert golf course in the Almanzora region of Almeria, Andalucía in south-east Spain between Sunday 11th to Wednesday 14th February 2018.
The Team Championship was open to boys and girls of all ages with a maximum handicap of 24 and was held over 3 days (54-Holes). For tournament day one & two the format was 4 Ball-Better-Ball Pairs Stableford Points. The format for tournament day three was team individual Stableford Points Scores being combined to achieve the Teams accumulative Stableford score.
Rick Valentine, Director of Golf at Loretto Golf Academy based at Scotland's leading Scottish private boarding school, set in 85 acres of leafy campus just outside Edinburgh that provides an all-round education for just over 600 boys and girls aged 3-18, commented:
"Another fantastic visit to Desert Springs. All the staff were again first class throughout. The weather this year was just glorious. We are so well looked after, the pupils really do get a feel for playing in a 'real' event, they love it! Thank you to everyone at the resort, look forward to seeing you again next year."
Kevin Cademy-Taylor, Programme Manager at The CT Sports Academy remarked:
"Overall we had an excellent week. The golf course was in great shape with the greens being particularly very good. The Caddy Masters looked after all our needs with a smile and a professional outlook every day. The Golf Reception were extremely helpful as were all the F&B staff.
We will most definitely be returning as this is one of the best organised tournaments of the year for us."
The V Desert Springs & Millfield European Schools Team Championships got under way at Desert Springs Resort on Sunday 11th February with a practice round on the Championship Indiana course, providing all players the opportunity to experience Europe's first and only true desert golf course in preparation of the tournament rounds, followed by a Welcome Reception & Dinner at the Resorts Crocodile Club restaurant.
Monday 12th February saw tournament day one take place where the teams played 4 Ball-Better-Ball Pairs Stableford Points for team rankings. Teams 'Loretto 1' and 'Whitgift 1' led the way with 83 points, 11 under par followed by 'Loretto 1' and 'Bradfield 1' with 81 points.
The tournament format was repeated on day two Tuesday 13th February, and in true golfing fashion this was the day for some teams to try and hold their position whilst others would be trying to climb the team rankings!
Team 'Loretto 3' led the way with the main charge on the field with an improvement on their first-round total by 5 points, achieving an impressive 86 stableford points, 14 under par, securing the best score of the day. Team 'Loretto 2' and 'Millfield 2' followed with a great effort to score 80 points, while overnight co-leaders 'Loretto 1' and 'Whitgift 1' could only manage to score 78 and 77 points respectively.
After day two the team rankings took on a different look. Leading the way was Team 'Loretto 3' with 167 stableford points, closely followed by second place Team 'Loretto 1', six stableford point behind, with 161 stableford points and in third position lay Team 'Whitgift 1' with 160 stableford points.
Enjoying their evening BBQ & 'Quiz-Night' at the Resorts Crocodile Club restaurant, the competitors were informed of the team rankings going into tournament day three, which was to see the team individual Stableford Points Scores being combined to achieve the Teams accumulative Stabelford score.
When all the shots were played and all the putts sunk, the Team event was to prove to become a close event, which came down to the last team members!
Team 'Loretto 1' showed a great display of golf during the last tournament round, returning cards with 39 and 38 points for a total of 77 points, leading the charge and climbing spots on the leaderboard.
Overnight leaders Team 'Loretto 3' was up for the challenge and held up to the pressure extremely well to match 'Loretto 1' score of 77 points with individual cards of 39 and 38 points to claim the 'V Desert Springs & Millfield European Schools Team Championship'!
A fitting and climatic end to a tournament played in the best sporting spirit!
Further, there were individual trophies on offer to be awarded to the male and female player with the Best Individual Scratch Score and Best overall individual Stableford points score for tournament round three.
Best Male Scratch score was awarded to Weigo Weisner from Team 'Loretto 1' with a playing handicap of 5,1 and an impressive score of 2 over par 73.
Best Female Scratch score was awarded to Ellie Lace from Team 'Millfield 2' with a playing handicap of 4,6 and a score of 12 over par 83.
Best overall individual Stableford points score was awarded on countback to Matt Ruffell                                                                                                                                                                                                                                                    from Team 'Bradfield 2' with a playing handicap of 13, who tied the lead with Max Apthorpe, from 'Millfield 1', both amassing a score of 5 under par resulting in 41 Stableford Points.
Karen Nicholls, Millfield School Director of Golf, commented:
"A fantastic visit once again. We are all made to feel so very special during the week. The feedback received from the pupils has been excellent. Very much looking forward to 2019 and trying to grow the event even more! Thank you to everyone at Desert Springs."
17-year-old Sophie Caldon with a handicap of 3, from Millfield School remarked:
"It'll be sad to say goodbye to everyone here for the last time after four years, but every visit has certainly been something to remember. Thank you for all of your efforts. The course was in good condition as always and everyone made us feel so welcome. What a great experience!"
15-year-old James Gray with a handicap of 6, from CT Sports Academy remarked:
"I enjoyed my time at Desert Springs so much! The course was in top condition all week and the off-course facilities are outstanding. The staff were very helpful when practicing. Hope to be back next year"
16-year-old Evdokios Demetrios with a handicap of 7, from Loretto School remarked:
"I so look forward to coming to Desert Springs every year, I feel very lucky to have this experience."
Neil Kendrick, Whitgift School Head of Cricket and Golf, commented:
"Another brilliant week at Desert Springs. Everything is so well organised, nothing is left to chance. Look forward to seeing you all in April for our cricket camp, and most definitely we will be back for the Golf Championships again in 2019!"
18-year-old Alfie Fox with a handicap of +2, from Whitgift School remarked:
"One of the best School trips I ever had, Kirk and his team couldn't have set it up any better, thank you."
12-year-old Joe Gould with a handicap of 16, from Reed's School remarked:
"It was the best from start to finish! Can't wait to come back next year!"
The students, coaches and school staff were accommodated in some of the privately-owned Apartments, Townhouses and Villas normally reserved for holidays and short breaks at Desert Springs and the resort's executive chef was on hand to cater for the special dietary requirements of individual players dining in the Crocodile Club and El Torrente Restaurant.
For details of Golf, Cricket & Sports Training Camps, Corporate Golf Events and Meetings at Desert Springs Resort call 01242 680 116 or visit the website, desertspringsresort.es
Additional background Information
Warm weather winter training camps at Desert Springs
Desert Springs, Europe's only international award-winning luxury family resort and championship desert golf course, is already known as a resort specialising in family holidays, however it has rapidly gained popularity as a centre for warm-weather training for cricketers, athletes, and footballers, as well as golfers and is proving to be one of the most popular destinations for sports warm weather winter training camps.
All sports camps to Desert Springs are bespoke. If desired, the programme can include time away from the resort for some local sightseeing in what many regard as 'the real Spain.'
During their stay attendees have opportunities to swim, play tennis and use the gymnasium, trim trail, jogging tracks, paddle tennis and beach volley ball courts.
Desert Springs is easy to reach from the UK, thanks to three international airports. They are: Almeria Airport, 40 minutes by car; Murcia Airport, 80 minutes by car, and Alicante Airport which is a drive of less than two hours. Airlines currently flying to the region from the UK include British Airways, EasyJet, Ryanair, Jet2, and Fly Thomas Cook.
Accommodation is provided in the apartments, townhouses and villas available for holidays and short breaks at Desert Springs. Meals are served in the resort's Crocodile Club Restaurant, part of the family-friendly Crocodile Club that is geared up for a wide variety of leisure activities and the award winning El Torrente Restaurant at the Club House.
The Desert Springs Resort & Golf Club
Facilities already completed and in use at Desert Springs Resort include:
The Indiana course, a par 72 -18-hole USGA specification golf course, designed by former Great Britain and Ireland Golf Team Captain Peter McEvoy who was inspired by the desert courses of Arizona and California;
a golf academy whose PGA qualified teaching professionals cater for several international teams, for many of the English County Union's elite squads; PGA European Tour, PGA Europro Tour and LET players.
two tennis courts, two paddle courts, beach volley ball and two football pitches – one is a full-size grass pitch; the other is designed for five-a-side games;
a cricket ground with an eighteen (18) wicket square, constructed to ECB standards and specifications open all year round. Complimented by a Marquee pavilion, sightscreens, scoreboard, sprint strips, and associated facilities, it provides an outstanding facility to practice and play cricket.
a Cricket Academy with facilities that comprise; twenty-four (24) grass wickets and run up with nets, one artificial wicket with nets, a full length artificial grass wicket, a Professional Bola Bowling Machine with 28 ball feeder, requisite training equipment and a specific hard standing area, which provides outside space for facilities such as a free weights gym, stretching mats and a medical area.
a Spanish colonial style Golf Club House with a lounge, bar, restaurant, locker rooms, TV and reading rooms, and a Ralph Lauren Golf Boutique;
The Crocodile Club which provides family fun at the heart of the resort with pools, equipped sand play areas, a kid's battery powered John Deere Gator circuit as well as a Jacuzzi, sun lawns and a pool bar;
a health and fitness club and spa.
Awards
Desert Springs Resort was awarded Best Golf Resort for Groups in Europe by the 2016 European Group Travel Awards (EGTA). The Indiana Course at Desert Springs Resort has also been recognised as the 6th Best Golf Course in Spain, based on the reviews of players who rated the course on the Leading Courses website. Out of the 345 courses present on this ranking the Indiana Course at Desert Springs occupies 6th place with a score of 8,8/10, and awards Desert Springs Golf Club with the "Outstanding" badge. This distinction is only given to the best 10 courses in the country.
Desert Springs Resort has been awarded the Daily Mail Best Almeria Award and the Bentley International Property Awards for the Best Spain Development and Best Architecture, as well as the Spanish National Madera Verde Prize for Environmentally Sensitive Development, the SICTED award for the distinction of "Commitment to Tourism Quality" and Andalucía's Premier Tourism prize for 2017, the coveted and prestigious 'Excellence in Management' Award.
El Torrente Restaurant has received the New Millennium International Gastronomy Award for the Tourist, Hotel and Catering Industry. This award was created by the Trade Leaders Club with the aim of distinguishing companies from all countries, for the outstanding quality of their products or services.
The climate of the Almanzora coastal region
Desert Springs takes its name from the region's desert microclimate, which is unique in Europe. It has the warmest winter weather on the continent with an annual average of more than nine hours of daily sunshine and maximum daily temperatures of between 16°C (60°F) and 30°C (86°F) throughout the year. Annual rainfall is less than 200 mm. The Almanzora coastal waters are among the cleanest and warmest in Europe, attracting both fish and diving enthusiasts.
Reader enquiries:
NOTE: High Resolution Images available upon request.
Simon Coaker

The Almanzora Group Ltd

The Manor, Boddington, Cheltenham,

Gloucestershire GL51 0TJ

Tel: +44 (0) 1242 680116

Mob: +34 678 235 716

e: scc@almanzora.com

www.desertspringsresort.es

Millfield, Bradfield, Loretto, CT Sports, Reeds, Lancing & Whitgift School competed in the 'V Desert Springs & Millfield European Schools Team Championships'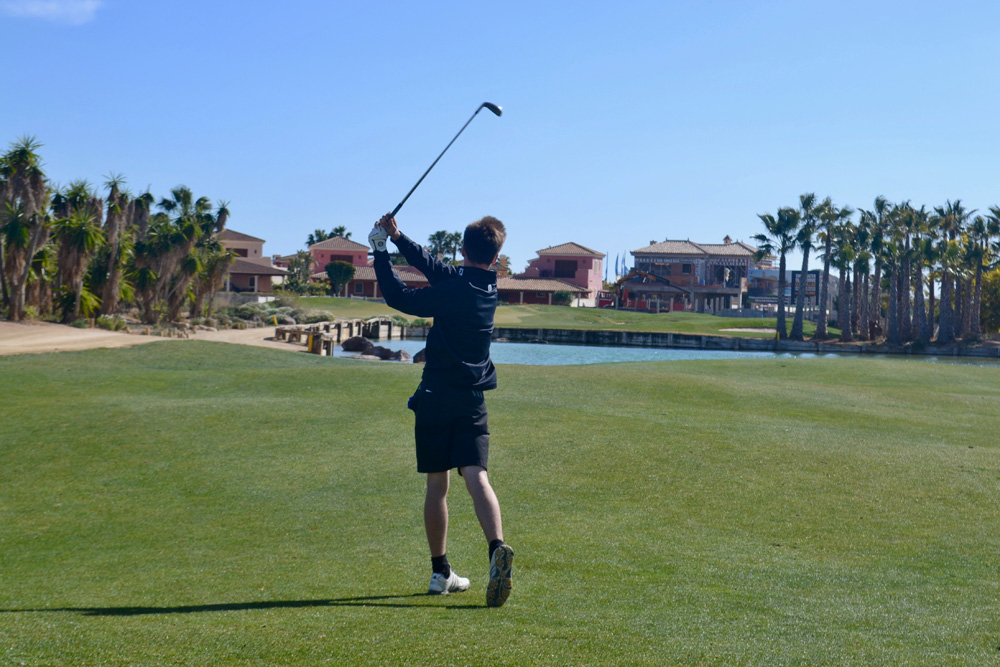 A student plays their approach shot on Hole 15 'Abyss' on the Indiana course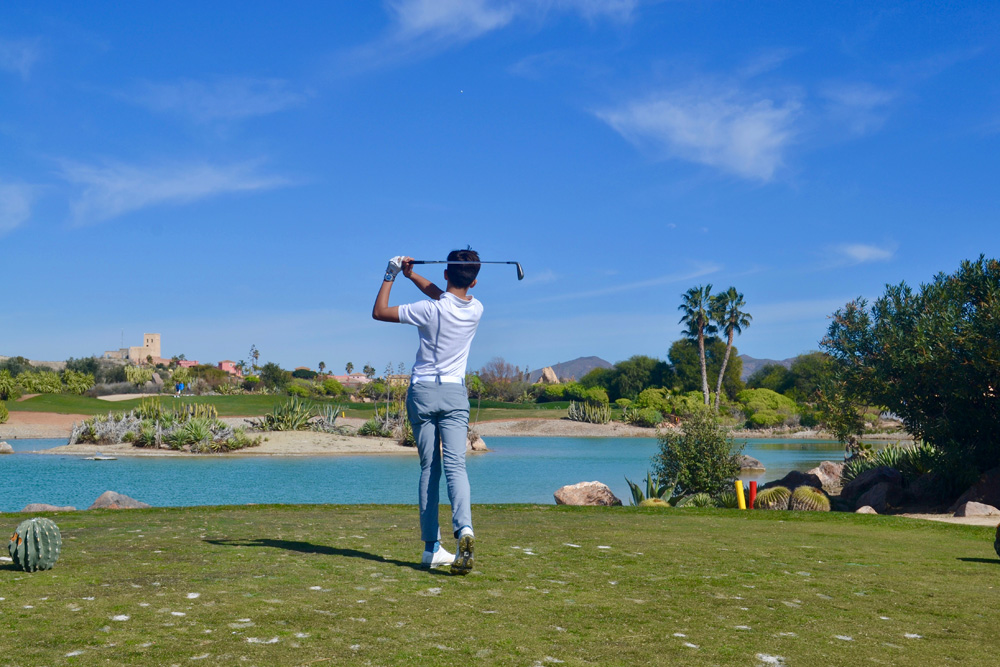 A student plays their approach shot into Hole 14 'Tiburon' on the Indiana course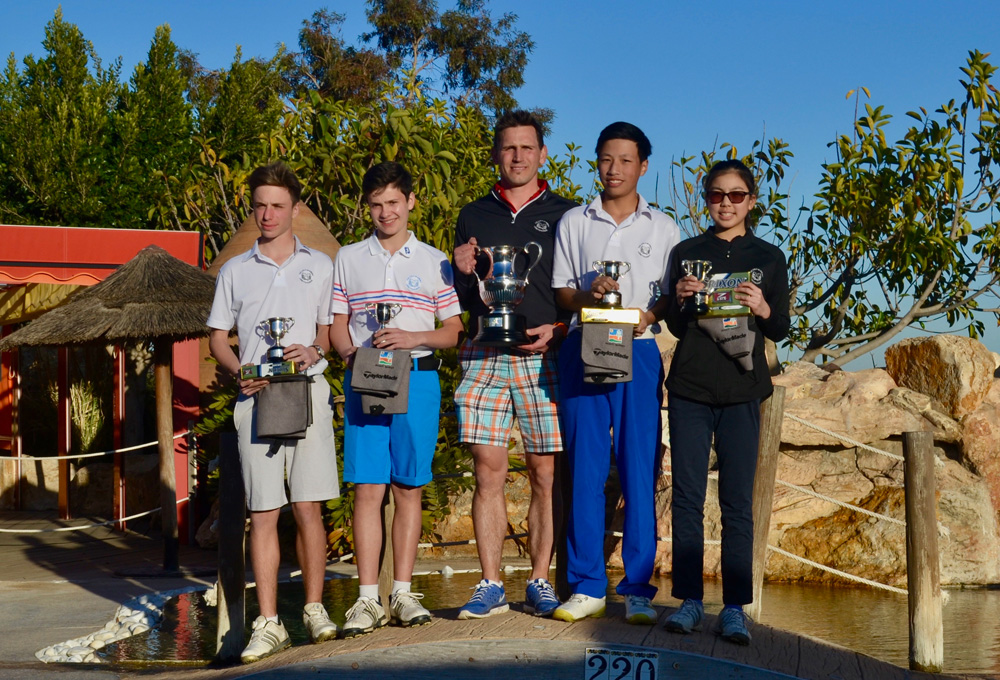 Loretto 3 Winning Team Members Jan Voltas Moreno, Philip Lyons, Rick Valentine (Director of Golf at Loretto Academy), Timothy Chan and Jolie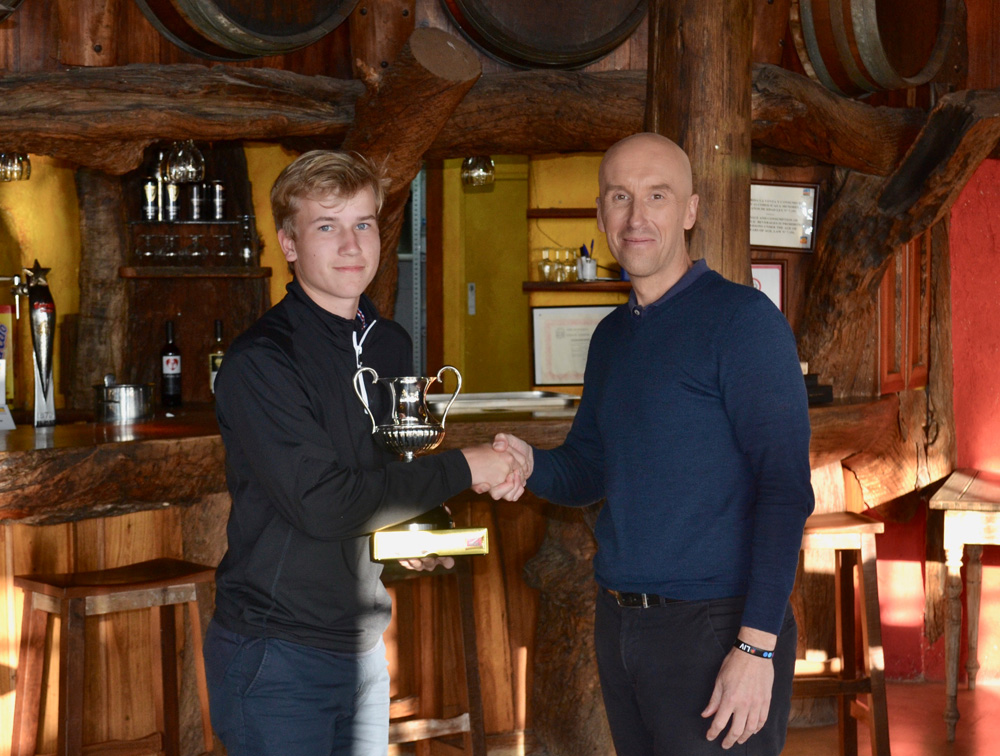 Weigo Weisner from Team 'Loretto 1' Winner of the Best Male Individual Scratch competition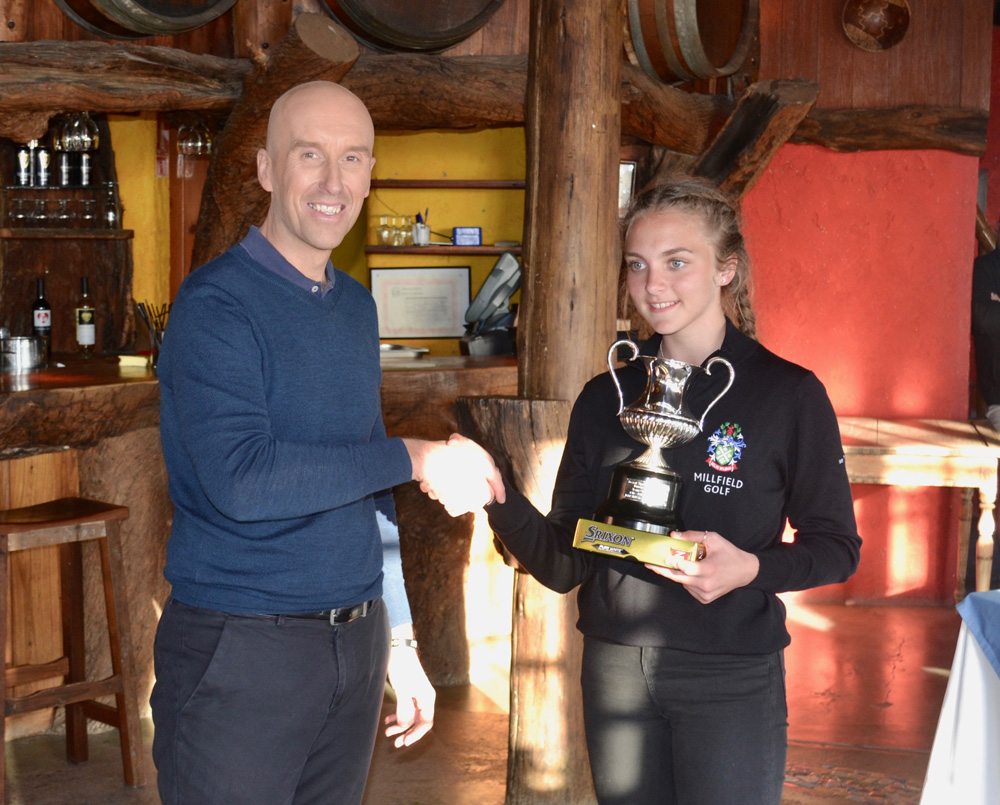 Ellie Lace from Team 'Millfield 2' Winner of the Best Female Individual Scratch competition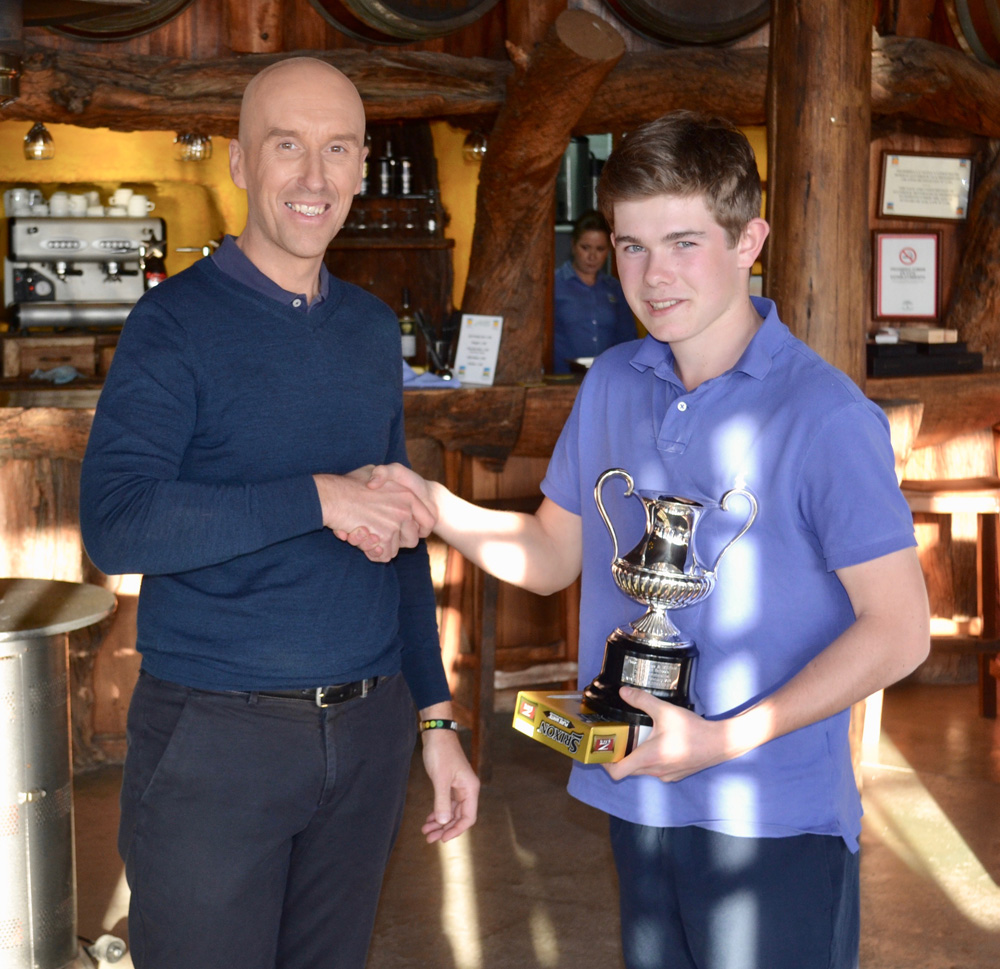 Matt Ruffell from Team 'Bradfield 2' Winner of the Best overall individual Stableford points score
A typical example of the Apartments at Desert Springs Resort where the ECB Pace Programme players and team officials were accommodated