Thirteen of the top players from the Ladies' European Tour are competing in a unique Pro Am event on the Indiana course at Desert Springs in south east Spain this week. As part of the resort's active commitment to the progress of women's golf, Desert Springs is playing host to a special event featuring the top women players in Europe.
Lora Fairclough, winner of the 2005 Mauritius Open and former Solheim Cup player said;
'We are delighted to have been asked to participate in this tournament, it is a rare opportunity for the players to have some fun competition and to spend some time practicing at a quality venue.'
The Pro Am is taking place over 2 days, with two professionals playing with each team of three amateurs; a Texas Scramble on the first day will be added to a Best from 4 format on the last day, with the winners being the team with the most aggregate points.
Desert Springs is unique in its unrivalled program of events designed for the woman golfer.
Christine Langford, Desert Springs' coordinator for ladies' golf, commented:
' The Golf 4 All Pro Am, which features some of the top women professionals on the Ladies European Tour is a fitting prelude to the launch of our 'Golf 4 Women' series. I hope that we will continue to attract the discerning woman golfer to Desert Springs as a result of our imaginative approach to the demand and requirements of the woman golfer.'
Becky Brewerton, Danielle Masters, Sophie Walker and Fame More are among the other professionals involved in the Pro Am event, which presents the opportunity for the amateurs to play two Pro Am rounds with two different professionals in two different formats.
Desert Springs Resort and Golf Club is an international award winning family leisure resort with a vast range of quality relaxation and sports facilities and exclusive luxury homes set beside the emerald green fairways of a stunning and unique championship desert golf. It is located on a plateau above the Almanzora coast in south east Spain, a sub-region which has the driest, sunniest and warmest winter climate of all the coast of mainland Spain and Europe.
It is the first and only luxury desert resort in Europe and its Indiana golf course, inspired by the famous desert courses of Arizona & California, is also unique in Europe. It presents unforgettable views, and golf of such a dramatic nature, that it can be said to have taken golf in general in this part of Spain to a new level of excellence.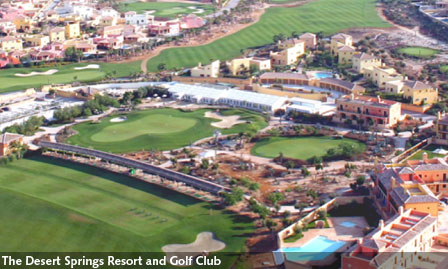 For further information contact: Christine Langford
Tel: +34 617 589 326
E-mail: cl@almanzora.com