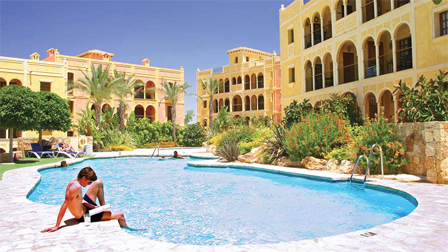 We invite you to 'introduce a friend' and join ourselves, Best International and Sir Ian Botham, OBE, at The Manor, Boddington, near Cheltenham on Sunday 13th October at 13.00 hrs. to attend the launch of 'Freedom of Choice Ownership' @ The Desert Springs Resort. This historic and beautiful manor house is the HQ of The Almanzora Group Ltd, the UK sales agent for Desert Springs.
The invitation and afternoon's itinerary can be viewed by clicking onto; Freedom of Choice Owners Invitation
The afternoon will provide an excellent opportunity for your friends to learn more about the unique, relaxed and enjoyable lifestyle of Desert Springs and to be introduced to 'Freedom of Choice Ownership' and the benefits it affords.
Purchase of 'Freedom of Choice Ownership' @ Desert Springs provides a 1/12th freehold ownership, in multiples thereof – it's your choice, in a fully furnished Two bedroom / Two bathroom Apartment, with a launch price of €18,000 per freehold share. It only requires a 20% deposit and through the services of Best International the remaining 80% balance can be funded through unsecured consumer finance. It's your choice!
'Freedom of Choice' means you have lower purchasing and operating costs, a flexible but fair usage plan, trustworthy and on site property management services, a choice of golf and leisure membership packages and an assurance that everything is conducted in accordance with relevant EU laws.
Home owner at Desert Springs since 2001, Sir Ian Botham, OBE, remarked; "As owners, we are key to the success of Desert Springs and by continually referring friends, relatives and colleagues we are helping the Resort to grow, and indeed grow with people that we already know. I look forward to meeting with you and your friends in Boddington!"
Simon Coaker, Sales Manager of The Almanzora Group, commented; "As you will all know, a high percentage of the new freehold properties sold by The Almanzora Group have been to those clients referred to us by you, our owners, through the existing Owners Privilege Referral Scheme. Thank you! The referral scheme applies to 'Freedom of Choice Ownership' and we very much hope you find this launch of interest to you and your friends."
If you have a friend, relative or colleague who would like to share your experiences of Desert Springs, embracing the fabulous climate, wonderful surrounding countryside, superb cuisine and unique quality of life that home ownership at the resort provides, then this is the perfect opportunity for you to introduce them.
We very much look forward to welcoming you and your friends to The Manor at Boddington.