"All members of staff care because they want to, not because they are told to."
That's the view of Pips & Tony Fernandez, proud homeowners of a new luxury two-bedroom Colonial Townhouse at The Desert Springs Resort!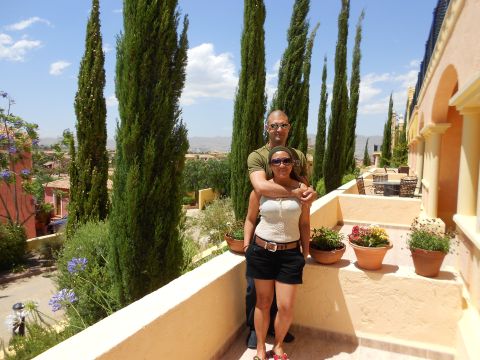 Pips & Tony Fernandez relax on the terrace of their new two-bedroom Colonial Townhouse at Desert Springs, Europe's only international award-winning luxury family resort, located in the Almanzora region of Almeria, Andalucía, south east Spain.
After over a year of searching for their second home, Pips and Tony Fernandez have finally realised their dream of owning a second home abroad.
Pips Fernandez (48), a housewife, and her husband Tony Fernandez (42), a software engineer, whose principal home is in London, have just purchased a brand new holiday home at the Desert Springs Resort, Europe's only international award-winning luxury family resort, located in the Almanzora region of Almería, Andalucía, south-east Spain.
After looking at various locations worldwide including Egypt, Brazil and the USA, Pips & Tony finally settled on Spain as being their ideal location.
"We soon realised that Spain was safe, had a good healthcare system, great weather and was the best country in terms of the lifestyle it could offer to us," says Tony. "We were also attracted by the proximity to the UK and easy access to airports which meant that we could easily visit our children in London when we would be spending long periods of time here at our new home in Spain."
Pips and Tony were seriously considering purchasing at one of two developments in the Murcia region of Spain, and indeed they made an offer on a property at one of the developments. However, during a visit to see the property curiosity got the better of them and they decided to visit Desert Springs of which they had heard about, to see what they were potentially missing out on.
"It was love at first sight," says Pips. "As soon as we drove through the entrance gate at Desert Springs, we just knew this was the right place for us to buy!"
"The other development in Murcia was nothing compared to Desert Springs," added Tony. "Desert Springs was our number one preference and with hindsight it was absolutely the correct decision to make."
Pips and Tony then contacted the Commercial Manager for The Almanzora Group Ltd they had originally made contact with and made an offer on a two-bedroom colonial style townhouse in the gated development of Las Sierras II.
"At 193,500€ our two-bedroom townhouse with a solarium of 17sq m, enjoying panoramic views of the championship Indiana golf course and wonderful far reaching views of the mountain ranges beyond, was within our budget and great value for money given the caliber of the design and construction and the quality of the finish of the property" remarked Tony.
The couple praised the way in which the purchasing process was made so easy by The Almanzora Group Ltd, which handles marketing in the UK in association with the developer's sales company in Spain.
"The whole sales process was handled smoothly and professionally which really impressed us," says Tony.
Pips added "Desert Springs is such a tranquil resort in a beautiful unspoilt, and to a certain extent, undiscovered area of Spain. There is no traffic noise, only birds singing. We feel like we are on holiday every day and that was our aim when we first decided to buy a second home abroad."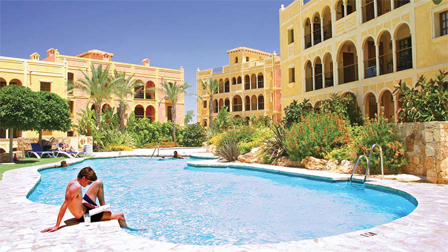 The development of 'Las Sierras' at Desert Springs Resort. Only two Colonial two-bedroomTownhouses remain for sale with prices currently reduced by 47% from
€375,000 to €198,500.
Post property handover, Pips & Tony availed themselves of the support of The Almanzora Bay Groups 'Home Buyer Services' that provides a Property Set-Up Service, organising household insurance, contracting services such as water, electrics and communications and setting up a local bank account for payments, enabling instant use of the property on handover.
Pips commented: "Even once we completed the purchase, the same level of service continued. The people made it the right choice for us to buy at Desert Springs. It's like a friendly, family atmosphere where all members of staff care because they want to, not because they are told to."
For more information about Desert Springs, or to arrange a property inspection visit, contact The Almanzora Group on telephone +44 (0) 1242 680 299 or visit the website, www.almanzora.com
For further information contact: The Almanzora Group
Tel: +44 (0) 1242 680116
Email: tag@almanzora.com
www.almanzora.com