Search For Dream Holiday Home Found At Desert Springs Resort!
"Desert Springs Golf Resort stands for Quality, Reliability, Professionalism, Excellent Service and Highly Skilled Staff."
That's the view of Hans & Elsje Van Den Bossche, proud homeowners of a new three-bedroom 'Buenaventura' Country Cottage at The Desert Springs Resort!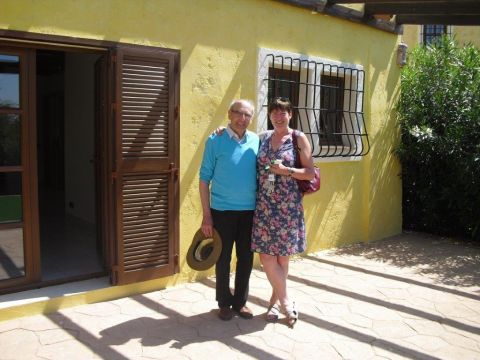 Elsje Van Den Bossche proudly tours her father around the purchase of her new three-bedroom 'Buenaventura' Country Cottage at Desert Springs, Europe's only international award-winning luxury family resort, located in the Almanzora region of Almeria, Andalucía,
south east Spain.
After much searching for their paradise location and second home, Hans & Elsje Van Den Bossche whose home is in Belgium, have just completed on their brand new holiday home at Desert Springs Resort, Europe's only international award-winning luxury family resort, located in the Almanzora region of Almeria, Andalucía, south east Spain.
"At the end of 2011, we started looking for a second home in the South, as we were not getting any younger and were becoming a little frustrated with the weather in Belgium. Our paradise place had to be close to both sea and snow, and in a quiet, safe and non-industrialized area, though not remote, and of course with lots of sun. Not so easy ……" says Elsje.
"In May 2012 the estate agent from Alicante that we engaged, brought us to Desert Springs after hearing our wish list. It was love at first sight for the two of us, but we initially tempered our enthusiasm, because 'surely there must be minuses and downsides to the place'."
The couple praised the way in which the purchasing process was made so easy by Playas del Almanzora, part of The Almanzora Bay Group in Spain, its sales agent, which handles the developer's sales company in Spain.
Elsje remarked: "We met Paul, Julia and several other people from the Management in the resort and together with our agent, they did a marvelous job: showing us the resort and all the possibilities, driving us around to surrounding beaches and pretty villages, taking care of accommodation and transport whenever we were there, helping us out with the (fantastic) lawyer in Vera and with all the other administrative matters that we were totally unfamiliar with. Top class!
We must have visited dozens of houses, cottages, villas and apartments of The Almanzora Bay Group in the Resort but also near or at the beach in Villaricos and Playa Marques. It was all done in the most friendly, reliable, professional, confident and patient manner, so much so that it boosted our feeling: 'This may well be the place we are looking for but never thought it existed'."
Elsje continued; "In the end we bought "our" cottage in the summer of 2012, although at that time uncompleted, we agreed with Julia and the Desert Springs Management that they would finish and complete it for us by the end of March 2013. And surely, that is when the house was ready, exactly in time and precisely as we had agreed it all. The service and quality of work that we got from Paul, Julia and all the other team members was exemplary and is what you normally only hope for but never get."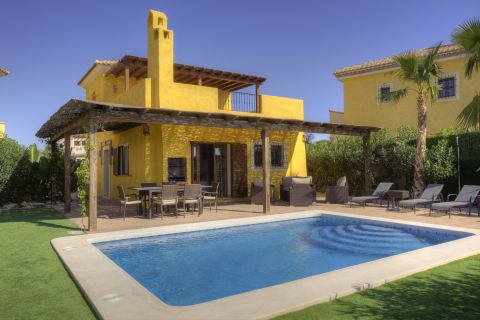 The view of a typical three-bedroom 'Buenaventura' Country Cottage at the development of 'Desert Gold' within the Desert Springs Resort with a solarium of 76 sq m. Only four remain for sale with prices currently reduced by 50% from €597,000 to €298,500.
Hans and Elsje were also attracted by the easy access from their home in Belgium to Alicante International airport, with less than a two hour drive by car directly via the E15, making Desert Springs Resort easily accessible using both chartered and scheduled 2 1⁄2 hour flights.
Post property handover, Hans & Elsje availed themselves of the support of The Almanzora Bay Groups 'Home Buyer Services' that provides a Property Set-Up Service, organising household insurance, contracting services such as water, electrics and communications and setting up a local bank account for payments, enabling instant use of the property on handover.
Elsje commented: "You may think that their service and help would slowly come to an end after they handed over the cottage to us, but Paul and Julia continue to give us their friendly and accurate support for any question or problem we still have.
This is how service should always be; what the people in Desert Springs do is top level and highly commendable!
Great job guys and thanks for everything.
These people are really part of the reason why we will feel like we are coming home whenever we return to Desert Springs."
For more information about Desert Springs, or to arrange a property inspection visit, contact The Almanzora Group on telephone +44 (0) 1242 680 299 or visit the website, www.almanzora.com
Reader enquiries:
NOTE: High Resolution Images available upon request.
Simon Coaker
The Almanzora Group Ltd
The Manor, Boddington, Cheltenham,
Gloucestershire GL51 0TJ
Tel: +44 (0) 1242 680116
e: tag@almanzora.co.uk
www.almanzora.com