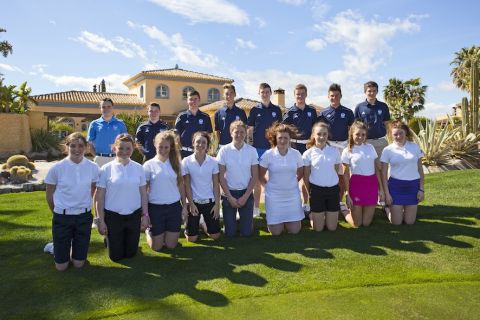 We are pleased to announce that the best young amateur golfers from Scotland will be the next group of elite golfers that are scheduled to return to Desert Springs Resort & Golf Club to undertake their annual winter training camp.
Based at the Home of Golf in St Andrews, The Scottish Golf Union (SGU) is the governing body for amateur golf in Scotland, incorporating 578 golf clubs across the country representing a total membership of approximately 230,000 golf club members.
Between Sunday 15th – Sunday 22nd February 2015, six (6) boys and twelve (12) girls representing the Scottish Golf Union Boys & Girls International Squad and seven (7) officials will visit the resort for a seven-day intensive training programme to develop their individual golfing skills in warm weather while experiencing a golf course which offers a challenge to players at all levels.
Between Sunday 22nd February – Sunday 1st March 2015, a further tranche of eighteen (18) boys representing the Scottish Golf Union Boys International Squad will arrive to the resort to join five (5) officials for their seven-day training programme.
During their time at the resort the players will utilise the excellent practice facilities at the Golf Academy and play the Championship Indiana course.
The players and officials will be accommodated in some of the privately owned Pueblo Villas and Apartments normally reserved for holidays and short breaks at Desert Springs and the resort's executive chef will be on hand to cater for the special dietary requirements of individual players dining in the award-winning El Torrente Restaurant.
For further information on the Scottish Golf Union visit their official website.
For further information contact Alfonso Castiñeira
Tel: +34 670 613 900