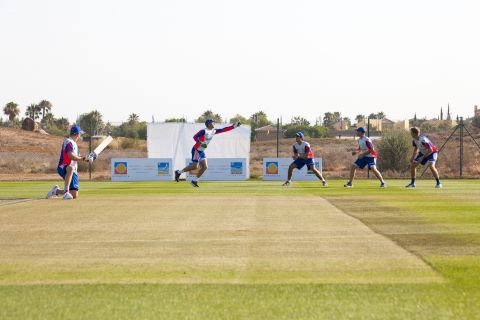 Southampton Solent University Cricket Club will be stepping up their preparations for the 2016 campaign by completing their 4-day warm weather training camp at the Desert Springs Cricket Academy between Tuesday 29th March – Saturday 2nd April 2016.
To view the video of the Desert Springs Cricket Academy Click Here
Southampton Solent University is a premier British university of approximately 18,500 students based in Southampton, United Kingdom.
Team Solent Cricket has reached the quarter finals of the BUCS Championships twice and has been league runner-up three times in the last six years. The club has various men and women squads competing in both outdoor and indoor BUCS leagues.
The Southampton Solent University training camp will comprise Thirteen (13) players and Two (2) coaches, all of whom will be spending their time completing numerous training sessions each day, which will include grass net practice, both bowling and batting, strength work, running, speed and agility work. As they will be outside and on grass, the squad will also be able to do fielding and throwing practice in realistic conditions, something not possible indoors back in the UK.
The Almanzora Group Sales & Marketing Manager, Simon Coaker remarked: –
"We are delighted to welcome Southampton Solent University for their inaugural training camp at the Desert Springs Cricket Academy. Since the addition to the existing cricket facilities in 2013 of six top quality grass wickets at the Cricket Academy we have hosted numerous cricket teams, both professional and amateur, as well as university and school groups, which has now led to the introduction of a further 13 grass wickets to cater for the growing demand of those wishing to visit."
The feedback received from those visiting groups can be viewed Here.
Accommodation for the players and coaches is in some of the privately owned apartments at Desert Springs Resort normally reserved for holidays and short breaks and the resort's executive chef will be on hand to cater for the special dietary requirements of individual players dining in the resort's award-winning El Torrente Restaurant.