Somerset County Cricket Club players are now back in England having completed a successful eleven (11) days of warm weather pre-season cricket and fitness training between Monday 7th & Friday 18th March at Desert Springs Resort, Europe's only international award-winning luxury family resort and championship desert golf course with its very own dedicated Cricket Academy, in the Almanzora region of Almeria, Andalucía in south-east Spain.
Matt Maynard, Somerset CCC Director of Cricket and his team of seven (7) staff accompanied seventeen (17) players who completed bowling, batting and fielding practice as well as strength and conditioning training sessions as they stepped up their physical preparations for the upcoming 2016 season.
Matt Maynard a former English cricketer who played in four Tests and fourteen ODI's for England remarked of the pre-season training camp:
 "We are extremely happy again with another great pre-season trip to Desert Springs. The service that we receive as a squad is just sensational and the wickets were prepared perfectly.
Thank you to all of the staff and we look forward to seeing you again next year!"
The training camp worked on a specific and carefully planned programme covering technical skills, strength and conditioning and both individual and group activity.
Somerset CCC Strength & Conditioning Coach, Darren Veness commented: –
"We love coming back to Desert Springs Resort for our pre-season training camp, it has exactly what you need for perfect preparation for the season ahead. See you next year!"
Somerset CCC players said of their pre – season training experience at Desert Springs Resort:
"What a great stay, the cricket facility is perfect for pre-season. See you next year!"Jamie Overton
"It has been awesome to be back again, the practice facilities are great and they have definitely got us ready for our season ahead!" Craig Overton
 "This has been my first visit to Desert Springs Resort. I thoroughly enjoyed my stay and I feel ready for the season ahead thanks to the standard of the facilities that we were able to utilise! " Liam Redrup
"This has been an awesome training camp, just perfect for what we needed. First class facilities with first class service and I have really enjoyed my time here, see you next year for sure!" Jack Leach
"Another great stay at Desert Springs Resort, I love coming here. The cricket practice facilities are fantastic!" Lewis Gregory
"This was my first time at Desert Springs Resort and I wouldn't have wanted anymore from a pre-season camp. Great facilities & top food, thank you!" Adam Hose
"What a great stay, my first time at Desert Springs Resort and it has just made me want to come back again!" Ryan Davies
"Another awesome pre-season training camp, hospitality has been incredible, see you next year!"
Tom Abell
To view a video of the Desert Springs Cricket Academy view: – Desert Springs Cricket Academy
The players and coaches were accommodated in some of the privately owned Villas normally reserved for holidays and short breaks at Desert Springs and the resort's executive chef was on hand to cater for the special dietary requirements of individual players dining in El Torrente Restaurant.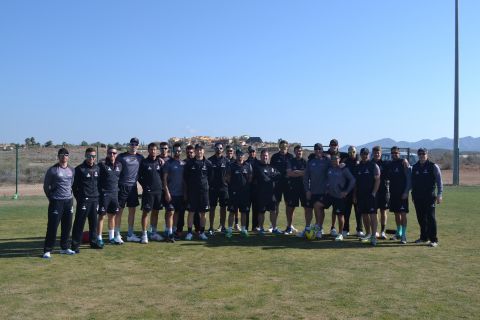 Somerset County Cricket Club Assistant Coach Development Paul Tweddle (Third Right) Lead Physiotherapist Jamie Thorpe (Eight Right) Bowling Assistant Coach Jason Kerr (Tenth Right) Strength & Conditioning Coach Darren Veness (Eleventh Left) Academy Director Steve Snell (Ninth Left) Director of Cricket Matt Maynard (Fourth Left) with players attending the Pre-Season Training Camp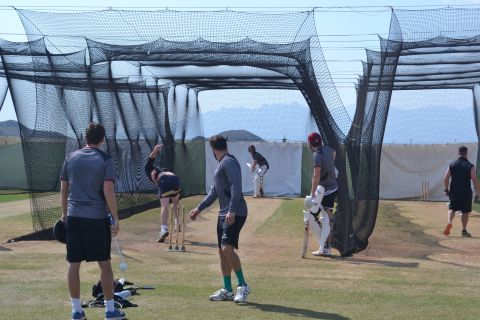 'Nets Bowling Practice Session' at the Desert Springs Cricket Academy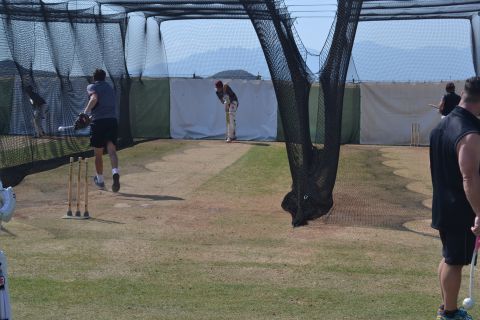 'Batsman Practice Session' at the Desert Springs Cricket Academy