Eleven (11) members of Somerset Golf Union, accompanied by Performance Manager Russell Covey, are now back in England having completed a successful 5-day training camp between Thursday 20th – Tuesday 25th February at Desert Springs Resort, Europe's only international award-winning luxury family resort and championship desert golf course, in the Almanzora region of Almeria, Andalucía in south-east Spain.
Somerset Golf Union Performance Manager, Russell Covey remarked;
"Having visited annually for the last seven years, I feel on the whole, the quality of the resort has improved significantly recently, in all that desert springs offers the golfer."
Somerset Golf Union represents the 30 clubs who are affiliated to the Union and their members. They support the teams that represent Somerset in regional leagues and tournaments and help clubs to develop their members who wish to compete at higher levels.
Somerset Golf Union players remarked of their training camp at Desert Springs;
"Desert Springs is everything you need for a golf training camp venue; its uniqueness and tranquil setting is ideal for dedicated golf groups." James Ward -Captain Somerset Golf Union
"Fantastic golf facility to come and intensely practice for the new season, especially since there has been no golf in the UK for weeks!" Ollie Brimfield
The training camp utilised the excellent practice facilities at the Desert Springs Golf Academy where Russell Covey was able provide one-to-one tuition to the team members and take advantage of the use of the Desert Springs short game academy prior to the players embarking on their rounds on The Indiana course.
"Desert Springs is a great place to come and work on my game as much as I wanted throughout the week. The range, short game and putting greens are some of the best I've been on." Will Poole
"The facilities here are perfect to do winter training before our season starts. The weather was perfect along with the practice area and course." Louis Archer
"I really enjoyed the week, we got everything we needed that the resort offered- great practice facility and course, to prepare us for the season in April." Jack Palmer
The players were accommodated in some of the privately-owned apartments normally reserved for holidays and short breaks at Desert Springs and the resort's executive chef was on hand to cater for the special dietary requirements of individual players dining each day in the 'El Torrente' Restaurant.
For further information contact:
Francisco Conesa
+34 647 414 899
ff@almanzora.com
Somerset Golf Union at Desert Springs Resort for their Annual Winter Pre-Season Training Camp
Somerset Golf Union players teeing off on Hole 10 on The Indiana Course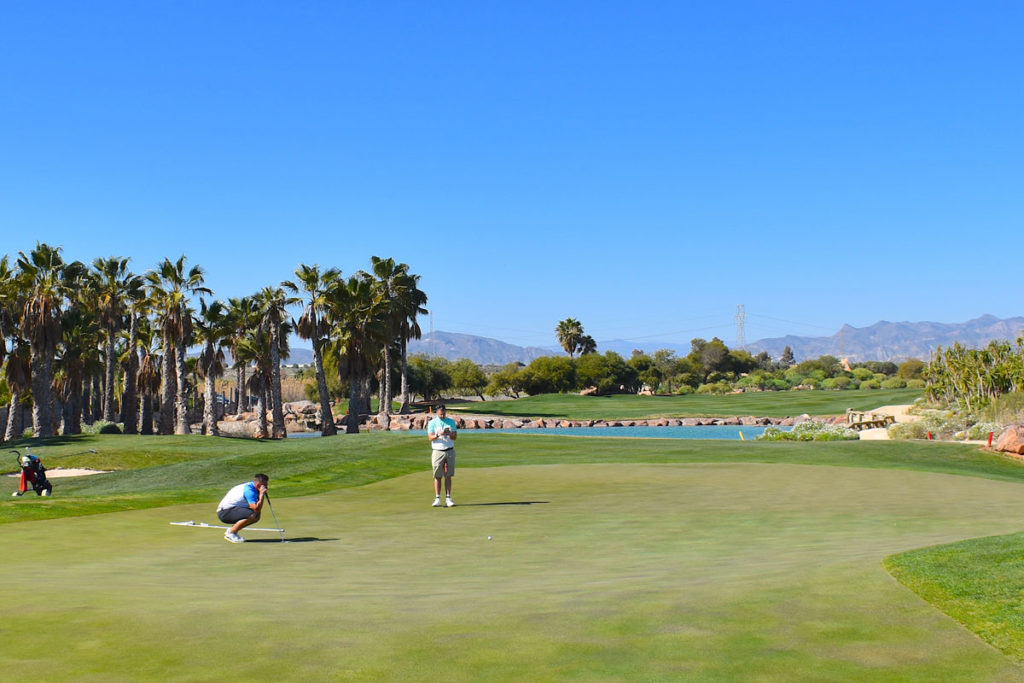 Somerset Golf Union players putting out on Hole 15 on The Indiana Course