Southampton Solent University Cricket players are now back in England having completed a successful four (4) days of warm weather pre-season cricket and fitness training between Monday 29th March – Saturday 2nd April at Desert Springs Resort, Europe's only international award-winning luxury family resort and championship desert golf course with its very own dedicated Cricket Academy, in the Almanzora region of Almeria, Andalucía in south-east Spain.
Richard Browning, Southampton Solent University Cricket Club Head Coach, along with two supporting staff, accompanied thirteen (13) players who completed bowling, batting and fielding practice as well as strength and conditioning training sessions as they stepped up their physical preparations for the upcoming 2016 season.
Head Coach, Richard Browning commented:
"Our experience at Desert Springs Resort has allowed us to prepare brilliant ahead of our University season. The boys have worked very hard and have thrived in the fantastic facilities on offer and we will definitely be back!"
Coach, Samuel Bracey remarked of the training camp:
"The great facilities and staff have ensured a successful and enjoyable trip for pre-season!"
The training camp worked on a specific and carefully planned programme covering technical skills, strength and conditioning and both individual and group activity.
Southampton Solent University players said of their pre-season training experience at the Desert Springs Cricket Academy:
"A fantastic experience in facilities far superior to most and I would recommend Desert Springs to any team looking to train during the winter. I am looking forward to coming back!" William Steward
"It's been a fantastic experience here at Desert Springs. The facilities have been outstanding and the lads have really benefitted from the time out here." Robert Walters
 "The cricket facilities were top draw! The weather and accommodation were great and the staff very helpful." Ollie Blandford
"Very good, perfect for the cricket and I would definitely return, thanks to all!" Jack Foley
"Great facilities! The staff were excellent and the accommodation clean and comfortable. All in all this has been a great experience, one I would definitely recommend and return in the future." Kieran Gayle
"It has been really good to get out and train outdoors, thanks for having us!" Richard Lock
"Great facilities with excellent hospitality. I thoroughly enjoyed my time here at Desert Springs Resort!" Like Evans
"Brilliant experience! Thoroughly enjoyed my time here and the facilities were excellent and the staff have been extremely helpful!" Ryan Murray
"A very productive tour because of the great cricket facilities and hospitality that was given." Ryan Scott
To view a video of the Desert Springs Cricket Academy view: – Desert Springs Cricket Academy
The players and coaches were accommodated in some of the privately owned apartments & townhouses normally reserved for holidays and short breaks at Desert Springs and the resort's executive chef was on hand to cater for the special dietary requirements of individual players dining in El Torrente Restaurant.
Southampton Solent University Cricket Club: - Left to Right Standing; Sam Bracey (Coach), Ollie Blandford, Charlie King, Joe Butcher, Will Steward, Ryan Scott, Richard Lock, Robert Walters, Luke Evans, Jack Bransgrove, Michael Porter, Ryan Murray, Richard Browning (Head Coach), Front kneeling Left, Jake Foley & Right, Kieran Gayle
'Southampton Solent University Cricket Club Nets Practice Session' at the Desert Springs Cricket Academy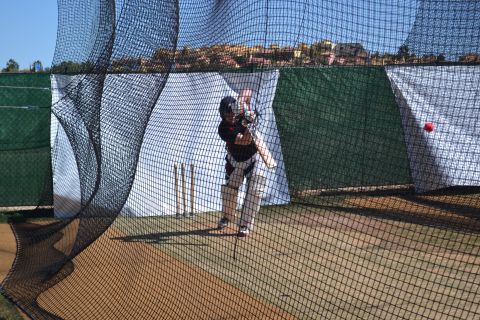 'Southampton Solent University Cricket Club Batsman Practice Session' at Desert Springs Cricket Academy
'Southampton Solent University Cricket Club Wicket Keeper Practice Session' at Desert Springs Cricket Academy