David Lloyd at the Desert Springs Tennis Academy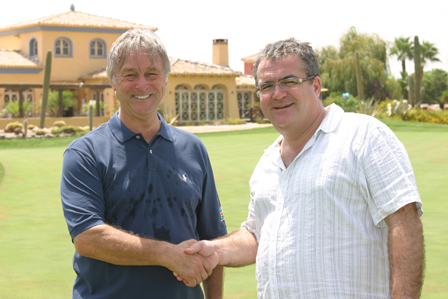 David Lloyd (Left) and Jon Gaunt at Desert Springs
Jon Gaunt 'Gaunty' broadcasting live from Desert Springs
SunTalk Radio presenter Jon Gaunt, better known as 'Gaunty' broadcast his live radio show from Desert Springs on Wednesday 29th July between 11am and 2pm. Sun Talk is the Sun newspaper's online radio station.
Over 100 people visited the resort to watch and listen as 'Gaunty' interviewed a host of guests, one of which included Tennis Champion David Lloyd who was at the resort.
During the interview with Gaunty – David Lloyd revealed that he was seeking a location for a tennis academy in Spain and had been encouraged to visit Desert Springs by his friend and property owner at Desert Springs Sir Ian 'Beefy' Botham.
David praised what he described as "a great resort" with good weather and easy access from the UK.
During the interview – which can be heard here and clicking on the link to Gaunty's interview with David Lloyd – the tennis ace criticises the state of British tennis which last produced a Wimbledon champion in 1936.
Making an impassioned plea for more youngsters to pursue the sport – aided by the Lottery funding now available to help them do so – David said that Desert Springs would be an ideal place for them to learn to play tennis while on holiday and then continue their new interest when they return home to the UK.
If you want to keep up with Gaunty's show on SunTalk you can listen by visiting The Sun's award winning website – then click on the SunTalk icon which will pop up the interactive SunTalk player, and you're away!
For further information contact: Golf Reception
Email: golfreservations@almanzora.com
Telephone: +34 637 861 591