Nine (9) members of the Sussex County Cricket Club Academy Squad aged between 16 – 19 years of age, accompanied by three (3) members of coaching staff are now back in England having completed a successful 4-day training camp between Wednesday 1st – Sunday 5th November at Desert Springs Resort, Europe's only international award-winning luxury family resort and championship desert golf course with its very own dedicated Cricket Ground & Academy, in the Almanzora region of Almeria, Andalucía in south-east Spain.
Carl Hopkinson, Sussex CCC Academy Director remarked of Desert Springs Resort and the training camp;
"An excellent facility which really enabled us to improve and develop our young players. The nets were of a high quality and lasted well throughout our visit.
The staff at the resort are all so friendly and couldn't do enough to make our camp a success.
Having been away with international teams, the service we received was on par with those experiences!"
The focus of the training camp was to provide an opportunity for the players to work seriously on their batting, bowling and fielding skills as well as their fitness levels, through a specific and concentrated programme, to ensure that the players are in the best possible shape, and understand and appreciate what it means to become a Sussex CCC player.
Team meetings, strength and conditioning training at the gym and catering provided at the award-winning 'El Torrente' restaurant was all part of the squads' itinerary.
James Kirtley, Bowling Coach remarked of his experience;
"A proactive service, centred around high quality surfaces with a flexible approach that still has the ability to keep the attention to detail."
Michael Yardy, Batting coach commented of the training camp;
"Great facilities, organisation and care from the staff. This ensured that the boys had both a very enjoyable and worthwhile experience."
The views of some of the players of their experience of the training camp were;
"Thank you for looking after us so well, the facilities are amazing!" Harrison Tegg. "Its's so cool to be able to train and practice where the England Team do!" Scott Lenham. "Perfect sunny weather in November, thank you for a great week!" Henry Crocombe. "Great facilities, great food, great weather, really friendly staff, what more could you ask for!" Jamie Atkins. "Awesome resort for a cricket camp, can't wait to come back and see the Oval being used." Thomas Gordon. "Great food, great facilities." Oliver Carter, William Sheffield & William Collard.
To view the video of the Desert Springs Cricket Academy Click Here
The players and coaches were accommodated in some of the privately-owned apartments normally reserved for holidays and short breaks at Desert Springs Resort and the resort's executive chef was on hand to cater for the special dietary requirements of individual players at the award-winning 'El Torrente' Restaurant.
For further information contact:
Kirl Lovell
+34 647 414 899
kl@almanzora.com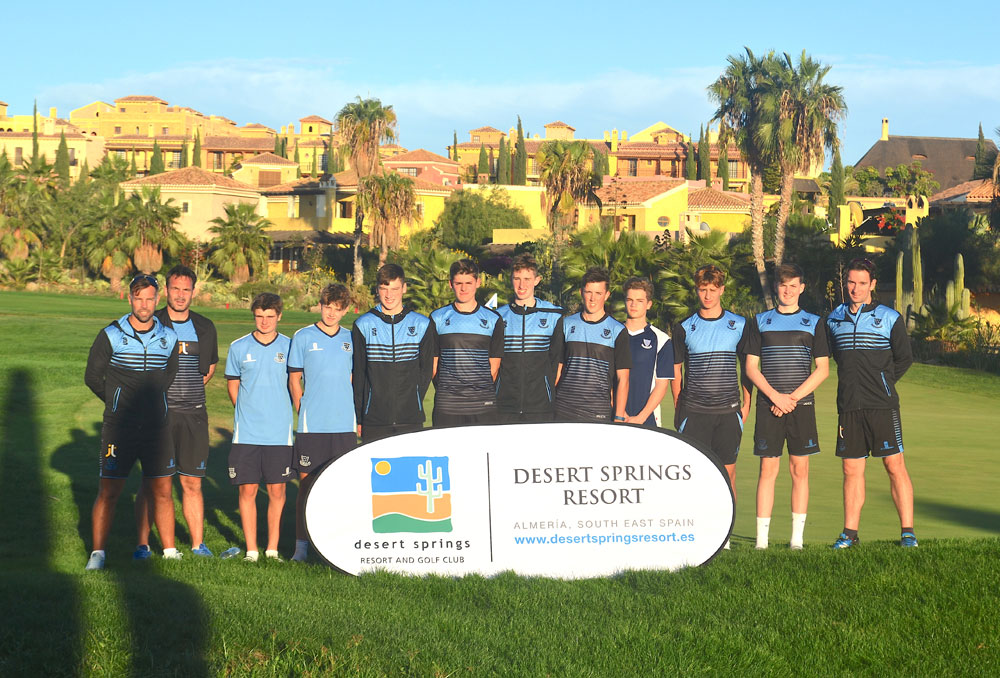 Sussex County Cricket Club Academy Squad and Staff at Desert Springs Resort
'Sussex County Cricket Club Academy Training Session' at the Desert Springs Cricket Academy