From:

Irish Ladies Golf Union (ILGU)

Date:

8th January 2018

Subject:

Comments from ILGU Management, Coaching Staff and Players after their successful 4-day Training Camp at Desert Springs Resort
Between Tuesday 2nd – Saturday 6th January three (3) officials from the Irish Ladies Golf Union (ILGU) accompanied seven (7) players representing the U18 and U21 International squads to complete the first of two scheduled 4-day warm weather winter training camps at the Desert Springs Resort, Europe's only international award-winning luxury family resort and championship desert golf course, in the Almanzora region of Almeria, Andalucía in south-east Spain.
The training camp utilised the excellent practice facilities at the Desert Springs Golf Academy, where the ILGU Coaches were able provide one-to-one tuition and take advantage of the use of the Desert Springs short game academy, prior to the players taking their games to The Championship Indiana Course. The players and officials were accommodated in some of the privately-owned apartments normally reserved for holidays and short breaks at Desert Springs and the resort's executive chef was on hand to cater for the special dietary requirements of individual players dining each evening in El Torrente Restaurant.
"Had another brilliant week, really enjoy coming here, the facilities, course, food and staff are top class!"
That was the verdict of 16-year-old Annabel Wilson, one of the ILGU International Squad members.
Johnny Foster, ILGU Head Coach commented:
"Another wonderful trip, amazing weather, top facilities and superb hospitality as ever."
Anne Ferguson, ILGU Director of operations commented:
"Super helpful staff made everything so easy, thank you for everything!"
Comments from ILGU International Squad Members respect to their experience of the training camp were;
"Fantastic facilities, food and staff, looking forward to my next visit." Chole Ryan
"As always we had another amazing trip. The facilities, weather, accommodation and staff were great. Looking forward to next time." Olivia MeHaffey
"Such a fantastic place, we have loved our visit once again. Great facilities, great food and great staff." Paula Grant
"This was my third trip here and it keeps getting better!" Jessica Ross
"Another really enjoyable trip to Desert Springs. Top-class facilities and the staff are lovely!" Shannon Burke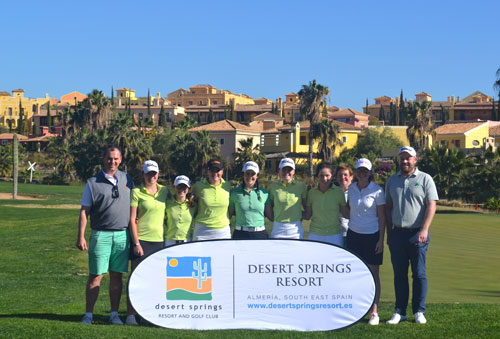 Johnny Foster ILGU Head Coach, Chris Jelly ILGU Coach & Anne Ferguson ILGU Director of Operations with ILGU International Squad Members; Annabel Wilson, Olivia Mehaffey, Paula Grant, Chloe Ryan, Shannon Burke, Jessica Ross & Rachel Thompson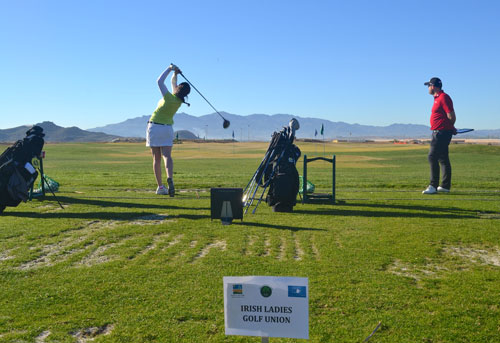 A member of the ILGU International Squad receiving some coaching at the Desert Springs Golf Academy