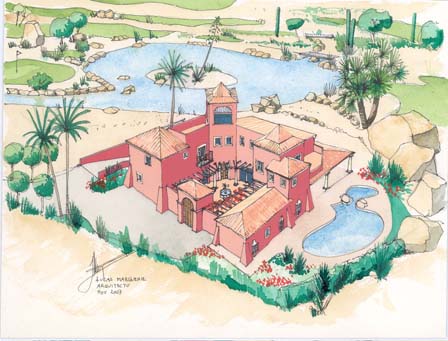 An artist's impression of the €2,500,000 million (£1.75 million) Caprichosa which will be the biggest and most luxurious home to be built at Desert Springs, Europe's only international award-winning luxury family resort and championship desert golf course in the Almeria region of Spain.

A view of the golf course at Desert Springs where plans for the biggest and most luxurious home to be built have just been unveiled.
Plans have been unveiled for what will be the biggest and most luxurious home to be built at Desert Springs, Europe's only international award-winning luxury desert leisure resort and championship golf course located in the Almeria region of Spain.
Construction work will begin as soon as a buyer has been secured for the unique €2,500,000 million (£1.75 million) property, the traditional exterior design of which has been inspired by some of the old manorial farmhouses which can still be seen in Almeria.
"It reflects the way in which, over many centuries, extensions and additions to important old properties like these create visual variety and architectural interest," explains Bridget Rosser, sales and marketing manager of the Cheltenham-based Almanzora Group which is the main overseas agent for properties at Desert Springs.
Already earmarked for the house – named the Caprichosa – is a plot of just over a third of an acre (0.14 hectare) on the banks of the established Tiburon Lake, just across from the fourteenth signature hole of the Indiana Desert Golf Course.
Tiburon Lake is the first of three linked lakes planned in the resort. The largest, Steamboat Lake, will be used for a variety of 'peaceful' water sports ranging from sailing and canoeing to windsurfing. The middle lake, Sweetwater, already is being stocked with bait fish for the introduction of black bass game fish in the near future.
The main entrance to the Caprichosa is approached through a large manorial door leading into a shaded Andalucian-style courtyard, enclosed on three sides by a pergola. The entrance itself is located at the foot of a tower containing a sweeping staircase linking the entrance hall, the first floor bedrooms and an open sided torre de la vela (watchtower). The tower, which has views across the lake, allows for cooling air to flow up through the property, whenever the ground floor windows are open. Below is an extensive basement and underground double garage.
Commenting on the name chosen for the property, Bridget says: "In Spanish, a caprichosa is someone who has a caprice, a whim or a fancy of his or her own, and this is very much in keeping with the concept of the plans of the model property. The purchaser will be encouraged to use it as a structural base on which to overlay his or her own ideas, working in conjunction with the developer's architect."
The model property itself is designed for indoor/outdoor living. The ground floor has a spacious family living room, a semi-separate dining room and fully-fitted kitchen and breakfast room, each opening on to a covered terrace of over 1,000 sq ft. It includes areas designed and laid out for al fresco dining as well as an outdoor lounge complete with a fireplace, and for sunbathing.
Also on the ground floor are a study and two of the four double bedrooms. With their own semi-private entrances off the entrance hall and courtyard, they are designed as guest suites. All bedrooms have their own private bathrooms.
On the first floor are the principal two bedrooms, one of which is linked to the staircase by a 'reading gallery' overlooking the family living areas and main terrace below. Both bedrooms open on to their own private sun terraces. All floors of the property will have air management.
The basement comprises 165 sq m (more than 1,750 sq ft) of naturally cool space, including a games room of 450 square feet and spaces for other facilities such as a gymnasium, a spa with jacuzzi and sauna, a wine cellar, and the utility and laundry room.
The property includes a very generous double garage with ample storage and workshop space.
"Internal finishes will be specified in accordance with the purchaser's wishes," explains Bridget. "Because construction of the property will only start when we have a buyer, there will be plenty of opportunities for him or her to add personal touches with regard to the layout and finishes."
The Caprichosa will have a total internal floor area of around 480 sq m (5,170 sq ft), with terraces of 150 sq m (1,600 sq ft). Outside the property will be fully landscaped to create the type of desert garden which recently resulted in the developer being awarded the UK's New Homes Garden Award 2007 in the category Best Garden / Landscape – Overseas Development. A 10 m x 5 m level deck swimming pool is included.
"This is the most prestigious residential property yet planned at Desert Springs," says Bridget who currently is selling a variety of apartments, townhouses, cottages, villas and country houses in the resort at prices starting at around £170,000 for an apartment, rising to around £980,000 for a spacious country house.
For more information contact The Almanzora Group on telephone +44 (0) 1242 680 299 or visit the website, www.almanzora.com
Desert Springs – in brief:
AIRPORTS:

Almeria: 50 minutes by road.
Murcia: 70 minutes by toll road (toll 11.5€).
Alicante: 120 mins by road.

FLIGHT TIME:

Around two-and-a-half hours from London.

CLIMATE:

Desert climate – unique in Europe – with the driest, sunniest and warmest winter weather on the continent. Annual average of more than nine hours of daily sunshine. Maximum daily temperatures of between 16°C (60°F) and 30°C (86°F) throughout the year. Annual rainfall less than 200 mm.

BEACH:

10 minutes away at Playa Marques.

RESTAURANTS & BARS:

Four of each.

GOLF:

Championship 18-hole golf course – designed by Peter McEvoy and twice host of the Spanish International Amateur Open – golf club house, caddy master's pavilion and bag drop service, mid-course 'watering hole'. Planning consent in hand for second golf course.

GOLF ACADEMY:

Winter training home of the Ladies Golf Union and several international & UK County Union teams. Driving range, video analysis, chipping & putting greens.
/MORE . . .

FACILITIES:

Crocodile Club including swimming and jacuzzi pools and sun lawns, kids pool, equipped sand play bunkers, kick around area with basket ball, kids self-propelled ride-on gator circuit, video games room & tea house.

Sierra Sports & Fitness Club including international size football pitch, tennis, paddle & beach volley courts, gymnasium, jogging track & trim trail, cricket practice facilities & equipment.

Tiburon, Sweetwater & Steamboat Lakes for fishing & water sports.

The Private Reserve including The Elemis Day Spa, Sauna & Fitness Suite, private work-out area, billiards room, private film screening room, private dining & tapas bodegas, and al fresco dining terrace.

Boutique, golf & pool shops & micro-market.

ACTIVITIES:

Adults, youth and children's Sports & Fitness programmes.
Golf lessons for beginners through to professionals.
Equitation & trail riding off-resort.
Scuba diving, tuna fishing & boat trips off-resort
Cultural & social events on & off-resort, including excursions.
Civil weddings, receptions, first communion parties, anniversaries, celebrations.
Corporate & sporting days & events, board & company meetings.

AWARDS:

2005: Daily Mail Best Almeria Award
2005: Bentley International Property Award for the Best Spain Development
2005: Bentley International Property Award Best Architecture
2006: Spanish National Madera Verde Prize for Environmentally Sensitive Development
2007: New Millennium International Gastronomy Award for the Tourist, Hotel and Catering Industry awarded to the El Torrente Restaurant
2007: New Homes Garden Award 2007 in the category Best Garden/Landscape – Overseas Development.
For further information contact: César Rodríguez Pons
E-mail: crp@almanzora.com
Telephone: + 34 637 861 591