The MCC (Marylebone Cricket Club) are the largest and most famous cricket club in the world. Their European International Spirit of Cricket T20 tournament, held between Friday 12th – Saturday 20th November at Desert Springs Resort, Europe's only international award-winning luxury family resort with its very own ICC accredited Cricket Ground, in the Almanzora region of Almeria, Andalucía in south-east Spain, has now been successfully completed.
The Spirit of Cricket T20 Tournament was hosted by the MCC and brought together four (4) European countries to participate – Austria, Germany, Italy and Spain, with the MCC providing two strong squads. Teams played each other twice in white ball T20 matches.
The event was divided into two (2) parts with Germany, Italy and the MCC starting proceedings. The impressive German team remained unbeaten to lift the trophy in glorious winter sunshine. Time was also well used to practice at the Desert Springs Cricket Academy and the ICC nations gained immeasurably from the experience of playing the MCC.
Gareth Berg, Cricket Italy, Head Coach remarked of Desert Springs Resort and the event;
"The two visits I have had to Desert Springs with Italy have been fantastic. The staff are always helpful.
Desert Springs offers everything we as a cricket family require both in relaxation and in training. Highly recommended for any future tours or planning of cricket development for Italian groups."
Austria and Spain arrived for the second event with a second MCC team. Although badly affected by the weather we still saw some great matches with Spain unbeaten and Austria winning a thrilling game with the MCC.
Marcus O'Riordan of Kent CCC & the MCC, remarked;
"I wouldn't hesitate to recommend Desert Springs to anyone looking to go away and improve their cricket close to home. With facilities all on site, including grass practice and match wickets, and a picturesque main ground, it's an ideal venue for any touring side."
Steve Reingold, of Glamorgan CCC & the MCC stated;
"Unfortunately, we were not blessed with the usual Desert Springs weather, but we got a great look at the incredible facilities here and still managed to play a couple of closely contested games against Austria and Spain."
James Overy the MCC Tour Manager commented;
"The facilities and service at Desert Springs were first-class.
We were made to feel at home and able to concentrate on a successful tour both on and off the pitch."  
The players and coaches were accommodated in some of the privately-owned Apartments and Villas at Desert Springs Resort and the resort's executive chef was on hand to cater for the special dietary requirements of individual players dining in the Crocodile Club restaurant.
Action from the Cricket Italy vs MCC match
Post-match analysis for Cricket Italy at the Desert Springs Cricket Ground
Cricket Austria on the attack against Cricket Spain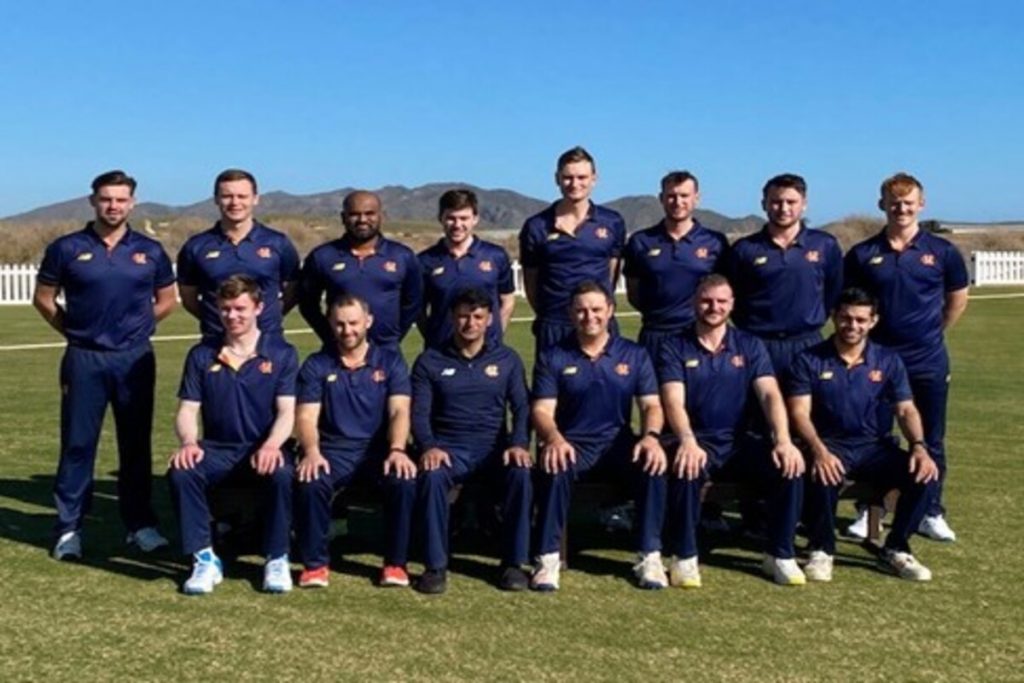 MCC prior to their games with Germany and Italy