Cuevas del Almanzora's town council asked DESERT SPRINGS for some ideas and help in the design of a roundabout at the entrance of the town. Rather than just installing another fountain in this water challenged region, the town council preferred to plant species with little needs for water, so Cacti and other Succulent plants were the perfect choice. The project also presented some difficult issues in term of both aesthetics and the need for a natural low maintenance solution.
DESERT SPRINGS drew the plan, offered plants, lent vehicles and workforce, all this in coordination with the services of Cuevas del Almanzora's town council. The answer was a mini-golf hole, surfaced with water saving artificial grass.
The result: After one year, one of the most beautiful roundabouts of the region, which is evidently delightful to all those visitors who do not hesitate to take photos of it!
A world record for an amazing grasshopper !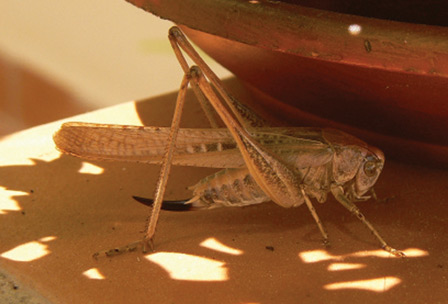 Female of Tuberous Bush Cricket (Photo: © Joël Lodé)
Not less than 420 wild animal species, mammals, birds, lizards, butterflies, etc. live in harmony at DESERT SPRINGS Resort and Golf Club.
Also found at DESERT SPRINGS, the Tuberous Bush Cricket (Platycleis affinis) has the largest testicles of any species on the planet… at least when compared to its body mass! They represent no less than 14% of its total weight.
In general, animals' gonads are larger in species where males mate with many females. In fact, and like some other species such as Bonobo Chimpanzes, it looks as though the testicles of the Tuberous Bush Cricket may be that big simply to allow males to carry on mating without their sperm reserves being exhausted during their short two-month adult lifespan.
For further information contact: The Almanzora Group
Email: tag@almanzora.co.uk
Telephone: +44 (0) 1242 680 116