As part of the Pink Weekend, we are pleased to announce a special Pink Pampering event to be held in the Zen Garden at The Day Spa @ Desert Springs on Friday 26th October 2007.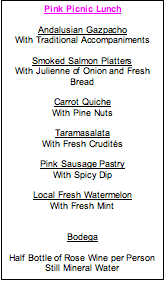 The day will commence at 10.30am with yoga and instruction followed by a sumptuous Pink Picnic lunch served in the garden.
Desert Springs' beauty therapist Karen will be at your disposal to provide Pink Mini Manicures polishing off the treatment with shockingly Pink Nail polishes.
There will be a talk on the essence of lifestyle changes & positive thinking. Following lunch there will also be a demonstration of Tai Chi.
Therapies and talk will be demonstrated and carried out by Karen's special guests Linda Jones & Ron Prescott, visiting experts from Body, Mind, Spirit in the UK.
Elemis, the awarding winning spa brand, have kindly donated a luxurious raffle prize consisting of Pro-Collagen Marine Cream 50ml, Pro-Collagen Lifting Treatment for Neck & Bust 30ml and Skin Nourishing Milk Bath 400ml from their exclusive Time for Awareness collection.
The proceeds from the Pink Spa Day are going to the Captain's charities AECC, the Spanish cancer charity and AMCAL serving the needs of disadvantaged people in the local region.
So don't miss out on this spectacular and fun Pink Pampering Event being held in the relaxing and serene surroundings of the Zen Garden at The Day Spa @ Desert Springs. Places are limited!
Tickets can be purchased in person at the Golf Reception, Desert Springs or call with your credit card details on +34 637 861 591/592.
Yoga, Lunch and Tai Chi are €40 pp and Pink Nails are €15, bookable in advance with Karen or on the day!
For further information contact: Karen Kelliher
E-mail: kk@almanzora.com
Telephone: + 34 610 944 494