The Rowse Academy Cricket players are now back in England having completed a successful seven (7) days of warm weather pre-season cricket and fitness training between Saturday 8th – Saturday 15th April at Desert Springs Resort, Europe's only international award-winning luxury family resort and championship desert golf course with its very own dedicated Cricket Academy, in the Almanzora region of Almeria, Andalucía in south-east Spain.
Rowse Academy Cricket Coach Andy Roswell, with three (3) additional coaches, Hayden Jackson, John Ward and Bob Wincer accompanied Twenty-Six (26) players who completed bowling, batting and fielding practice as well as strength and conditioning training sessions as they stepped up their physical preparations for the upcoming 2017 season.
Rowse Academy Cricket Coach, Andy Roswell commented:
"We have all been received so well. People have looked after our every need and been so accommodating. The cricket facility at Desert Springs is on the verge of extremely exciting times and the possibilities are endless, many thanks to all of the staff."
Rowse Academy Cricket Coach, Bob Wincer commented:
"The whole facilities at the resort are simply outstanding.
For any aspiring youngster making his way in the game, there is no finer opportunity than to spend 6 full days of high intensity, high performance coaching and group activity work.
This is a MUST for any schoolboy of any age!"
The training camp worked on a specific and carefully planned programme covering technical skills, strength and conditioning and both individual and group activity.
Rowse Academy players said of their pre-season training experience at the Desert Springs Cricket Academy:
"This is a beautiful resort with fantastic facilities, a great tour!" Tom Fletcher
"At Desert Springs we have experienced and benefitted from a high quality training camp that has been so much fun!" Marley Ward
"This has been one of the best holidays I have been on and the facilities at Desert Springs are just great!" Joe Harland
"This has been a top-class week at Desert Springs and an experience that I would recommend to any cricketer!" Owen Tennant
"Simply put, a great experience and great facilities!" Lucas Parry
"This has been just a great experience with some amazing facilities, one to remember for sure!" Josh Chisholm
To view the video of the Desert Springs Cricket Academy Click Here
The players and coaches were accommodated in some of the privately owned apartments and townhouses normally reserved for holidays and short breaks at Desert Springs and the resort's executive chef was on hand to cater for the special dietary requirements of individual players dining in the Crocodile Club Restaurant.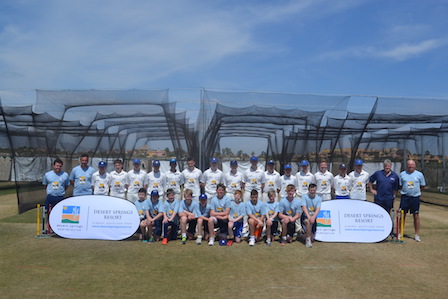 The Rowse Academy 2017 Pre-Season Winter Training Camp at Desert Springs Cricket Academy