Further to the success of their inaugural visit in 2017, The Rowse Academy, located in St. John's College, York will be stepping up their preparations for their 2018 cricket campaign by attending a five (5) day pre-season training camp at the Desert Springs Cricket Academy between Sunday 8th – Friday 13th April.
Headed by Andy Rowsell, The Rowse Academy offers specialist help in the form of private tuition, video analysis, coaching workshops and advice on how to progress along the developmental pathway from club cricket to representative level. Workshops are specifically structured to help develop techniques in all areas of the game. At the higher levels, more emphasis is placed on performance and sessions focus very much on applying such techniques in tactical and mental scenario based work.
The Rowse Academy training camp will comprise Twenty-Seven (27) players accompanied by Two (2) coaches, all of whom will be spending their time completing numerous training sessions each day, which will include grass net practice, both bowling and batting and strength, running, speed and agility work at the Cricket Academy.
The squad will also benefit from 2-days use of the new Cricket Ground at Desert Springs, incorporating specific practice sessions involving; throw downs, slip catch training and fielding exercises as well as match simulations.
During their stay, there are also fixtures arranged for the Rowse Academy representatives to compete against the Charterhouse School XI who are also visiting the resort for their own pre-season preparations during the same period.
Andy Rowsell, an ECB Scout for the North Region, is currently working with Queen Ethelburga's College in York, Harrogate CC and Scarborough and District Development Group providing coaching and performance workshops whilst also working with the ECB Performance team overseeing the North of England at U15 and U17 level.
Accommodation for the players and coaches is in some of the privately-owned apartments and pueblo villas at Desert Springs Resort normally reserved for holidays and short breaks and the resort's executive chef will be on hand to cater for the special dietary requirements of individual players dining in the resort's Crocodile Club Restaurant.
To view the video of the Desert Springs Cricket Academy Click Here
For further information:
Kirk Lovell
+34 647 414 899
kl@almanzora.com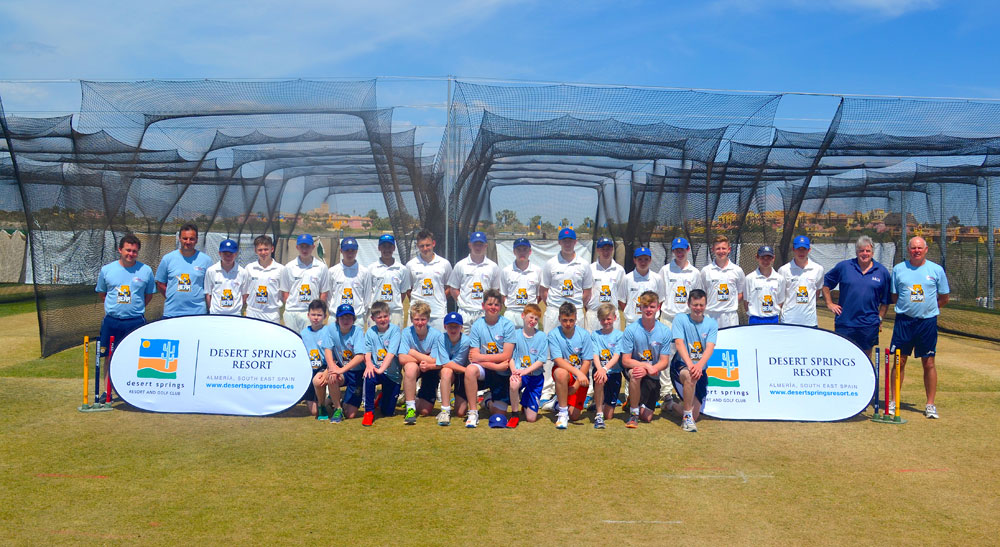 The Rowse Academy Class of 2017 - set to return to Desert Springs for their 2018 Pre-Season Training Camp