The fifth intake for the Tom Maynard Academy is close to completion, with eleven young cricketers now confirmed on the programme, their ages ranging from 17 to 26 years. It includes three players who have been on previous Academy visits: Northamptonshire's Rob Keogh, who was on the inaugural trip in 2014; Tim Rouse of Somerset, who was on the 2016 programme; and the Gloucestershire seam bowler Ollie Currill, who attended in 2017. The final place will be filled in due course.
The 2018 group will spend nine days between Thursday 15th to Friday 23rd February at Desert Springs Resort, working on a carefully planned programme covering technical skills, strength and conditioning and both individual and group activity.  The programme finishes with two special one-day matches between the Tom Maynard Academy XI and a Spanish National side at the newly constructed cricket ground at Desert Springs.
Matthew Maynard will again head the delivery of the programme. As with the three previous intakes, he will be assisted in coaching by former Gloucestershire, Yorkshire & Australia all-rounder, and current Assistant Head Coach at Gloucestershire, Ian Harvey.  Making up the trio of coaches will be former Glamorgan captain and wicket-keeper/batsman Mark Wallace.  Former Hampshire wicket-keeper, England assistant coach and current Director of Cricket Coaching at Millfield School Mark Garaway will be providing personal profiling support for the group; physical fitness and strength and conditioning will be overseen by Gary Metcalfe, one of the physiotherapists employed at Somerset; and former Middlesex, Glamorgan and England all-rounder Jamie Dalrymple will also be present to deliver specialist sessions to the players.
Once again, the 2018 programme is being funded in its entirety by the Trust.
After a nominations process, the eleven successful players are:
Kieran Bull (Glamorgan), Ollie Currill (Gloucestershire), Liam Gough (Unattached), Miles Hammond (Gloucestershire), Rob Keogh (Northamptonshire), Tom Moores (Nottinghamshire), Nicholas Oxley (Sussex), Billy Root (Nottinghamshire), Tim Rouse (Somerset), Tom Sole (Northamptonshire) and Roman Walker (Glamorgan).  The twelfth player will be added at a later date.
The Academy is designed to support young players and help them follow their individual programmes, meaning that Matthew and his team work very closely with the counties themselves to ensure that the time is used in the most beneficial manner possible, sometimes to help key players who are recovering from previous injuries try to get ahead with some early outdoor practice prior to reporting for UK for pre-season.
Matt Maynard said:
"We are delighted again to have had such great support from the counties and I'm really looking forward to working with another group. Originally, we set out to run five of these annual programmes and this is the fifth, so our aim is to make this the best we've had so far. Desert Springs has excellent facilities for the players to work on their games and on their fitness and we're pleased again to be partnering with them, and particularly excited that this year we are going to be playing our traditional end-of-programme T20 matches at the new ground there.  We have a great mix of talented players and some very knowledgeable people involved in delivering the programme and I have no doubt it will be of real benefit to the lads involved as they approach pre-season."
To view a video of the Desert Springs Cricket Academy view: – Desert Springs Cricket Academy
The players and staff will be accommodated in some of the privately-owned townhouses normally reserved for holidays and short breaks at Desert Springs and the resort's executive chef will be on hand to cater for the special dietary requirements of individual players dining in the Crocodile Club Restaurant.
For more information on the Tom Maynard Trust, visit the website: http://www.tommaynardtrust.com/
For further information:
Kirk Lovell
+34 647 414 899
kl@almanzora.com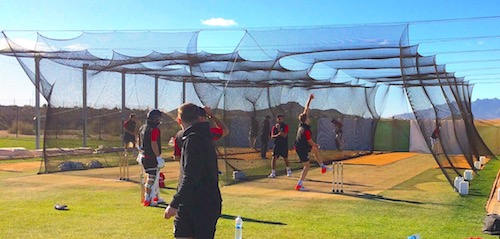 Tom Maynard Academy players at Desert Springs Cricket Academy