The intake for the Tom Maynard Academy, comprising twelve (12) professional cricketers from some of the UK's first class counties, accompanied by nine (9) supporting staff are now back in England having completed a successful nine days of warm weather fitness and cricket training between Thursday 18th – Friday 26th February at Desert Springs Resort, Europe's only international award-winning luxury family resort, championship desert golf course and dedicated Cricket Academy in the Almanzora region of Almeria, Andalucia in south-east Spain.
Somerset Director of Cricket Matthew Maynard headed the delivery of the programme and commented;
"Now into our third year at Desert Springs, this was yet another fantastic visit. The wickets at the Cricket Academy continue to improve year on year.
The service element of the resort is sensational and this has been our best trip ever!" 
Former Gloucestershire, Yorkshire and Australia all-rounder Ian Harvey and former Leicestershire, Kent & England wicket-keeper/batsman Paul Nixon were responsible for assisting Matthew Maynard in delivering specialist sessions to the players; and former England Head Physiotherapist, Dean Conway, was on hand to oversee the fitness and physical work while the group were at Desert Springs.
Ian Harvey said of the experience;
"Desert Springs just keeps getting better and better!"
Jamie Dalrymple, former Glamorgan captain and Middlesex and England all-rounder, provided insights into leadership, sports psychology and dressing room dynamics, and Ireland's former Head of Performance and now Millfield School's Head of Cricket Coaching, Mark Garaway, carried out some personality profiling to support the 2016 intake with expert advice on how to use that to beneficial effect in their careers.
Mike Fatkin, one of the Trustees of the Tom Maynard Trust and a former CEO at Glamorgan, provided management support for Matthew Maynard and helped the players to understand some of the off-field pitfalls of being a professional sportsperson.
Mike Fatkin commented;
"Thank you to all of the staff for another wonderful stay. The training camp was once again a resounding success, see you next year!"
Below are just some of the views and comments from the attending players :
"I had a great time at Desert Springs. The service was excellent and the facilities were awesome."
Lucas Carey (Glamorgan CCC)
"An excellent facility to train at. The food and hospitality was superb and the Townhouses at 'La Fuente' were well kept and fully kitted out. I would definitely recommend Desert Springs Resort to anyone!"
Ed Pollock (Warwickshire CCC)
"I had a great experience here at Desert Springs Resort. The service was high class all round and the training facilities were perfect. What an awesome way to start pre-season!"
Tom Hampton (Gloucestershire CCCC)
"I can't thank Desert Springs Resort enough for the past nine days. The service, facilities and food are all top class!"
Chris Jones (Surrey CCC)
"I have had an awesome time here and everyone has been lovely. Quality service and sensational nets for training, thank you for everything!"
Tim Rouse (Somerset CCC)
The Academy worked on a specific and carefully planned programme covering technical skills, strength and conditioning and both individual and group activity culminating with a special one-day match between the Tom Maynard Academy XI and the Spanish National side.
Click here to view a video of the Desert Springs Cricket Academy.
The players and staff were accommodated in some of the privately owned Villas and Townhouses normally reserved for holidays and short breaks at Desert Springs and the resort's executive chef was on hand to cater for the special dietary requirements of individual players dining in the award-winning El Torrente Restaurant.
For more information on the Tom Maynard Trust, visit the website.
For further information pleasec ontact : The Alamnzora Group Ltd
Tel: +44 (0) 1242 680 299
Email : tag@almanzota.com
Tom Maynard Trust players : Lukas Carey (Glamorgan); Ryan Davies (Somerset); Tom Hampton (Gloucestershire); Jamie Harrison (Durham); Ryan Higgins (Middlesex); Jonty Jenner (Sussex); Chris Jones (Surrey); Matt Lamb (Warwickshire); Harry Podmore (Middlesex); Ed Pollock (Warwickshire); Ryan Stevenson (Hampshire); and Olly Stone (Northamptonshire)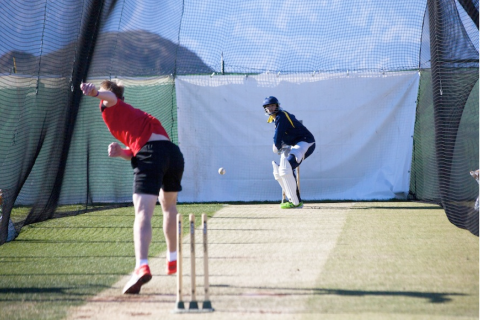 'Net Practice Session' at the Desert Springs Cricket Academy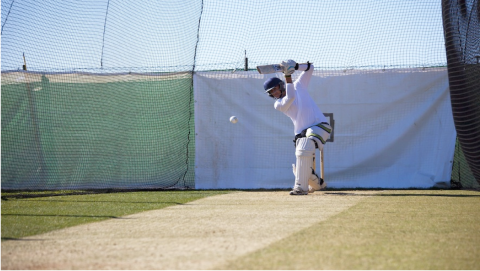 'Batsman Practice Session' at the Desert Springs Cricket Academy