Desert Springs' resident LET tournament professionals Trish Johnson and Becky Brewerton made an excellent start to their 2007 campaign on the Ladies European Tour at the Tenerife Open last week. Finishing 2nd and 4th respectively, both players increased their chances of Solheim Cup team selection.
Desert Springs Resort and Golf Club is the only luxury desert resort in Europe. Located in the Almanzora in Almeria in south-east Spain, it has the warmest, driest and sunniest winter climate on the whole of the Iberian coast and in Europe without exception. It recently won the Daily Mail Award for Best Almeria Development, the Bentley International Homes Awards for Best Spanish Development and Best International Architecture, as well as the 2006 Spanish National Madera Verde Environmental Award and the 2007 Trade Leaders Club New Millennium Award. For the Tourism, Hotel and Catering Industry for its El Torrente Restaurant.
Both Trish and Becky have spent most of the winter in residence at Desert Springs where they have enjoyed the excellent practice facilities and the superb test of the championship golf course. Trish, winner of 18 titles on the European Tour said: –
"I really needed to work on my putting this winter and the greens and facilities at Desert Springs are ideal for this, the golf course is superb and the members and staff have all been so friendly, so much so that Becky and myself have now purchased a property at the resort to ensure that we can spend all of our available time at Desert Springs to improve our games, it feels like home already!
Desert Springs is fast becoming the destination for top class women's golf; it is the winter training base for several international squads, including the players of the GB&I training squad. It is also unique in having a ladies' golf ambassador, former LET player Christine Langford, who is responsible for overseeing the Golf4Women program, which runs through the year at the resort, offering of a variety of unique events for women golfers, from the aspiring to the very elite of the women's game.
Christine Langford, Ladies Golf Co-ordinator commented: –
"Everyone here is very excited that Trish and Becky are representing the club and spreading the word about what we have to offer and we are looking forward to some exciting events in the winter months when the players will be based here."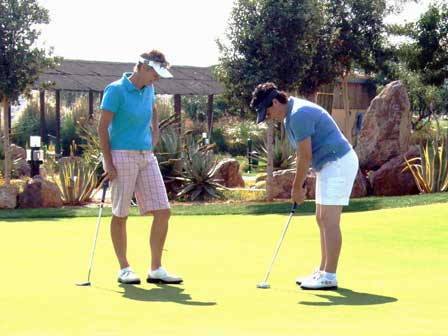 Trish Johnson & Becky Brewerton practice their putting at Desert Springs
For further information contact: Christine Langford
Tel: +34 627 484 460
Email: cl@almanzora.com